The Camino: Spain by foot
Click the Buzz Me button to receive email notifications when this writer publishes a new article or a new article in this column is published.
This is the first of a two-part series on Spain's Camino de Santiago. Part II will follow in January, when St. John's School teacher Susan Tallman shares her journey.
For Bina and Anil Dara, two physicians who had just sent their last child off to college, the journey began as a physical challenge that would put them in top-notch form. The busy professionals didn't fit the profile of pilgrims, in the tradition of those who have walked the Camino de Santiago, or Way of St. James, for more than a thousand years. But the lifelong Catholics ended up being moved by the experience on every level – mental, physical and spiritual.
The Camino, for the uninitiated, is a network of trails through Europe that lead to Santiago de Compostela and the shrine to the martyred apostle St. James (Santiago in Spanish). Popularized by such writers as Ernest Hemingway (The Sun Also Rises) and Paulo Coelho (The Pilgrimage), the Camino's notable pilgrims have included Queen Isabella of Portugal. Actress Shirley MacLaine walked 500 miles of the trail at the age of 60, relating her spiritual journey in the bestselling book The Camino. German President Angela Merkel walked a section in 2014 with Spanish Prime Minister Mariano Rajoy in a symbolic show of solidarity with Spain and its difficult path to economic recovery.
The Daras didn't have a grand mission in mind. Anil first heard about the Camino on a radio talk show and knew right away it was something he wanted to do. At the time, their youngest daughter, Meghna, was still in high school at St. John's School, so they decided that when she got to college, they would go.
"Initially, it seemed like a really good physical challenge," he said. "Then it slowly took on more meaning as time went on. Besides the physical challenge, there is a kind of spiritual aspect to it – and eventually that became the more important aspect."
Anil, an internist with a private practice in Humble, and Bina, an anesthesiologist at the Michael E. DeBakey VA Medical Center, met in medical school in their native India, and they've been together ever since. They had always traveled together as a family – back home to India, to Canada, and all over the world – but their walk on the Camino was their first as a couple since the children were born.
"Locking up our house and going away – we'd never done anything like that before, never, ever," said Bina. "We always went with the kids, or we didn't go at all."
So when Meghna began her studies at Rice University, eldest daughter Natasha was married, and middle daughter Karishma was finishing medical school, the Daras decided it was time for their big adventure, and began training in earnest. Natasha was now living with her husband in Barcelona, and they'd be able to finish the trip with a visit.
Every evening after work they'd put on their walking shoes and walk around their Bellaire neighborhood. On the weekends they'd take long walks down Allen Parkway and trips to Terry Hershey Park and Jesse H. Jones Park. Once they went to Huntsville State Park in search of hills.
They spent time selecting the right shoes (Anil tried out three pairs), and clothing (from wicking cloth that dries quickly) but the most important item, for Anil, was the collapsible trekking poles.
"Especially going down hills, they take a lot of strain off your knees, and walking uphill they almost pull you up as well," said Anil. "And since they're telescoping poles, you can very easily adjust the height – when you're going up you make them longer, when you're going down you can make them shorter, so they give you a mechanical advantage."
Finally they were ready, and they set the date: September 2016.
The most popular part of the trail is the last 100 kilometers, which is the minimum required to receive a pilgrim's certificate or "compostela" (the Daras walked 161 kilometers, or 100 miles, in their eight-day trek). They began at the tiny medieval village of O Cebreiro, where they found their way to their first Pilgrim's Mass at the tiny village church – founded in the year 836.
The priest began asking if anyone spoke Portuguese, and then Spanish, and then English. "He wanted people from different parts of the world speaking different languages to read the intercessions for the Mass," Bina explained.
She raised her hand. "So imagine me, there in the back of beyond, in this small little place doing the readings in English," she said with a laugh. Afterwards, there in the back of the church in a glass case with Bibles from around the world, she was surprised to see one in the language of her childhood: Hindi.
It quickly became clear that the mountainous terrain was a far cry from Houston. "It was way, way more than we expected it to be," confessed Anil. "Of course, Galicia is mountainous – we should have researched that better!"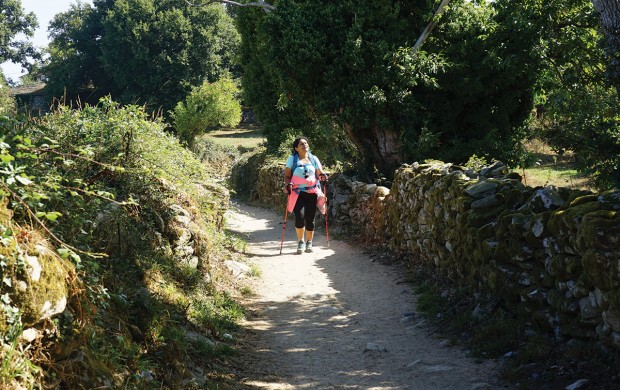 Their first day they hiked 15 miles, only stopping in one village for a light lunch. By the time they arrived at the town of Triacastela, their first destination, they were on the verge of collapse. Anil was ready to call it quits, call a taxi and go to Santiago.
"I said no, we can't do that," said Bina. "So we had an amazing shower, put on our flip flops, had dinner in a nice, cute, quaint restaurant with wholesome food and spent the evening meeting other pilgrims. The next morning we were raring to go."
The camaraderie with other walkers was one of the best parts of the trip, Anil said. Seeing the 70-somethings sprinting past, and the Canadian woman with her baby in a stroller, was enough to motivate them onward. Others they met included an Australian army colonel walking in honor of his recently deceased brother and a stockbroker from Dublin planning to write a book, "From the Couch to the Camino."
Soon they found themselves hitting their stride and simply taking in all the beauty of the Spanish countryside, walking under a canopy of trees from one medieval village to the next, many nearly deserted; one village had a population of one.
"The lovely thing was seeing all these apple trees full of apples," said Bina. "It was so nice. And then there'd be a field full of sunflowers, and then the blackberries – I've never eaten such delicious blackberries. These were wild, just growing on people's fences or along hedges…. I picked as many as I could along the way.
Each day, they would dedicate their walk to a different person or group of people. "It was the beginning of a different phase in our lives," said Bina. "The idea was to look back and be thankful for all that we were blessed with and pray for the people who helped us and influenced our journey together – our parents, our siblings, our friends and colleagues, our patients, our children – and the final day was just for us."
The fact that it was their first trip as a couple since they had started their family made it even more special, Bina said, and she felt it brought them even closer.
"I always think we're closer than close," she said. "But I think that this time just him and me – it was like there's nothing in the world to worry about, we're just going to be walking, and this is our time – that was very meaningful for me."
If you go
Essential gear: Collapsible trekking poles, hats for the sun, and excellent walking shoes, already broken in.
Vaseline: After watching people suffering with blisters, the Daras were thankful for the advice they'd received to cover their feet with Vaseline before putting on their socks to prevent friction.
Where to stay: Accommodations range from well-appointed hostels ($30 and up) and hotels ($60 and up) to the traditional municipal albergues that have housed pilgrims, men and women alike, for centuries. The latter is the most economic alternative, $6-12 per night. In the middle were the private albergues, including breakfast for $15-20; these are divided by gender, each room accommodating four to six.
Eating on the Camino can range from fine dining to the simple but delicious repast of a pilgrim's plate – 10 euros (about $12) for a generous portion of bread, wine, meat, salad and vegetables.
Travelers are advised to get a Pilgrim's Passport (Credencial de Peregrino) at the beginning of their trip, which can be stamped by establishments along the way to prove they walked the requisite 100 kilometers (62 miles) necessary to gain a certificate of pilgrimage (the Daras decided to go the extra mile at 100 miles (161 km)). The passport also grants the carrier access to the 10-euro Pilgrim's Plate, albergues and other camino privileges.
American Pilgrims on the Camino, a support community for Camino walkers, has a Houston chapter that organizes social events and walks, mentors future pilgrims and serves as a local host for a training program for hospitaleros, who serve as volunteer hosts at the albergues.
A useful resource is the Camino de Santiago forum, where walkers discuss everything from the hazards of bedbugs to the best shoes and trail guides. www.caminodesantiago.me/community/.
This Outside Magazine beginner's guide is a good place to start www.outsideonline.com/1917861/walking-camino-de-santiago-beginners-guide;  John Brierly's guidebook series is highly recommended and available at www.caminoguides.com.
Want more buzz like this? Sign up for our Morning Buzz emails.
To leave a comment, please log in or create an account with The Buzz Magazines, Disqus, Facebook, Twitter or Google+. Or you may post as a guest.