Chef's Corner: Wayne Nguyen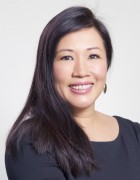 Click the Buzz Me button to receive email notifications when this writer publishes a new article or a new article in this column is published.
Find out about your favorite chefs in our Chef's Corner column. This month, restaurant writer Dai Huynh interviews chef Wayne Nguyen.
It's difficult for me to write about Vietnamese food. I'm a harsh judge. It's a topic dear to my heart, and I want to be sure my friends and readers experience the best examples of my homeland. And so, after two decades, I can count on one hand the number of stories I've written on Vietnamese chefs and restaurants. Now, I'm excited to add one more to the roster: Chef Wayne Nguyen of Maba Pan-Asian (510 Gray St.).
After tasting the self-taught chef's pan-seared whole tilapia seasoned with minced lemongrass and served with garlicky water spinach, I thought, "Here is a cook who understands the balance and core flavors of Vietnamese food." The 48-year-old toque is so well versed in the cuisine's nuances that he can reinvent traditional dishes without corrupting them. An example is the Pho Fries, alluring, crispy French fries seasoned with pho spices – cinnamon and cloves – and judiciously enhanced with droplets of hoisin and Sriracha.   
I was also excited about the reasonable prices at the year-old Maba. Appetizers are $4 to $9 while entrees are $8 to $18. So often well-crafted interpretations of Vietnamese dishes are accompanied by triple dollar signs, as if paying more makes the cuisine more than it is: simple home cooking that brings back memories and good times. At least it does for Chef Wayne, a retired financial specialist who reminisced about Lunar New Year in Vietnam and how he taught himself to cook and speak English watching Martin Yan and The Frugal Gourmet. 
Will you and your wife, Tammy, close the restaurant to celebrate Vietnamese and Chinese New Year on Feb. 16?
The restaurant will be open as usual. Traditionally, it's not lucky to close on New Year's Day. Traditional thinking is that whatever happens on the first day of the new year sets the pace for the rest of the year. That's why the day before Tet, houses are swept and cleaned to set the stage for attracting luck and good fortune.
Aside from the red envelopes filled with money gift, what do you remember about the Lunar celebration in Vietnam?
My older brother and I are close in age. I remember my mother spending extra money to buy us brand new outfits. I felt like the whole country was celebrating. And I remember going to the temple, and I remember lots of food. My grandmother and mother would spend all day cooking. As part of the ceremonial offering, you would always have coconut, papaya and mango on the altar. In Vietnamese, the name for those fruits combined to convey your hope that there will be enough food and money to sustain you in the new year.
Speaking of fruits and vegetables, you take a very minimalistic approach to them. Their natural flavors shine through.
I go shopping every day for my vegetables. I find the freshest available, and to do that you really need to spin them around to make sure. I can order from a grocery supplier, but often you get these beautiful vegetables on top, but in the middle, they're bruised or wilted. So, I like to go to 99 Ranch Market (1005 Blalock Road) and Viet Hoa (8300 W. Sam Houston Parkway South). Every time I go to 99 Ranch, I feel like I don't know enough and I'm walking into a library. You find these ingredients from all over Asia –  different condiments, different vegetables. You get fresh seafood – fish, lobster, crab, and you get to pick the one you want.
Is Lunar New Year a good time to explore the Asian markets and Chinatown down the long stretch of Bellaire Boulevard?
Oh yeah, it's so festive and lively. The stores are decorated in gold and red. Everybody is out shopping.
You hang out in Chinatown. Where do you go and eat? It's like a maze, with so many choices. Anything new to try?
I always end up at the same spots. But recently I discovered Uyghur Bistro (9888 Bellaire). It's a cross between Chinese Szechuan and the Turkic people, who are predominantly Muslim and live in northern China. They have kebabs, but also these hand-pulled noodles that I like. Another place I like is Little Sheep Mongolian Hot Pot (8488 Bellaire). Their spicy hot pot is theirs alone. You go to any hot pot places and it is usually simple chicken broth, but here they add all different kinds of spices. And there was a time when I would go to Pho Binh (10827 Bellaire) three, four times a week. But only the location at Bellaire and Wilcrest. There are several Pho Binhs, but the one near Wilcrest is best. I don't know how every location can taste different, but it does.
For ramen noodles, I go to Tiger Den (9889 Bellaire, Suite D-230). Mala Sichuan (9348 Bellaire) is always so consistent. They have this delicious Mala Pot Roasted Whole Tilapia that has won awards and a kung pao chicken that is very solid. When I go with my wife and our daughter, we'll order six or seven dishes, and they're all consistently good. That's tough to find in Chinatown or anywhere, really. I'm a hawk when it comes to consistency, and I've been known to make my guys in the kitchen cook a dish over and over again.
The college crowds love Timmy Chan's fried chicken wings and Sinh Sinh. Your in-laws own those, right?
I almost hate to talk about them because it feels so self-promoting, but yes, my in-laws own both. Timmy Chan's (13211 Bissonnet) is cheap with big portions. It tastes good for the price, and the fried chicken wings can't be rivaled. At Sinh Sinh (9788 Bellaire) people line up for the barbecue pork. During New Year's, they can't make enough. I think they have the best Chinese barbecue. They manage to get the skin so crispy. I don't know how they do it. And the geoduck clam is great, but I also like the whole lobster. I order the biggest one, and get it two ways. Part of the lobster is cut into sashimi, and the rest is stir-fried with noodles. 
Your family immigrated to San Francisco in 1981. Your food echoes the simple approach favored by Bay Area chefs. It's an overused word, but your cooking is "clean." You also have a strong grasp of the core building blocks of Vietnamese cooking. Here, I'm referring to the contrasting flavors and textures: the sweet with the salty and bitter, and the fresh, crunchy herbs against a warm backdrop of steamed rice and crispy shallots.
My experience with Vietnamese food has always been in America. But the fresh produce and balanced flavors are more than San Francisco. Being Vietnamese, we cooked a lot at home. When we went out, it was to a small mom-and-pop restaurant. That's why I called the restaurant Maba, which means mom and pop, who would always feed you the freshest food and the best that they can afford. I wanted to maintain that.
Have you been back to Vietnam?
We escaped Vietnam by boat after our fifth attempt. But no, I've never been back to Vietnam. Never. My parents and brother have been back. But for me, not all my memories were good ones, and there were always other places to visit. Also, partly, I had a little sister, and on one of those unsuccessful attempts, she was killed.
As a boy, you watched your grandmother prepare family meals. What else did you do to teach yourself to cook?
I learned from my mom and grandmother how to get pan-seared fish perfectly crisped. But when we came over here, we were immigrants, and my parents had to work a lot. So, I oversaw the cooking. I made Rice Krispies Treats at 11. So, while other kids were watching cartoons, I was watching Great Chefs on PBS and The Frugal Gourmet, Jeff Smith. I learned my knife techniques from Martin Yan. With a butcher knife, he would cut a cucumber paper thin. I learned to do that as a kid. I would see something on TV and I would try to replicate it. So, it was never one lesson but little sessions through the years that taught me about cooking.
Editor's note: Buzz dining columnist Dai Huynh is a James Beard food-journalism award winner and longtime Houston-based restaurant writer.
Want more buzz like this? Sign up for our Morning Buzz emails.
To leave a comment, please log in or create an account with The Buzz Magazines, Disqus, Facebook, Twitter or Google+. Or you may post as a guest.