Friendship Benches at WUES: You've Got a Friend in Me
Click the Buzz Me button to receive email notifications when this writer publishes a new article or a new article in this column is published.
"The only way to have a friend is to be one." This is the inspirational quote inscribed on the new friendship benches at West University Elementary School.
Remember when you were a kid and had one of those days where you just felt a little lonely? West University Elementary School students now have an innovative way to cure the playground blues with these colorful benches.   
A friendship bench is a special place where a child can go when they need to talk with a friend. Other children and staff recognize this as a sign that some support or comfort is needed and come talk with the child. It also encourages children to ask for help when they are troubled.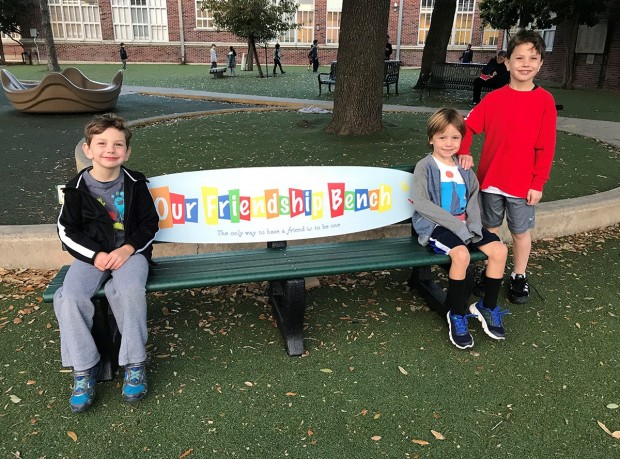 Last summer, Olivia Benitez (mom of kindergartener Caroline and second and third graders Harrison and Andrew) was teaching Vacation Bible Study at West University Methodist Church. The curriculum included a video about a friendship bench. Olivia thought how great it would be to have a bench like that at WUES and shared the idea with fellow WUES mom, Courtney Tsao (mom of second grader Penelope and fourth grader Oliver) who said: "So why don't you do it?"
Olivia contacted WUES counselor, Mrs. Djuna Prater, who gave the school's blessing to move forward with the idea. Thanks to the support of the PTO and the hard work of the bench makers, the idea became a reality in January. 
One bench is located on the kindergarten–second grade playground and the other is on the third-fifth grade playground. Mrs. Prater has been helping introduce the concept behind the benches to the students by reading the children's book, The Friendship Bench, by Whitney Dineen.
Third grader Andrew Benitez interviewed WUES Mustangs for a school newspaper article he is writing about the benches. He was kind enough to share some of the quotes with us:
"It's really nice for new kids to meet new friends and not be embarrassed or shy," said fifth grader Reagan Walls.  
"I am going to use the bench to help make someone feel happy," said second grader Harrison Benitez.
Third grade teacher Mrs. Megan McClintock is seeing wonderful interactions on the friendship bench. For example: "One of the boys didn't have his best buddy out there and didn't know who to play with so he sat on the bench. Another boy asked him to come play foursquare with him."
Assistant Principal Mrs. Amber Pinchback is also a fan. She said the friendship bench is a great way to meet new people to play with, even if you already have friends. She said it's a new way to "mix it up" at recess like the school has done in the past for No Place for Hate. It is also a way to help everyone enjoy recess and feel included at school, she explained.
The friendship bench is a hit with WUES families including the Bishop family (parents Megan and James Bishop, kindergartener Isaac and third grader Oliver) as well as the McKenney family (parents Sarah and Ryan McKenney, kindergartener Holden and third grader Mia).
I also overheard some parents wishing there were friendship benches for adults because sometimes even big kids can feel a little lonely and need a friend. I bet the WUES kids would be happy to share their bench.
The WUES playground (3756 University Blvd.) is a Harris County SPARK community park, so it is available to the public after the school day has ended around 3:10 p.m. on weekdays and on weekends.
Come visit these special friendship benches and you never know . . . you just might make a new friend.
People in this article:
Olivia Benitez
,
Caroline Benitzen
,
Harrison Benitez
,
Andrew Benitez
,
Courtney Tsao
,
Penelope Tsao
,
Oliver Tsao
,
Djuna Prater
,
Whitney Dineen
,
Reagan Walls
,
Megan McClintock
,
Amber Pinchback
,
Megan Bishop
,
James Bishop
,
Isaac Bishop
,
Oliver Bishop
,
Sarah McKenney
,
Ryan McKenney
,
Holden McKenney
,
Mia McKenney
,
Walker Colson
,
Suraj Verma
Want more buzz like this? Sign up for our Morning Buzz emails.
To leave a comment, please log in or create an account with The Buzz Magazines, Disqus, Facebook, or Twitter. Or you may post as a guest.