Birthday-party themes
Click the Buzz Me button to receive email notifications when this writer publishes a new article or a new article in this column is published.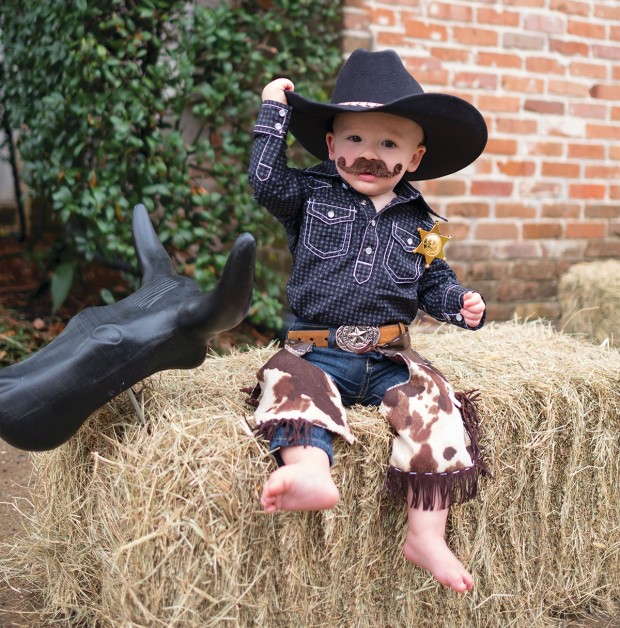 Buzz Baby is a column about life with little ones. Writer Annie McQueen has three children under the age of 4.
Birthday parties for babies and toddlers are a fun way for parents to get creative juices flowing. Besides, as children get older, they're usually seriously opinionated about their birthday parties, so you might as well use your decision-making power in the short time you have it.
When photographer Erin Beckwith's son, Bennett, turned 1, Erin and her husband, John, a coach and teacher, threw him a Pinterest-worthy first-birthday party themed "My First Rodeo" in their home.
It wasn't the couple's first rodeo. They threw a "Winter 'One'derland" first birthday party for their daughter Miller (now 3) and a feline-themed "Are You Kitten Me?" party at the venue MajestKids for her second birthday. Miller's third birthday party was a picnic on the tables at Hermann Park after a visit to the zoo.
"It's a really fun creative outlet for me and a way for me to celebrate them for weeks leading up to their big day," said Erin. She spends weeks planning and executing all of the details. "My husband is a saint for putting up with me during the craziness of planning our children's birthday parties. He usually just lets me do my thing while offering some encouragement, but he's also up for helping."
She said the "My First Rodeo" theme was just masculine enough, not "too babyish" and a nod to the Houston Livestock Show and Rodeo. Erin constructed a mini western town out of cardboard boxes and hand-painted them. John used a ruler and painted "Jail" and "General Store" and "Bank" on the front.
They had to come up with ideas to keep 16 toddlers and young children entertained inside their house since they were worried about rain that day. They moved their furniture around and set up the western town in their living room. They had stick-horse barrel racing, bull riding (on a bull bounce toy) and a pretend "roping" setup.
Erin spared no creative detail. "Since I'm a photographer and I have millions of pictures of my kids, I always try to incorporate pictures I've taken of them in the party decorations. I'm a sucker for a real paper invitation that's stamped and addressed." She used John Wayne and cowboy-legend stamps.
For Miller's "Winter 'One'derland" in January 2015, Erin set out reindeer-shaped cookies, white-chocolate covered pretzels and Frosted Cheerios. Kids played outside in a ball pit.
Miller's second birthday – the "Are You Kitten Me?" one – was a nod to her love of cats. Kitty décor covered the room, including a basket of stuffed animal cats with an "Adopt a Kitty Corner" sign as party favors. Erin had custom cat cookies and put labels over small milk cartons with whiskers (something you'd see out of an old Tom and Jerry cartoon). Of course, the birthday girl had whiskers drawn on her face for the party.
Miller's third birthday was a "Party Animal" picnic on the grounds near the Houston Zoo at Hermann Park. There was a scavenger hunt, games, and party-animal party favors.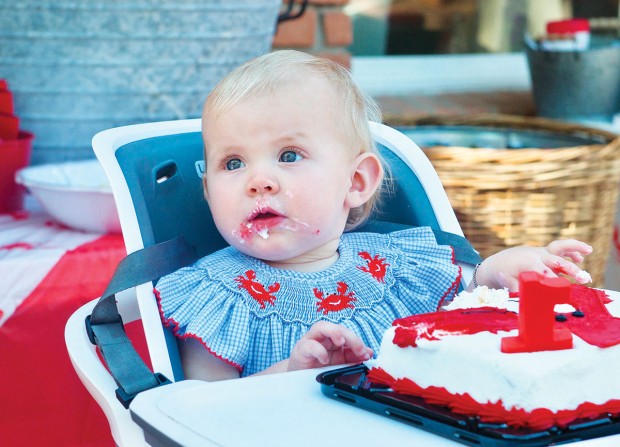 Another creative Buzz mom, Ashley Willis, and her husband, Bo, a native Louisianan, decided to throw a crawfish-boil birthday party for their daughter Halley's first birthday in April 2017. Ashley sent out custom invitations that read, "Pinch me! Halley is 1."
The couple had just moved into their new home and decided to throw Halley's birthday party there. They set up tables decorated with red crawfish-themed Mardi Gras beads. They spray painted trash cans red and painted the rims white to make them look like red Solo cups (popular at outdoor parties and crawfish boils). They borrowed a bouncy house from a friend and set up a ball pit to keep all of the kids busy.
Bo and his buddy from Baton Rouge prepared 130 pounds of crawfish for the party guests. To their surprise, the baby loved the food. "Halley is a very picky eater, but she loves her daddy's spicy crawfish."
After singing happy birthday, family and friends gathered around to watch as Halley dug into her "smash cake," complete with an icing crawfish drawn on it. Ashley didn't want to spend a lot on the cake, so she went to her local grocery store. "The sweet Kroger lady drew the crawfish on the cake from her invitation."
Want more buzz like this? Sign up for our Morning Buzz emails.
To leave a comment, please log in or create an account with The Buzz Magazines, Disqus, Facebook, Twitter or Google+. Or you may post as a guest.