Great Britain: Beyond Big Ben
Click the Buzz Me button to receive email notifications when this writer publishes a new article or a new article in this column is published.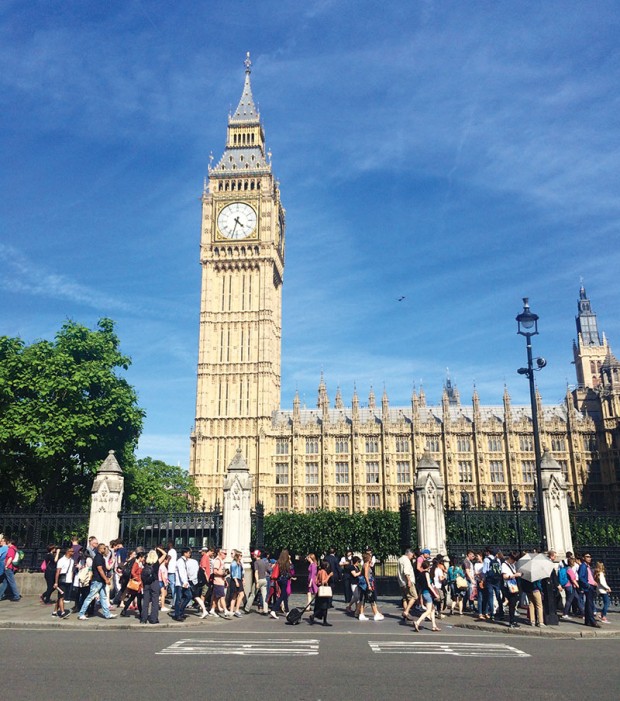 With the royal wedding around the corner, millions of eyes will be trained on Great Britain. So what better time to consult with our experts, we thought, to help you plan your next trip across the pond?
We spoke with Gerry Waters, an English native who is raising her children to fully embrace her mother country; Roseann Rogers and Aashish Shah, whose separate love for the country took on a richer element when they met and married; and Rachel Fisher, who became enchanted with the British Isles as a child, and ended up going there to study and learn – again and again.
North, south and center
Gerry was born halfway between Oxford and London in the town of Beaconsfield, so she grew up steeped in the English countryside but also in the cultural life of the capital. When she was 13 her parents moved to France, so she went to school where her grandmother lived, in the medieval town of Sherborne in the southwest, famous for its historic abbey and castle – "a beautiful chocolate box type of town," Gerry reminisces, not far from Stonehenge and the birthplace of Thomas Hardy.
For a change in scenery, she decided to go to university in the northeast, ending up in Durham, surrounded on three sides by a loop in the River Wear. Durham was said to be founded by Divine Providence in 995 A.D., when, according to legend, the remains of the famed healer St. Cuthbert came to rest at the spot. There he was buried, and his shrine became a pilgrimage site. It was England's most important at the time, along with Holy Island to the north, where Saint Aidan founded a monastery in 635 that was to become the epicenter for Christianity's spread throughout the world.
Durham is home to the oldest student accommodations in the world – The Keep, part of Durham Castle – and while Gerry didn't live there, she would sometimes spend the night with friends. Nowadays, students give guided tours to the castle, a World Heritage Site.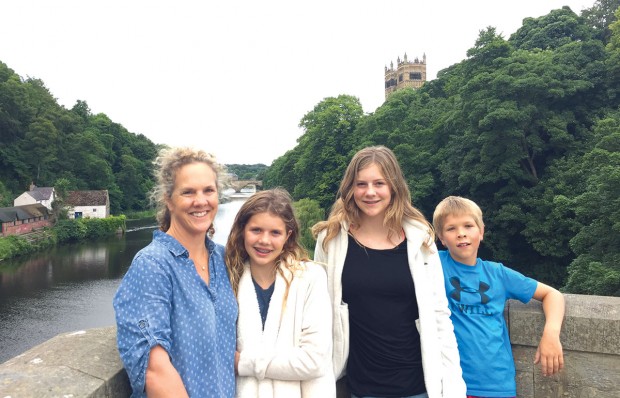 Gerry was destined to marry a Texan – she and Lou exchanged their vows in Sherborne, but they ended up living in Bellaire, and over the years Gerry has taken their three children – Sacha, 15; Thalie, 14; and Luke, 12 – for extended visits. They've maintained the family home in Beaconsfield, deepening in their Britishness, retracing their mother's steps, and exploring new places together.
"There's two things they've noticed that are different from life in the States," said Gerry. "There they have more independence; they can take the train in London, they can navigate and get to the places they want to go. In Houston, of course, you have to have someone to drive you."
The other thing they have noticed is the "gentler, slower pace of life." More time for visiting with friends, taking classes – at film school, or at Gorilla Circus Flying Trapeze School in Regent's Park in London, where they've gained strength and confidence. There's time for theater, museums, outdoor festivals. And there's more time for walking – indeed, England has an ancient law giving people the right to walk across other peoples' land, so there is a vast network of public footpaths everywhere. "So wherever we are, we can just go walk across the countryside," she said.
London eyes
Roseann Rogers, formerly an entertainment reporter for Houston news outlets, grew up the daughter of a military man, and remembers taking the ferry to Paris as a child; last summer, when husband Aashish Shah took her to London for her birthday, she took the train through the tunnel and on to Paris for the first time. She was amazed: "It's like you just take a little nap, and all of a sudden you're there."

Some of their best memories are from when Roseann went to cover stories – for example, when the London Eye ferris wheel opened, and she was there to interview the Fantastic Four and other celebrities.
"Hey, Nikhil, I met Captain America," she recently told their son, now 13 – pulling out the old footage to prove it.
Aashish, an obstetrician by training who now works in administration at MD Anderson, became fascinated with London in his early travels. Since then, he's gone back every chance he could. He loves it all – the culture, the architecture, the gastronomy – but he especially enjoys taking a modern history approach.
"You can't go to London and not get a sense of the role it's played in history," he said. There's the Churchill War Rooms, an underground bunker under Westminster where Britain's leaders charted the pivotal decisions that won World War II.
The War Rooms are a part of the five-part Imperial War Museums, which explore conflict and the impact it has on people's lives.
"You have to see Big Ben, the Crown Jewels, the Tower of London – and you have to walk the London Bridge," said Aashish. "There's a historical aspect to it that you just have to experience."
He never gets tired of seeing the changing of the guard at Buckingham Palace. "It's something that's imbued with history and pageantry," he said.
As much as the museums and the monuments, though, he likes to just go and wander the streets. Regent's Park, Hyde Park, Kensington Gardens, Westminster Abbey – "one part art, one part history; the people who are buried there including Chaucer and modern WWII leaders; the stained glass…"
He likes to go downtown to the City of London, the original medieval city, where most tourists don't tend to linger.  Recently, for example, he walked through the Whitechapel District to understand the history of Jack the Ripper.
"There's a vitality, a hum to it, if you will – just wandering, it feels like you're a part of something bigger."
As a person of Indian heritage, Shah feels a special sense of connection with the city as the seat of the vast empire that colonized his family's homeland in the era of the British Raj.
"It was an amazing empire that lasted for so long, and it was not so revered toward the end, but it had its time," he reflected. In particular, excellent Indian cuisine is everywhere.
"It's kind of like being Hispanic in Texas," he explained. "There are a lot of things here that are Hispanic-centric; the same thing could be true of the British in terms of Indian culture."
A quick list of their favorite restaurants: Gymkhana, classic Raj-era Indian; Chutney Mary, fine Indian contemporary; Yauatcha Soho, classic and contemporary Chinese; Ristorante Frescobaldi, fine Italian; and Jamie Oliver's Fifteen, high-quality cuisine with a social commitment.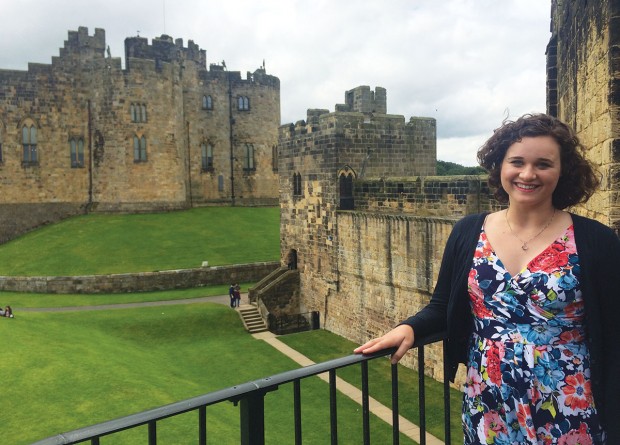 In the footsteps of her ancestors
Rachel Fisher fell in love with England on her first trip abroad, at age 11, on a family vacation. A descendant of Sir Francis Drake and a huge fan of Harry Potter, she inherited her parents' Anglophile tendencies. She dreamed of going to live there, and in 2013, as an exchange student in Leeds, her dream came true.
"It was great to be able to interact with locals and be in a place that was more local and not as touristy," said Fisher, now 24 and a communications specialist at St. Luke's United Methodist Church.
She especially loved taking field trips to the places she had studied. One course was on the grand country houses; another was on the Bronte sisters, who lived not far from Leeds.
"Getting to visit these places I read about and imagined in my mind, it was such a privilege," she recalled. "It's even more romantic in person; they're great authors, but descriptions and pictures don't do it justice. You have to be there to feel the wind and see the sprawling landscape – you really can picture Catherine wandering the moors, crying out for Heathcliff."
Her third trip was with friends from Texas A&M after her graduation in 2015. The group took a tour through Italy and France, and then she met up with her family in England, where they stayed at a country house.
"It was just magnificent," she reminisced.  The family stayed at Charlecote Park, a grand 16th-century mansion in the Cotswolds with its own deer park near Stratford-upon-Avon. The young William Shakespeare is alleged to have poached deer on the site.
In 2016 she went back to explore Scotland. Among the most memorable visits was to Alnwick Castle near Northumberland, whose history dates to around 1096 and includes an important role in the Wars of the Roses. Since the 1950s it has served as the set for scores of films and television series, including Harry Potter and Downton Abbey.
"I love Harry Potter, and that's where they learned how to play quidditch," she said fondly.
A huge fan of the royals, Rachel remembers pulling an all-nighter to watch the royal wedding when Prince William married Kate Middleton. She doesn't plan to travel to Windsor for the May 19 union of Prince Harry and Meghan Markle, but she will be tuning in.
"If I were there I'd be one of those people lining the streets, hoping to catch a glimpse… and while I doubt that I can cross the Atlantic to be there in person, I'll definitely be there in spirit."
Want more buzz like this? Sign up for our Morning Buzz emails.
To leave a comment, please log in or create an account with The Buzz Magazines, Disqus, Facebook, Twitter or Google+. Or you may post as a guest.