Sunday Mornings with Rania: Be the Change You Want to See to help keep our Schools Safe
Click the Buzz Me button to receive email notifications when this writer publishes a new article or a new article in this column is published.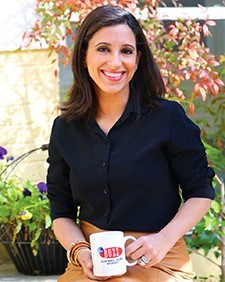 As the community struggles to deal with the tragedy of last week's Santa Fe High School shooting and, on Friday, the shooting at Noblesville West Middle School in Indiana, one big, trying question remains on most of our minds: "What now?" If you are a parent like me, still trying to process it all, let me tell you that it has not been easy. What unfolded in Santa Fe has shaken us to our core. And the shooting in Indiana marked the 23rd school shooting of 2018. The loss of life and trauma is unbearable, and the uncertainty of "what now" is terrifying.
So "what now"? Here's what I'm proposing: Be the change you want to see to help keep our schools safe.
First and foremost, we must continue to rally around those affected by recent tragedies. We must continue to find ways to work together and NOT against each other. Equally as important, we must accept that times have changed, threats to our kids do exist and we must act to "be the change" that thinks about school safety at all times.
Here are ways you can help:
Be prepared at all times.
Know your school's policy in the case of an active shooter (practice drills, lock-downs, what law enforcement agencies will respond, armed teachers, reunification, etc.)
Establish an emergency communication plan that your child can use once it has been declared to do so by your child's school. This might include:
Stay calm and always comply with law enforcement authorities and school staff.
Call or text mom, dad or parental guardian, once it is safe to do so.
Be patient until the school is able to reunite you with your family.
Talk to your child – this is so important! You will never, ever regret having that one conversation that has saved your child's life or mitigated harm that could have come their way. Here are some helpful conversations starters:
How safe do you feel at school?
Have you ever seen a person make an online threat to a school? What about hearing that someone has brought a weapon to school?
Do you feel comfortable speaking to someone about this? Explain that they can report threats/dangers/suspicious activity anonymously through the Crime Stoppers tip line at 713-222-TIPS OR by downloading the Crime Stoppers app called Crime Stoppers of Houston.
Read more preparedness tips here. 
Learn about the Crime Stoppers Safe School Institute AND request that it be implemented at your child's school (if it's not already).
The Safe School Institute is a one-stop center for all aspects of school safety.
It keeps schools safe by creating a proactive dialogue with students, parents, school staff and law enforcement about personal and school safety.
It provides students with a safe and anonymous way to report crime and potential dangers on campus through our 713-222-TIPS tip line.
Since its inception in 1997, the Safe School Institute has evolved into a FREE, year-round program that has educated over 1 million students in 30 Greater Houston Area school districts.
It's FREE.
Students use our tip line and it works. To date, nearly 300 weapons have been removed from Houston schools before they could be used on campus.
Anonymous student tipsters can report on the following: abuse, bullying, drugs and drug paraphernalia, e-cigarettes, gangs, harassment, teen dating violence, theft, threats, self-harm, sexual misconduct, vandalism, violence and weapons
Parent presentations, school staff and law enforcement trainings are also available
Learn more about our Safe School Institute program that is available for all ages, all schools, and offered all year.
To request a school presentation, please email ssi@crime-stoppers.org.
We invite you to also introduce our Safe School team to your school - set up a meeting with the principal or counselor to help bring our Safe School Institute on campus to educate students, parents and staff.
Build awareness and keep educating yourself.
Spread the word - discuss current school safety topics with friends and family, post on social media, and ask your network to do so.
Request Safe School posters like this one for your school campus 
Visit www.crime-stoppers.org to take advantage of safety tips and resources available to you 
Attend one of our community events to learn from subject matter experts
I think we can all agree that enough is enough. I am not okay accepting the increase of violence in our schools. I hope you will join us and the many who have already reached out to build a strong coalition of parents and community members who will not sit around for the next tragedy to happen.
The need is huge and the need is now – we hope you will join me in "being the change we want to see to keep our schools safe."
For more information on Crime Stoppers of Houston, go to crime-stoppers.org and follow Crime Stoppers on Facebook. Have topics in mind that you'd like Rania to write about? Email her directly at rmankarious@crime-stoppers.org. Connect with Rania on Instagram and Twitter. Read past Sundays with Rania posts here.
Editor's Note: Views expressed here are those of the author and do not necessarily represent the views of The Buzz Magazines.
Want more buzz like this? Sign up for our Morning Buzz emails.
To leave a comment, please log in or create an account with The Buzz Magazines, Disqus, Facebook, Twitter or Google+. Or you may post as a guest.