Sunday Mornings with Rania: Suicide – Attacking the Best of Us
Click the Buzz Me button to receive email notifications when this writer publishes a new article or a new article in this column is published.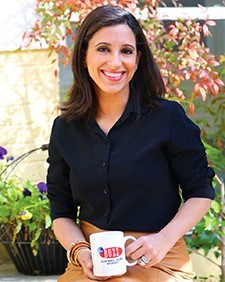 The numbers are sobering. According to the Centers for Disease Control and Prevention, suicide is the second leading cause of death among individuals between the ages of 10 and 34 and the fourth leading cause of death among individuals between ages 35 and 54. Those tragic numbers are sadly increasing by double digit percentages across all age groups according to NIMH. 
Professionals in the field are calling suicide a mental health epidemic. The suicide of Kate Spade (55) this last week followed by Anthony Bourdain (61) (news breaking as I write this) shocked many. Spade and Bourdain represented two incredible lives, lives filled with everything we as a society have defined as the nuts and bolts of "happiness" – fame, family, luxury and popularity.
But in looking at other celebrities such as famed comedian Robin Williams, iconic fashion designer Alexander McQueen, internationally acclaimed DJ Avicii, we realize the claws and stronghold of suicidal ideation coupled with the internal and persistent nagging of the suicidal brain, can ultimately take down anyone, regardless of fame, race, gender or creed. It's a sobering look at the pervasiveness of this disease. And it's also made me think that it's time we jump in the ring and fight with and for those who ultimately cannot fight solely for themselves. We must.
Willing to fight with me? Here's what you need to know now.
Suicide is a result of a mental health disease with no singular leading factor. Psychologists talk about the convergence of stress or triggers with underlying health issues which result in unrealistic and overwhelming thoughts of hopelessness and despair.
Risk factors include:
Anxiety disorders
Depression
Substance abuse
Mental health issues like bipolar disease or schizophrenia
Personality traits of aggression, mood changes and poor relationships
Conduct disorders
Serious physical health including chronic diseases
Traumatic brain injury
Suicide Red Flags:
Changes in behavior
Talking about wanting to die or to kill oneself
Researching ways in which people die, taking an interest in the death of others, especially those who commit suicide 
Feeling hopeless, having no purpose, not seeing the joy in accomplishments of life
Talk of being a burden, feeling trapped or feeling persistent sadness or defeat or dissatisfaction with life or outcomes
Use or increased use of alcohol or drugs
Changes in behavior, sleeping too much or too little
Withdrawing
Regretting past decisions, being unable to cope with previous "bad" decisions, feeling deep regret
A generally wide range of mood wings
Parents, let's add to this conversation that today, kids who have had no previous mental health issues might feel the need to end their lives as a result of systemic bullying, cyberbullying, online posts that they might regret, etc. We must be aware that these are becoming real issues for our children and true causes of suicide.
What you must do:
TALK. While suicide ideation persistently tells its victim to "take action," the stigma and awkwardness of the conversation might persistently tell others to "stay quiet". The result is a net gain for suicide.  
We must ask pointed questions and get involved, especially where you see changes in behavior, end of life talking, selling of things, a desire for final conversations… ASK:
Are you having thoughts of suicide?
Are you feeling hopeless? Do you regret a recent outcome of something? Do you feel there's no purpose to your life or you cannot overcome today's current challenges? Do you feel like a burden to others? Do you hate yourself?  
Do you have a plan?
Are you willing to follow through with your plan?
Resources:
While you are talking, get help. Take action. Don't leave a potential suicide victim alone. You can call the National Suicide Prevention Lifeline Phone Number at 1-800-273-8255. Locally, there are a long list of numbers. Here are a list of hotline numbers covering Harris County and offering a wide range of help. 
Suicide ideation is a persistent attacker that doesn't discriminate. Add its potent pushes to a culture where mental health still carries a negative stigma yet is on the rise, where we are divided politically, living both online yet in isolation, where youth are hyper-sexualized and violence pours out of all we do and see, and where Netflix pushes out suicide series like 13 Reasons Why (please note, season 2 was just released and parents, we do not recommend teens watch this alone)… I could go on and on… you can see there's reason for concern.
While I don't have an answer or solution and a way to fight back on the big picture issues, I can choose to be persistent and pervasive for good. Stepping in wherever we see issues, offering a hand to all those who need it and not stopping. Being in the schools, in the community, in our neighborhoods, in our offices, on our teams, in public places and more focused on noticing warning signs and be willing to do something whenever we see something.
This fall, Crime Stoppers of Houston will be rolling out an entire new curriculum focused on mental health, the red flags and warning signs of danger and suicide and what we can do as a result. Partnering with the non-profit group Mental Health Foundation of West Michigan and specifically their be NICE program, we are hoping to engage an army of others who are willing to get involved and turn inaction into action.  
As a nation we grieve but we also come together to heal and to fight. I'm ready for that challenge. Join us.     
For more information on Crime Stoppers of Houston, go to crime-stoppers.org and follow Crime Stoppers on Facebook. Have topics in mind that you'd like Rania to write about? Email her directly at [email protected]. Connect with Rania on Instagram and Twitter. Read past Sundays with Rania posts here.
Editor's Note: Views expressed here are those of the author and do not necessarily represent the views of The Buzz Magazines.
Want more buzz like this? Sign up for our Morning Buzz emails.
To leave a comment, please log in or create an account with The Buzz Magazines, Disqus, Facebook, Twitter or Google+. Or you may post as a guest.