Chef's Corner: Marco Silvestrini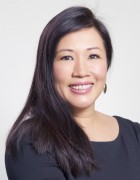 Click the Buzz Me button to receive email notifications when this writer publishes a new article or a new article in this column is published.
Oh, the icy delights of summer.  A sun-kissed, blond toddler scarfs down a scoop of vanilla gelato at Dolce Neve Gelato (4721 N. Main). His delighted mom, a first-time customer, gives owner Marco Silvestrini a thumbs up. "OK, it's kid approved," she says.
Just six years ago, Silvestrini, 37, was working in the fast-paced finance sphere of New York City. Now, along with older sister Francesca and her fiancé, Leo Ferrarese, the Italian native is churning out possibly the best gelato in town.
The Houston shop in the Heights – gleaming white and modern – is their second Texas location. Silvestrini has been credited with coming up with Dolce Neve's most creative flavors, including fromage blanc with apricot jam, crème fraiche with sage-butternut squash, and pear-and-ginger sorbet. Here, he explains the differences between Italian gelato and ice cream, his favorite store-bought vanilla brand, and why he left New York for Texas.
When did you open the location in Austin? Why didn't you stay put in the Big Apple and open a shop there?
It's too risky to open a gelato shop in New York. You have so many there already. A friend of mine suggested Austin, and so we opened on South First Street in January 2014. Last year in March, we opened the Houston location. Now I split my time driving between the cities: three days in Austin and three days in Houston.
Your grandparents were farmers in a small town in central Italy, so what inspired you to open a gelato shop?
In 2012, I was working for a large management-consulting firm in New York, and I was tired. I wasn't happy about the project I was working on. There was a lot of restructuring involved, and that meant firing people.
I realized a fancy career wasn't enough to make someone happy. I quit my job and started thinking about what really made me happy. I thought about the hospitality industry and how it is a meeting place for people, where they can take a step back to find some peace and quiet. My sister and I love desserts, and I remembered how our family and friends would always go for gelato after dinner. It was a ritual for us.
So, you and Francesca decided that she should attend Carpigiani Gelato University in Bologna, then work with gelato maestro Gianfrancesco Cutelli at Gelateria De' Coltelli in Pisa, one of the most famous gelato shops in Italy?
The most difficult part was coming up with the recipe, the conceptual part, and Francesca does that. I also work on recipe development, but my focus really is the execution, acquiring ingredients and working with the farmers. Leo, meanwhile, focuses on the churning. But we all do a little bit of everything. It's a family business.
What does Dolce Neve mean?
Dolce means sweet, and neve means snow, so "sweet snow." It's like that story I told you earlier, how centuries ago, people around Sicily gathered fresh snow from Mount Etna and added honey and fruits.
Who invented gelato?
There are different stories, but most believe gelato was invented in the 16th century by an Italian chef in the court of Catherine de Medici. But who is the godfather of gelato? Many consider it to be a Sicilian, Francesco Procopio dei Coltelli, who moved to Paris in the late 16th century and started selling gelato, popularizing it to the public.
How is gelato different from ice cream?
The main difference is the amount of fat. Ice cream has 15 to 50 percent. Gelato has between 6 and 8 percent fat. Second is the amount of air. Gelato is denser, so less air. The third difference is gelato is served at a slightly higher temperature, around 5 degrees Fahrenheit, so your palate can perceive the flavors a little more. 
Each region has its own style. Sicilians like it a little sweeter with no egg yolks. Venetians prefer it richer, fattier, with more cream. The Tuscans opt for less fat, less sweet, more refreshing. What about Dolce Neve?
We prefer clean flavors. Texture is very important. Some will use fillers to give it a silkier mouth feel, but we stay away from fillers. We make everything from scratch, even roasting our own pistachio nuts for better flavor.
Where do you go for gelato or ice cream, and what is your favorite store-bought vanilla ice cream?
I do our R&D, so I like to try different places. One place I like is Jeni's Splendid Ice Creams, with locations in Ohio, California, Georgia and Missouri. In New York, there is Morgenstern's (2 Rivington Street). They have interesting flavors. As for store-bought ice cream, Jeni's is available at Whole Foods and Central Market.
More sweet spots to cool off
There's never a wrong time for ice cream, especially during summer in Houston. In the past few years, the city has witnessed an icy-treat revival. Here are a few to sample:
Aqua S: This Australian import's specialty is soft-serve cones in clouds of cotton candy. Or top with toasted marshmallows, pop rocks or caramel popcorn. Signature flavors: sea-salt-flavored and aqua-colored; jackfruit; durian matcha; (my favorite) lychee. Ambiance: Bright in a swirl of aqua clouds, the shop hums with 20- and 30-somethings. 9889 Bellaire Blvd.; 11:30 a.m.-midnight daily 
Class 502: When this Southeast Asia-inspired ice-cream shop opened, lines were out the door. It's still buzzing with college students giggling over cylinders of ice cream with toppings from mango to Pocky sticks. Signature flavors: Mind-blowing Matcha, Mango Madness, Sassy Strawberry and Banana. Ambiance: Adorable schoolhouse theme, with Post-it notes as wall art. Watch ice cream be spread onto cold plates, then formed into delicate rolls. 9889 Bellaire Blvd., noon-11 p.m. Mon.-Thurs., noon-midnight Fri.-Sat., noon-10 p.m. Sun. 
Cloud 10 Creamery: A darling of chefs; 10 seasonal flavors plus original standards, but because pastry chef/owner Chris Leung makes a half-gallon at a time, he's open to making small batches of custom flavors. Signature flavors: café sua da, peanut butter and jelly, marzipan, Nutella & marshmallow ice creams; mango sorbet. Ambiance: The Rice Village location took a minimalistic approach. The new Heights location is a cozy bungalow with a big patio and yellow picnic tables. 5216 Morningside Drive and 711 Heights Blvd. Hours vary between shops but roughly lunchtime through the night. 
Dolce Neve Gelato: Feels like a gelato shop in Italy. The concept was started by Marco Silvestrini, sister Francesca and Leo Ferrarese. Many organic, local ingredients. Signature flavors: Salted caramel, stracciatella, Crema Dolce Neve (custard with lemon zest), coconut milk with black-raspberry jam. Ambiance: Gleaming with white and silver. 4721 N. Main St., noon-10 p.m. Mon.-Thurs. and Sun., noon-11 p.m. Fri.-Sat. 
Gelazzi: Along with pizzas, 30-plus flavors of gelato and sorbets; many family recipes from the '50s. Signature flavors: pistachio, bacio, stracciatella, mango sorbet, strawberry-balsamic gelato. Ambiance: Think of an old-timey movie theater draped in red. The cozy space oozes Cinema Paradiso charm. 3601 White Oak Dr. Noon-10:30 p.m. Mon.-Thurs., noon-11:30 p.m. Fri., 11 a.m.-11:30 p.m. Sat., 11 a.m.-10 p.m. Sun. 
Hank's Ice Cream: Hank's remains a favorite after two decades. Rotating list of 100-plus flavors. Its most famous customer, Beyoncé, gets banana pudding. Signature flavors: Cake batter, dulce de leche, chocolate chip, guanabana (soursop). Ambiance: Walking into Hank's is like walking into your favorite aunt's home. It's lived in, with a lilac wall of photos and plaques. Most folks drop in for a pint to take home. 9291 S. Main St., 12-8 p.m. Tues.-Sat., 3-7 p.m. Sun. 
Kwality Ice Cream: So grateful to the friend who turned us on to this Indian ice cream shop with locations across the country. Kwality time is quality time for families whose parents grew up enjoying an ice-cream brand by a similar name in India's sweltering summers. Signature flavors: malai, pista (pistachio), kesar (saffron kulfi), fig with walnut (my favorite), Ferrero Rocher, butterscotch, cheesecake. Ambiance: Upbeat red-coral walls with neon-green accents. Bustling with Indian families and teens, it brims with conversations and laughter. 5636 Hillcroft, 11 a.m.-11 p.m. Mon.-Fri. and Sun., 11-midnight Sat., (also in Sugar Land) 
Moody Ice: Where childhood memories are made. Playful, fruit-flavored-ice. In the back are stacks of fresh fruit for house-made syrups. Moody Ice (topped with fruits) or Hawaiian style (drizzled with condensed milk and topped with ice cream). Signature flavors: strawberry & habanero, Tiger's Blood, blackberry & lavender (for Moody). Matcha, lemon-lime, hibiscus, chocolate coconut (for Hawaiian). Ambiance: Perfect for families, there are games for kids. 1919 N. Shepherd Drive. 11 a.m.-11 p.m. daily 
Petite Sweets: This dessert spot expanded its options last year to include homemade ice cream from Lee Ellis, co-founder of State Fare, Lee's Fried Chicken & Donuts, and Pi Pizza. Lee's Creamery ice creams are made with milk from grass-fed cows and free-range Texas eggs. Signature flavors: Mexican chocolate, strawberry cheesecake, double vanilla bean. Ambiance: Natural light pouring through wall-to-wall windows. 2700 W. Alabama St. 10 a.m.-10 p.m. Mon.-Thurs., 10 a.m.-11 p.m. Fri.-Sat., 12:30-10 p.m. Sun. 
Smoosh: A custom ice-cream-cookie truck for the Z Generation. Signature flavors: Choose baked cookies for sandwiching, waffles (Wednesdays), churro cookies (Fridays). Premium vanilla, butter pecan, mint chocolate chip, strawberry, no-sugar-added country apple pie, plus toppings. Ambiance: A stop-by blue truck with an orange logo in Rice Village. Address: 5505 Morningside Drive. 1-8 p.m. Tues.-Sun. 
Editor's note: Buzz dining columnist Dai Huynh is a James Beard food-journalism award winner and longtime Houston-based restaurant writer.
Want more buzz like this? Sign up for our Morning Buzz emails.
To leave a comment, please log in or create an account with The Buzz Magazines, Disqus, Facebook, Twitter or Google+. Or you may post as a guest.