One Sergeant's Story: The Vietnam War
Click the Buzz Me button to receive email notifications when this writer publishes a new article or a new article in this column is published.
"Life is, unfortunately, not always a picnic," my dad said, looking into my eyes. My dad, Dennis Cohan, has never liked to talk much about his time in the Air Force. As I've grown older and more intrigued by his story, he told me he feels fortunate that none of his children have had to endure the same experiences. His dad, my grandfather, was in the US Army during WWII, and other relatives were POWs during WWII. We have family members who survived the concentration camps during WWII. So, in comparison, "My life during and after was not comparable," he said.
Talking to my dad is always engaging as we love to joke around together. This conversation was different as we were able to delve into an intellectual and more serious subject.
My dad enlisted in the United States Air Force during the Vietnam War in September 1965. "Serving our country at a young age of 18 was insane," he said. Both the required focus and the training made it so a lot of young boys were forced to grow up very fast. He served through May 1970, nearly five years. Although he was supposed to receive an early discharge after his first tour of Vietnam, due to his job, he served a second tour.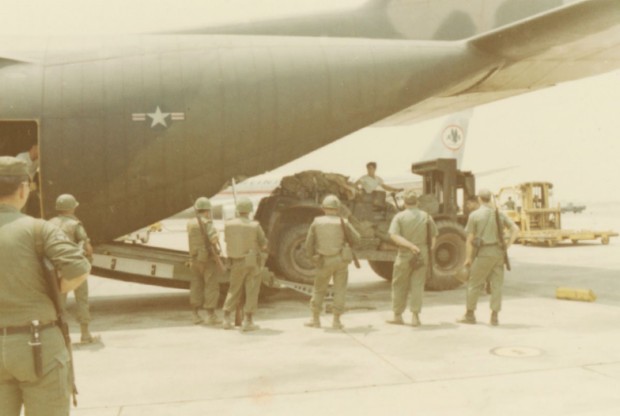 From his 4 years and 8 months of serving, he learned a lot of life lessons. "Life is short, so you learn to savor what few enjoyable times you had, just due to the uncertainty," he said. He learned to make quick decisions. He feels he made mostly good decisions during his time in the service.
My dad attended a few universities during that time and was stationed in various states. He first attended Bellville College, a community college located in Bellville, Illinois. He was on flight status, so the local college was flexible with military attendees. Many assignments and tests were completed through a Proxy, which was an officer, to maintain an honor system.
During the late summer of 1966, he arrived in Vietnam. He found out that some of the guys were taking correspondence classes through The University of Maryland. Once again, it was a proxy approach to a self-study program for each course taken. His goal was to attempt to complete some of his basic college classes, which were essentially core classes. He said he had extended time if needed, depending on where he was and what was happening. "The correspondent classes for my Vietnam tours were a good fit because of the extended time," my dad explained.
Then he returned to the United States in 1967 and was stationed in Charleston, South Carolina. Charleston had a large Air Force base. He started taking on-base classes offered by Florida State University. He attended some classes, however, there was flexibility due to his duties as a loadmaster, involving scheduled and unscheduled base departures. He said, "FSU was fantastic, as it worked outside of the box providing an education to military personnel."
In January 1968, my dad began taking classes at The Citadel, located in Charleston. His friend was teaching evening classes and encouraged him to look into the program offered to active military personnel. At the same, The Citadel was a male-only military/college institute.
Whilst serving during violent times, my dad "mostly felt uncertainty" he said. "You learn to just adjust and move through the minutia." One of his most memorable experiences was the daily support that he and many others provided the Vietnamese people of South Vietnam. He said, "You had to be there to really understand what was going on." Another highlight was his involvement in helping in the support of a Leprosy colony located in the highlands near Kon Tum Province. His friend asked that he take some donated items from his hometown church, to Sister Mary, a nun from France. She was a remnant of the French occupation and stayed even after the French were ousted during the 1950s. My dad explained that she essentially ran the Leprosy colony with some other French and Vietnamese nuns.
When asked what it was like to transition back to daily life, he said, "It was very difficult…many, unfortunately, had much more difficult times than I did, or I think I did." During the late 1960s and early 1970s, many who left the various military branches did not talk about their active service time since the national opinion of the war was not favorable. People were burning draft cards in opposition. With his hand resting on his cheek, my dad said, "It took about 4 to 5 years to adjust, however, Mom will tell you that due to the experiences, 'adjustment' is not the word I would use...I would say I learned to cope. You do your best to adjust, and move forward."
Today my dad loves to laugh, spend time with his three children, his wife, and his Welsh Corgi. The warmth of his smile engages all who know him. His most prominent traits include his selflessness, loyalty, intelligence, sense of humor and admirable work ethic. His love for reading and leading a men's book club taught me that learning is never-ending.
He is a Managing Shareholder at Cohan Insurance Group. He credits the Air Force for invaluable skills, values and character traits that he built and learned as a Sergeant.
I am really grateful I was able to interview him about his Air Force experiences, as I learned more in-depth stories that will stick with me forever.
Time and time again, my dad has proved himself to be my biggest inspiration. I look up to him every single day. I hope to one day have as much of an impact on my children as my dad has had on me.
Want more buzz like this? Sign up for our Morning Buzz emails.
To leave a comment, please log in or create an account with The Buzz Magazines, Disqus, Facebook, Twitter or Google+. Or you may post as a guest.