Sunday Mornings with Rania: Topics of Conversation this July 4th
Click the Buzz Me button to receive email notifications when this writer publishes a new article or a new article in this column is published.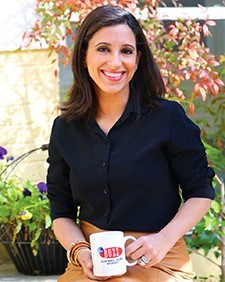 It's a deeply emotional time. A time in which complex issues and hard images are hitting us daily. In just the last week, we have been traumatized by loss in Maryland, concerned over two young teens missing from The Woodlands Mall, and watched officers with Constable Alan Rosen's office navigate the reality that a simple piece of paper left on your car might be laced with fentanyl or another poisonous substance.
We are all overwhelmed.  
It's more important than ever to make time for friends and family and take time to surround yourself with positive, peaceful moments. I hope you'll be able to do just that this July 4th. And I hope that while our hearts are filled with compassion and empathy and a bound determination to be the good and kindness our world and community needs, I also hope that for you, and for me, this Fourth of July will be filled with images of my kids playing, someone grilling on a BBQ (preferably my husband) and conversation that are fun or maybe even silly. Here are five ideas for lighter conversations with friends and family:
It's our country's birthday! As we celebrate American independence, remind those young ones that on July 4, 1776, the United States was born when we declared independence from Great Britain. And yes, even though our nation's founders found for independence, we are all still infatuated with British culture…. Just  ask how many of your friends have watched or are currently watching "The Crown" on Netflix or bring up a royal or two and watch the conversation flow.
We live in a world where people speak and write in #hashtags. That said, TIME Magazine just revealed the "25 Most Influential People on the Internet." Take a glance to determine how connected (or unconnected) you are to social media. Making the list is the Korean boy band BTS and also on the list are the Paul brothers, Logan and Jake Paul, who are YouTube stars with a controversial past. You may remember that earlier this year, YouTube dropped 23-year-old Logan as a "preferred ad partner" after he filmed himself discovering an alleged dead body in Japan's "Suicide Forest." Other names topping the list include Rihanna, Kanye West, The Women of #BabaeAko, Ryan (a.k.a. Ryan ToysReview), Matt Drudge, "Q" and Busy Philipps. TIME made their determination based on the users' global impact on social media coupled with their overall ability to drive news.
Ever wonder what type of people win the lottery? Good news here, an Oregon man claimed the grand prize on June 28, 2018 – just one week before he was set to retire! Richard Nelson will receive $1000 a week for the rest of his life. Not bad! That said, Texas friends, the odds of winning Lotto Texas are 1 in 25,827,165, according to a June 20, 2018 report. Is it still worth the one-dollar investment? And of course, what would you do if you won?
If you're of a certain age and were a "Toys R Us Kid" the closing of the mega brand was sad. That said, it's also interesting. Kids today don't seem to long for the stimulation of walking down store aisles; instead, they gravitate to an electronic where they can scan, click and shop. Packages at the front door are slowly becoming the excitement of shopping we long for. With that in mind, The Spruce has compiled a list of the best places to buy kids' toys online. I'll add that Amazon has a great kids' "STEM Club" monthly toy subscription. The kits are compiled based on age and cover fun games involving math and science. 
We all followed the Cambridge Analytica scandal, which subjected 87 million Facebook users to having their information compromised. For those of you who find the way companies can harvest, use and sell our personal information of concern, I'd urge you to tap into what CA is currently doing. As of June 28, 2018, a new law concerned about online privacy was just signed into effect giving Americans more control over their own data. Companies will have to disclose what information they have on consumers and with whom they share it. It also gives consumers power to STOP companies from selling their info and will absolutely forbid companies from collecting, selling information on minors' under 16. Additionally, companies must give consumers an opt out of selling information. The new law, if it continues down its path of approval, will kick into effect in 2020.
As you celebrate this week, remember to be safe while grilling, with kids in the pool and, of course, near gunfire or fireworks. Remember, even though we're in Texas, "Celebratory Gunfire" is still not always allowed! In fact, the law is complicated: Anyone who fires a gun in a public place without a legitimate reason (i.e., protecting yourself or at a gun range) is committing disorderly conduct which is a Class B misdemeanor defined by up to 180 days in jail and/or a fine of $2,000 if caught. That said, if the shooter is on private property and shoots "across property lines" you could be charged with disorderly conduct or deadly conduct. Now if you are alone on your private property and there's great distance between you and your neighbor and fire your gun into the air on July 4th, you may not face any violation of any kind. It will just depend!
All that said, if you are in a city with more than 100,000 residents (hello Houston!) you can be jailed for up to one year and fined up to $4,000 (even if on your own property). In summary, celebratory gunfire is just a plain old bad idea.
Wishing you and yours a wonderful and safe week – most of all, filled with rest, health and happiness.
Want more buzz like this? Sign up for our Morning Buzz emails.
To leave a comment, please log in or create an account with The Buzz Magazines, Disqus, Facebook, Twitter or Google+. Or you may post as a guest.