World Cup Fever
Click the Buzz Me button to receive email notifications when this writer publishes a new article or a new article in this column is published.
American football fans usually cheer for teams from one of 32 American cities that wear helmets, take time outs, play with a brown oblong ball and have their "big game" once a year in February. If, this summer, you've found yourself rooting for teams from one of 32 countries that play with a round white ball, aren't allowed to use their hands, have their "big game" in July once every four years and have found yourself saying, "Goalllllllllllllllllllllllllllllllll"!, you probably have World Cup Fever! 
The 2018 tournament playoffs started in mid-June with 32 countries and the final game will take place on Sunday: Europe: Russia (host), Belgium, Germany, England, Spain, Poland, Iceland, Serbia, France, Portugal, Switzerland, Croatia, Sweden, Denmark; Asia: Iran, South Korea, Japan, Saudi Arabia, Australia; Africa: Nigeria, Egypt, Senegal, Tunisia, Morocco; North America: Mexico, Costa Rica, Panama; South America: Brazil, Uruguay, Argentina, Colombia and Peru.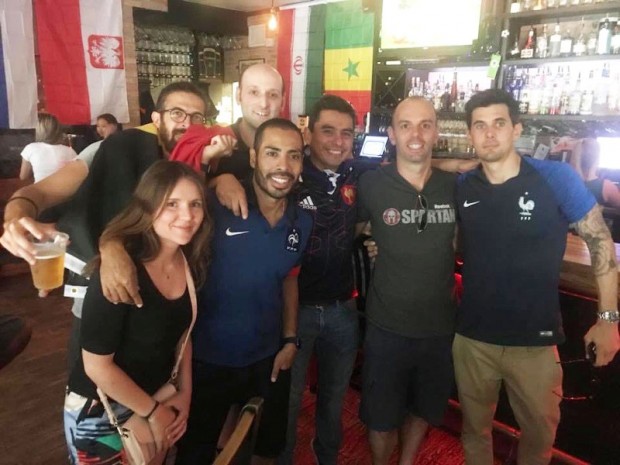 The last two teams standing are France and Croatia and will play in the World Cup Final on Sunday, July 15 at 9 a.m.
French fan Pierre-Paul Vivier shared his thoughts: "Soccer has a very important place in France and people are passionate about it. The final on Sunday is the 3rd of the French team in the history of the World Cup. We love it because it unites us without any distinction of social class, age, race, etc. We are all one big supporter rooting for the team. I'm one of the administrators of the 'Houston French Gang' on Facebook and we had people that we have never met asking us to create events and who joined even for the game at 5 a.m. The Phoenix Bar on Westheimer will be full of French on Sunday."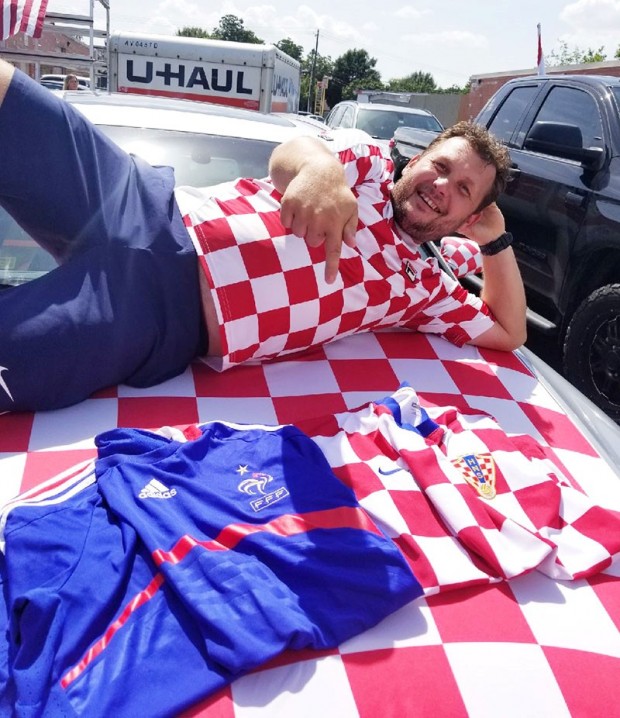 Kresimir Kurjakovic, a self-described "Soccer Super Fan," grew up in Croatia and, at one point, worked as a professional soccer referee. He now coaches for Rise, a local nonprofit that helps to build young soccer players in the Houston area. Croatia reached the semifinals in 1998, but this is Croatia's first World Cup final round appearance ever. Croatia is the second smallest nation (4 million, which is smaller than Houston) to reach the final of a World Cup in 68 years (since Uruguay in 1950). The Lone Star Croation Club on Hillcroft sounds like the hotspot for Houston-area Croatia World Cup fans.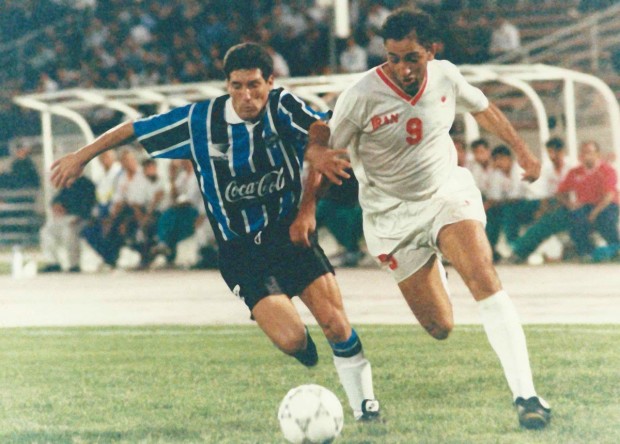 Arash Naomouz, retired professional soccer player and co-owner of '401 Table and Tap in Bellaire, says he is still in love with the beautiful game. Born in Tehran, Iran, Arash remembers playing soccer in the streets as a child and using rocks to mark the goals. Arash played for Iranian football clubs Poora, Pas, Bahman and eventually became a member of the Iranian national team. In 1993 Iran was on the verge of playing in the 1994 World Cup (hosted by the United States). Unfortunately, Saudi Arabia, a team Iran usually handled easily, pulled off a 4-3 upset, earning the Asia Zone's top spot to qualify for the 1994 World Cup.
"It was so disappointing because we always beat Saudi Arabia," shared Arash.
Moving to Houston in 1994 to play for the Houston Hotshots, the defender eventually joined Major League Soccer's Los Angeles Galaxy. He was in line to play for Iran in the 1998 World Cup in France but suffered a career-ending right knee injury in 1997. Despite the setbacks, Noamouz remains in love with the World Cup.
"It's the event that unites all the cultures around the world. It's something that I love a lot," he said. When asked about how many of those frequent overdramatic injuries on the soccer field are real, he grinned and said that most of the time, players really do have cramps from all the running that are very painful, but not always. Arash and his wife, Kristi Coffey, have been opening the restaurant early to allow fans to watch the games and plan on being open on Sunday for the World Cup Final.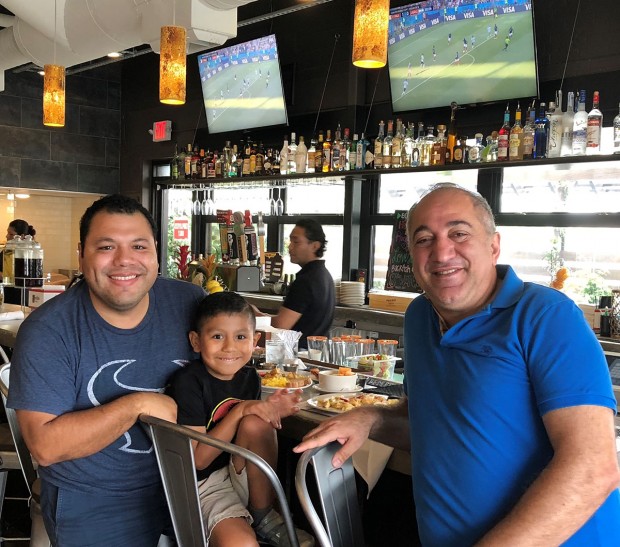 Guadalupe Navarro and his four-year-old son, Santiago, came into the '401 earlier this month to eat breakfast and cheer on Argentina who they were rooting for because they are fans of Argentina's native soccer super star, Lionel Messi. Guadalupe added, "Since the US is not in the World Cup, we are also rooting for Mexico and other Latin American teams."
Another fan walked in wearing a Brazil shirt. When asked why he's rooting for Brazil, he answered matter-of-factly, "Because I got it for half price at Dick's Sporting Goods!"
Margarita Martinez is a Colombia native and avid fan. "My Colombian group met 18 years ago. None of us has family here so we became family. We get together at a house for every soccer game, usually bring food and the host will prepare a main meal. We don't sit down and just watch the game as normal," she said, laughing. "During the game we play music, cumbias, salsa, typical music from the Colombia. The girls dance and make everyone laugh. When Colombia scores a goal, we become crazy and hug everyone around and cheer and cheer!"
"Before the game starts we do 'la Polla' which is like a potluck bet . . . the winner will win after the game is over. We had our American friends come over, and they said they had so much fun. They were surprised at how much energy we had for dancing and screaming and how passionate we were.
Many Buzz residents have fond memories of past World Cups. Back in 1990 before they met and were still college students, future wife and husband, Dale and Greg Waller, were backpacking in Italy where the World Cup games were being held. The country basically shut down so everyone could watch the game. The majority of businesses and services including buses, trains, museums, stores and restaurants were closed, so tourists, including Dale, Greg and their friends were stranded. When the Wallers' paths crossed later in life, they discovered their shared "back in the day" World Cup experience!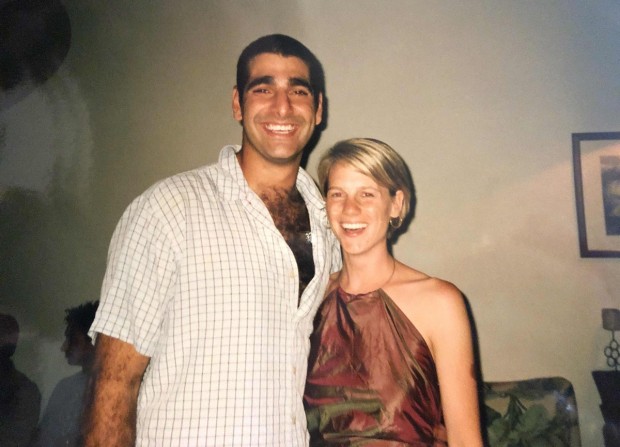 During the 2002 World Cup in Japan and South Korea, Amy Sahely and her future husband, Kaam, had just met and were on a romantic moped ride in Florence, Italy. They accidentally ran into a group of motorcycles parked outside of a bistro. They went inside to apologize and see if they needed to offer anyone money but no one would come outside to look since they were too busy watching Italy play. 
Lamar High School alum Nate Shallenberger grew up playing soccer in West U. In 2010, Nate and his mom, Leba, took their dream trip to attend a World Cup, which was in Africa that year.
Nate summarized his feelings on his blog after the U.S. made their crucial goal in overtime to win their division in the World Cup and pass on to the next level. ""AYOBA! (awesome) as they say in South Africa. U.S. fans went nuts. Strangers hugging and high-fiving, checking the sideline official's flag out of the corners of their eyes just to be sure this one was real. Voices were instantly lost. Tears welled up in our eyes. We remained in the stadium for 45 minutes after the end of the match, reveling in the magic."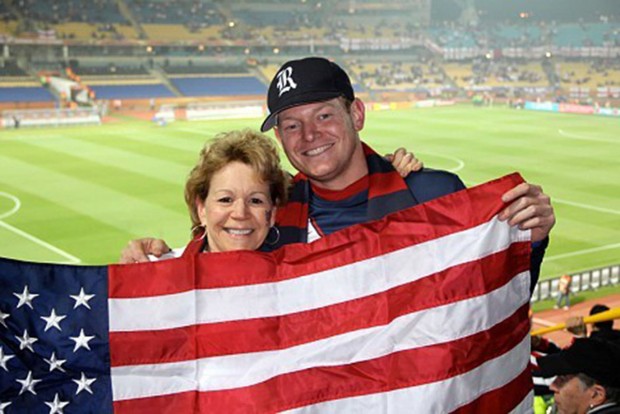 It has been extra special for Chris Reed to cheer on the England team. "A couple of the players, Jamie Vardy and Harry Macguire, are from my hometown club, Leicester City so it's fun to see them represent."
Andy Williamson was 10 years old the one time England won the World Cup in 1966. "Fifty –two years later I can still name every player on that team and remember how much we all wanted to grow up to be futbol stars."
Jeff Thomas, CEO of Archetype Wealth Partners shared, "Our family rooted hard for Iceland during the World Cup this year. It's hard to believe that the U.S. team didn't make it with our 300 million population while Iceland DID make it with their 300,000 population. That's an amazing Cinderella story that is easy to root for! Plus, my daughter Sophie (Episcopal High School senior) and I are headed to Iceland for a father/daughter vacation this summer, which gave us extra incentive to pull for them."
Do you have "going to a World Cup" on your bucket list? Good news. North America will be hosting the event in 2026 with Houston as a possible venue. 
Third Place Playoff - Belgium vs. England  - takes place Saturday, July 14, 9:15 a.m.
The final game – France vs. Croatia - takes place Sunday, July 15, 10 a.m. CST.
Gooooooooooallllllllllllll!!!!!!!!!
People in this article:
Pierre-Paul Vivier
,
Kresimir Kurjakovic
,
Arash Naomouz
,
Kristi Coffey
,
Guadalupe Navarro
,
Santiago Navarro
,
Lionel Messi
,
Margarita Martinez
,
Dale Waller
,
Greg Waller
,
Amy Sahely
,
Kaam Sahely
,
Nate Shallenberger
,
Leba Shallenberger
,
Chris Reed
,
Jamie Vardy
,
Harry Macguire
,
Andy Williamson
,
Jeff Thomas
,
Sophie Thomas
,
Enrique Ramirez
,
Sebastian Ramirez
,
Maya Ramirez
,
Kressimir Kurjakovic
Want more buzz like this? Sign up for our Morning Buzz emails.
To leave a comment, please log in or create an account with The Buzz Magazines, Disqus, Facebook, Twitter or Google+. Or you may post as a guest.