Social Media and The Real Deal with your Teen
Click the Buzz Me button to receive email notifications when this writer publishes a new article or a new article in this column is published.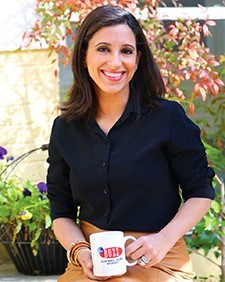 It's a scenario I see often. A young girl or boy posts extremely provocative photos on Instagram or Snapchat. They are kids in loving homes, with very involved parents. Still, the same questions come to mind: Do these parents follow their children online, on each platform they are using? Or, do the parents mistakenly think they have a handle on their child's life and social media engagement but in reality, are so off the mark? Or, even worse, do they know but not care? Hopefully it's not the latter; chances are it's one of the former.
With this happening over and over again (literally) this post is for all of us. My goal this week is to offer insights, tips and tactics for parents in the social media age, an age where, let's face it, we have been routinely outsmarted by teens who are way savvier and way more determined to be online. Let's dive in…   
Stats:
According to a recent Pew Study, 95 percent of teens have access to a smartphone and 45 percent say they are online "almost constantly." The study, conducted March 7-April 10, 2018 polled teens aged 13-17 and confirmed that YouTube (85 percent), Instagram (72 percent) and Snapchat (69 percent) are the most popular online platforms among teens. While race and socioeconomic factors showed limited differences, gender played a larger role with girls more likely than boys to use Snapchat most often (42 percent vs. 29 percent) and boy more inclined than girls to identify YouTube as their platform of choice (39 percent vs. 25 percent).
Point is, a majority of all kids in all places are on social media, in one way or another.
10 Reasons Why Your Child is Desperate to be on Social:
It's the new way of life
To not be on social media means a life of boredom
To not be on social media would make their friends upset
Social media users have a streak, to walk away would cause a huge lapse in their following and engagement  
Social media is where kids "hang out"
It's really the only way to talk to friends. Very few call and texting is limited
Social media use establishes a teen's personality, giving them an "identity" and "marking" their place in their school community and online world
It determines (in their minds) their social value (level of popularity)
There is a fear of missing out
It's the way they get news (social and political), read about current events and stay plugged into the world
Parents and the Strategy to Navigate the Social Media Usage of the Teens:
We've just listed the overwhelming percentages of teens online. We've also gone through 10 reasons they insist on being online (mind you, I could have added 10 more). While I'm not saying their reasons are sound, they are their reasons whether we like it or not. So, for parents wanting to curb social media usage, what can be done? Recently, I've talked to many parents taking aggressive routes, especially before school starts, to limit or even keep their children from engaging online. Here are two common approaches and a reveal of the flawed thinking:
1. Parents are disabling or forcing children to remove their social media platforms from their phones and then "checking" those phones nightly to make sure the platforms are not back on. Beware: (1) While kids may delete the platform from their phone, they are not deactivating their accounts. This means that the moment you walk away, with one simple "install" click, those platforms are right back on their phones; they can delete and reinstall 100 times and you would never know. Alternatively, they can check their accounts from the nearest web browser. Either way, your approach has meant nothing and they have not missed a beat. (2) If you think you've nipped their online usage in the bud with this simple move, chances are you are no longer monitoring their online usage (after all, you've taken care of that, right?). In reality, you've just given your child total online freedom as they know you're no longer watching them! (3) Don't forget about "hidden apps". Many kids are moving and have been moving conversations away from social media platforms to hidden chats located behind hidden apps on their phones.
2. Parents are following their teens. This is a must and we applaud parents who follow their teens. That said: Beware – Kids are creating fake accounts left and right to throw their parents off their tracks. For example: Instagram's lure has been in the ability for its users to post staged photos and create highly orchestrated depictions of their lives. A year or so ago, teens rebelled (of course) by creating FINSTAGRAM accounts (fake Instagram), accounts which showed their real lives, their true stories, were not staged and shared those with a select few. Today, those "Finsta" accounts are now becoming the "real" accounts for teens and they are the accounts parents do not know exist. According to a YouTube video on how to create a successful Finsta account, a Finsta account is defined as "essentially a fake second Instagram account meant for smaller, private audiences. It's popular among teens, especially teen girls, and features an unfiltered experience into a user's life."  
The Best Approach:
Talk, talk, talk to your kids. Talk honestly about your concerns, what they can post, what they absolutely shouldn't post and why. Talk honestly about consequences and risks.
Be aware of all the newest apps and technologies. This takes a lot of work but organizations like Crime Stoppers can help you. We have a Parents Guide to Social Media class that's free and hugely informative. It can help you get a jump start on what your kids are doing online. (See Crime Stoppers' website for more resources.)
And when all is said and done – one-up them. Yes, I just said that. For the kids who think they've outsmarted you by deleting apps or hiding correspondences, here is the insight of all insights: Every evening you can truly check your child's phone by doing the following on their iPhone, go into Settings à Battery à Battery Percentage and there, in plain sight before you, you can select "Last 24 Hours" and see exactly what your child has been doing online and for how long. Most teens don't know their battery's tracks them this way; if they do, they are positive you have no idea... How great is it that you now know?
In the end, parents, we are in a tough spot as our kids wake up each day and essentially play with fire. Our greatest hope is that they don't get burned and we stay sane through the process. It's not easy but at least we're all in this together. Call Crime Stoppers anytime for more information on these or other tips and tricks necessary to keep all kids safe at all times while online.
Want more buzz like this? Sign up for our Morning Buzz emails.
To leave a comment, please log in or create an account with The Buzz Magazines, Disqus, Facebook, Twitter or Google+. Or you may post as a guest.