Weathering the Storm
One year after Hurricane Harvey
Click the Buzz Me button to receive email notifications when this writer publishes a new article or a new article in this column is published.
It's been a tough year," says Beth Yeshurun Synagogue Senior Rabbi Brian Strauss. "It's been a tough year for a lot of people."
Hurricane Harvey rolled through Houston last August and, with 51 inches of record-breaking rain, altered the physical and emotional landscape of the city. The disaster left residents with a new benchmark: life before Harvey and life after the storm.
"I don't believe God causes natural disasters like hurricanes," says Strauss, answering the question as to why Harvey could do so much damage to so many. "I think God is with us to help us through prayer, community and loving kindness. In Hebrew, the word savlanut means to be able to bear a burden, to be able to bear the weight. Harvey has taught me the value of patience and to be able to bear weight."
And for Strauss, wife Lisa Shapiro Strauss and their three children, Joshua, 17, Noa, 14, and Ari, 13, all students at The Emery/Weiner School, there was a lot to bear. "We are that one family that had it all three places in our lives – both of our places of work and our home – all flooded," says Lisa, a criminal defense attorney. "It was a triple whammy. It was a nightmare. Our home was a nightmare. Our synagogue is our life, and that was flooded, and it was such a nightmare downtown at the Criminal Justice Center where I work, with it flooding. Our whole life was just 'flood' for nine months."
Their Bellaire home had never flooded before, and they did not expect it to do so during the hurricane. "Sunday morning we woke up and water started coming in and destroyed our downstairs," recalls Rabbi Strauss. "Everything upstairs was okay, so we started trying to pick up our valuables like artwork, pictures, DVDs – as much as we could get upstairs. We spent the whole day thinking: How are we are going to get over this?"
The answer, it turns out, was in the form of friends – and complete strangers. "The community was great," says Strauss. "I think there really is something unique about Houston and how we are there for each other. People came out of the woodwork to help." As a rabbi, Strauss is used to tending to people's needs; being on the receiving end was a new experience for him. "It's the first time in my life, I was like: 'Ya, that would be great,' when people showed up and offered to help. This flood reminded me of the power of community. Whatever part of your community you are in, it makes a difference, whether it's synagogue or Little League." The family was able to move back into their remodeled home in June.
In the September 2017 issue of The Buzz, readers met Tom King in the article "Flood of Humanity." King, a sales executive with Victory Packaging, along with his children, Max, 11, and Kenna, 9, students at St. Vincent de Paul Catholic School, had been rescued from their Meyerland home and aided by friends from the West University Little League community. In the year since Harvey, King has been able to restore his home, and the family moved back in around Thanksgiving. He credits Keesha and Robby Organ for bringing 100 volunteers to his house to clean it up as soon as the floodwaters receded.
"I am so glad for the network of people that we had – it was a game changer for us," says King. "Had they not stepped in to help, I think even two weeks later the labor would not have been there to help me rebuild." King says that because his house was gutted so quickly, he was able to find workers and materials before items got scarce or backlogged.
For three months, the Kings lived in a friend's garage apartment. "Reid and Laura Bumgarner took us in," says King. "I knew them a little bit because of baseball. Every morning, they would share their breakfast with us. It was a simple daily routine that included warm, genuine hugs, and my kids definitely needed that. They would hug and hold my kids like they were their own. Their warmth and their love was very comforting."
King rebuilt his home with industrial materials that will be able to survive if there ever is another flood. "There is no wood on the floors; it's all tile. All of our beds are raised. The TV and media equipment are raised. Even in my office, my work table is raised; it's an old table on steel legs. My pool table converts into a dining table and has cast iron legs." They also have learned to live with less.
"When we moved back in, I had four plates and a couple of pots and pans. Whenever we use them, we just wash and reuse them," he says, noting that he put salvaged items in storage last September. "I have not been back to the storage unit. And I know there are some things there I could use. I think Max and Kenna have learned an appreciation for the simple things in what you have, like just having one jacket, having less but being selective about what you have."
King says living through Harvey just a few years after his wife died of breast cancer has been difficult. "The five stages of trauma are real, and the kids got a taste of that after they lost their mom," he says, adding that their Weimaraner, Comiskey, died of old age in January at age 14. "But I am still grateful. I am in a great community. I have survived back-to-back trauma, and I not only survived but got good at it. Max and Kenna are awesome kids, and it's nice to be back home and have stability and a routine."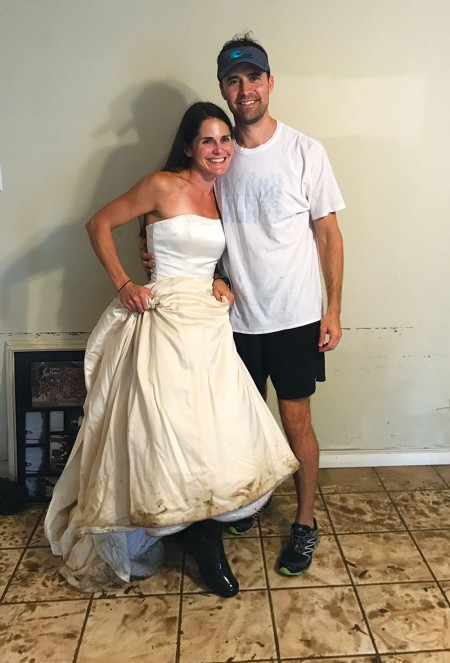 Lindsay and Clay Colvin are still searching for that routine. Since Harvey, they have been out of their Braes Heights home and in a rental apartment with their four sons:  Graydon, 11, Bennett, 8, Jack, 4, and Rhodes, 2.
"Our bedtime prayer usually starts with: 'Dear God, thank you for our family, our friends, our home, our church, our neighborhood and our schools,'" says Lindsay. "Sometimes, this year in the apartment, I've struggled over the word 'home' as it applies to our current situation." 
"It's not home in a traditional sense," says Clay, a consultant with Accenture. "It's a place we live. It's four walls and a roof over our heads. That's the difference between a house and a home. When you are not in your home, you want your old bedroom with your brother, and you want the marks on the wall where you measure your kids' heights."
When Harvey blew into town, the Colvins were uneasy. Clay went out to check the bayou around midnight and saw that the water had spilled over its banks. After that he packed up their cars and moved them to higher ground at a shopping center. "Around 2:30 a.m. we got up and started picking things up and saving stuff," says Lindsay. "The water did not start coming in until 5:30 a.m." At 7:30 a.m., Clay put life jackets on everyone and then pulled Lindsay and the boys in his inflatable kayak to a friend's house several blocks over. Then, he went back to their street and made two trips rescuing neighbors who had taken refuge in an attic.
With the aid of friends to watch their children, the Colvins were able to get back to their house once the water subsided. "We had a tremendous amount of support," says Clay. "Friends, people from church [First Presbyterian Church of Houston], and some people we did not even know just showed up to help. There was one guy – his name was Cory and he was from Chicago – just showed up. He said he was a teacher and he had taken a few days off and just wanted to come help. He stayed a full day just pulling things out of the house."
One sentimental item found during the clean up was Lindsay's wedding dress, which had been hanging in a hall closet. Saddened that the dress was stained by flood water, Lindsay did not know what to do. Her cousin encouraged Lindsay to try it on. "It was just like our wedding day when she put on the dress – just not as clean as our wedding day," laughs Clay, who says they have tried to find some humor in the events of the past year. "She looked beautiful in the dress."
The Colvins say patience has been key to surviving the year since Harvey. Instead of remodeling or rebuilding, they opted to put their home up for sale and want to buy a new one in Braes Heights. "Maybe it takes a natural disaster, but it is amazing to see how the community comes together in a time of need," Clay says. "It's one of the reasons we don't want to leave the neighborhood. It is pretty fantastic to see that this community is the glue that pulls us all together. As we look to start the next chapter in our lives, we hope to find that new home in the same community that has given us so much."
Want more buzz like this? Sign up for our Morning Buzz emails.
To leave a comment, please log in or create an account with The Buzz Magazines, Disqus, Facebook, Twitter or Google+. Or you may post as a guest.