Boo-tiful Bungalow in Bellaire
Click the Buzz Me button to receive email notifications when this writer publishes a new article or a new article in this column is published.
It's beginning to look a lot like Halloween everywhere in Bellaire, especially the legendary Taylor family's house. For more than 15 years, Michelle and Jeff Taylor have welcomed zombies, skeletons, monsters and all sorts of other creepy creatures to camp out in their yard for the month of October. 
This story begins with Michelle, who has always really loved Halloween. "Growing up in Meyerland with my parents, Jerry and Sylvia Wilkenfeld, and my sister, Saundra Israel, we always enjoyed the holiday but there weren't any big family Halloween traditions. My father instilled my love of Halloween. [He} is in the medical field and he once brought home a teaching skeleton, which we had fun displaying. That was probably my introduction to large scale props."
After Michelle and Jeff got married and bought their first house with a big yard in the early 2000s, Michelle started Halloween decorating and has been adding to their spooky figurine and prop collection ever since.
Jeff doesn't have quite the same zeal for the Halloween decorating, but all through October he earns his "Fab-boo-lous Husband" award by being out in the yard putting up decorations that are even more incredible than the greatest great pumpkin patch Linus could have ever imagined.  It's a family affair with sons, Justin, 16, and Dylan, 13, putting up the cemetery fence, blacking out windows, climbing ladders to hang things on the trees and house like lights, shrieking bats and evil clowns. The youngest Taylor, Alannah, helps mom figuring out how to best spookily display everything. 
One of the most popular decorations, which the neighbors always ask about, is the very lifelike scowling butler with bulging eyes. "There are certain props that only come out on Halloween night and he is one of them. He was one of my first life-size pieces and my father gave it to me. He's holding a silver tray with a brain that has real worms crawling through it." Michelle's tone turns mischievous. "I never reveal my secret to the kids. They think the worms are fake but then get spooked when they see them actually moving. I always tease them to try and eat one."
But Michelle's all-time favorite decorations are some real-life scary characters . . .her mom, dad and sister who dress up in their best haunting costumes to add gruesomeness to the graveyard.
To help this popular Halloween destination not get too frightening, barricades are put at the end of the street to help keep the walkers safe from traffic. On extra busy years when Halloween falls on a weekend, the neighbors pitch in to get a security guard to help with crowd control.
The Taylors aren't sure exactly how many trick-or-treaters come each year but it's always a large and happy crowd. One year, Michelle pre-bagged the candy with six pieces per bag . . . and handed out 1800-2000 bags. So 12,000 pieces of candy!
Halloween 2014 was one of the more memorable nights. The Houston Texans' animated quarterback, Ryan Fitzpatrick, and his fun family happened to live across the street from the Taylors. Also big Halloween fans, Ryan was in his front yard wearing a werewolf mask and furry paws handing out candy. Once he took his mask off, the younger trick-or-treaters were still more interested in the candy, but the older trick-or-treaters, parents and Texans fans really appreciated Ryan's enthusiasm. We hear that "Furry" Fitzpatrick is still spooking dressed up characters and throwing some sweet candy to same-costumed friends on the football field in Tampa Bay.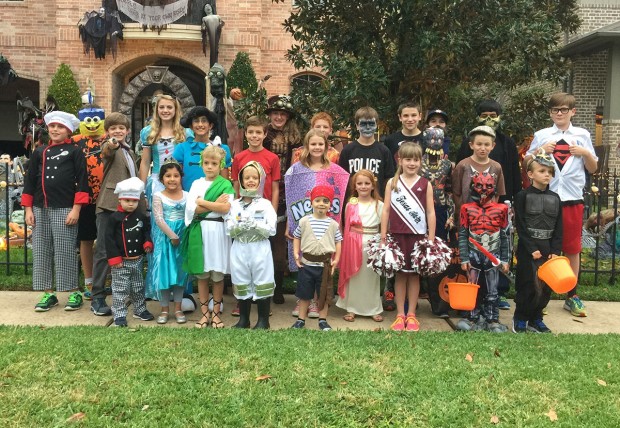 Last year's Halloween, just two months after having nine inches of water come into their home and with the entire street losing their cars due to all the garages flooding, the Taylors weren't sure whether to decorate. Shortly after the flooding, they were touched by how many neighbors had come by to check on the Halloween decorations. Luckily, they weren't ruined. Michelle decided to put the decorations up after all.
With much gratitude, neighbor Josie Brown said, "It was healing to bring the neighbors back together in a fun way and brought happiness in the middle of tragedy." Josie, her husband, Taylor, and their kids, Eleanor, 12, Henry, 10 and Grant, 8, look forward to the Halloween festivities on their street ever year.
The Baker family, Marci, Mike and Cullen, 16, and Brandon, 13, who live near the Taylors, have been enjoying the Halloween house tradition for over a decade. "We really appreciate Michelle and the whole family working so hard to decorate their house every October. It's created lifelong memories and has really brought the neighbors together over the years."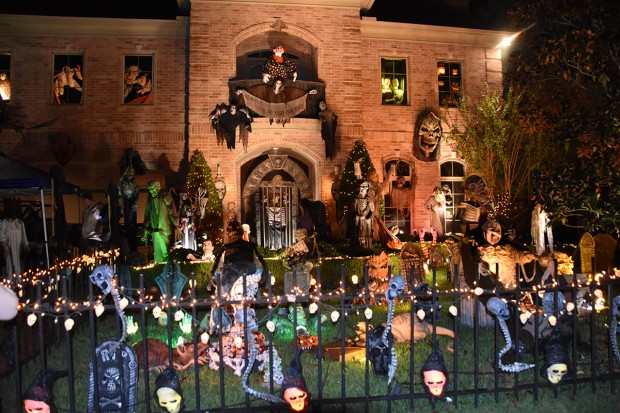 When asked why she continues all the hard work to create the spectacular Halloween House every year, Michelle replies, "Alannah [daughter and sidekick] reminds me, 'We have to keep doing the decorating, Mom. We can't let the kids down.'" Michelle couldn't agree more with her cute, wise-beyond-her-witch-years, Mini-Me partner in crime. 
For nearly two decades, the Taylors have cast a spell making October 31st monsterly magical by treating thousands of grateful children and their families to a Halloween night experience that's even sweeter than candy . . . besides the brain with real worms trick! 
Much love and thanks from the bottom of our bloody Bellaire hearts. It really is SPOOK-tacular!  
Want more buzz like this? Sign up for our Morning Buzz emails.
To leave a comment, please log in or create an account with The Buzz Magazines, Disqus, Facebook, Twitter or Google+. Or you may post as a guest.