Soup and Memories
Click the Buzz Me button to receive email notifications when this writer publishes a new article or a new article in this column is published.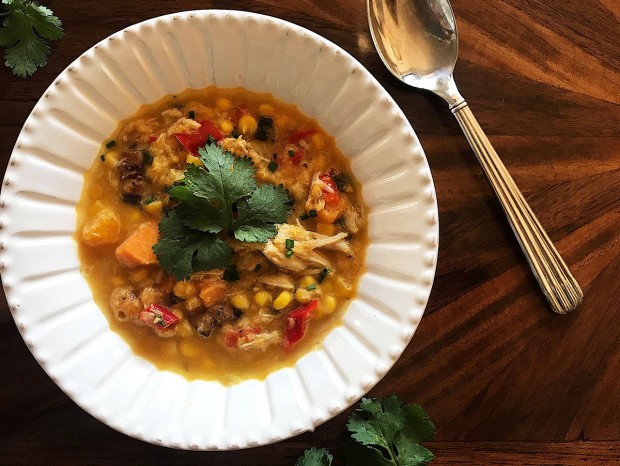 I'm a self-proclaimed recipe hoarder. It's bad. Like three giant 3-ring binders and maybe 100 cookbooks bad. With lots of scribbles and splatters on the pages.
My mom taught me that this is what you do: When you make a recipe, you make notes in the book on changes you made and whether everyone liked it or not and the date and occasion. Which, yes, makes for some really messy pages (this is not for you if you're someone who likes a beautiful book with crisp pages). But it also serves as a record. Of what we ate and when, of whether my people like something or not, of what needs to change in a recipe to make it more to our taste. Kind of like a family history in recipes.
Which brings me to the point: I have been making this yummy Chicken and Corn Chowder since Halloween 2007. I know this, of course, because I've kept detailed notes. And reading over these notes, my mind went back to the days when my girls were little, and we'd have our whole family and another – three generations, both sides, all best friends – over for dinner and trick-or-treating. They are some of our happiest memories, the children dressing up every year since before they could walk, trick-or-treating in every kind of weather, including rain and 90 degrees. I loved keeping that tradition for about 16 years, in some form or fashion.
I think this might be the first year ever that we don't do some version of that family Halloween. Children have begun to go off to school, and to friends' parties, and the other family moved, although we still claim the grandparents, who are still in town. But I can remember just about every year of those gatherings, and this chowder features prominently in a couple of them. I'd serve it in little Styrofoam cups (that – no kidding – said, "Always fun at The Frankforts!") to the grown-ups as something to tide them over while the kids trick-or-treated.
I guess we liked the soup then, because I kept the recipe and have been making it for dinners ever since, to the enthusiastic applause of at least one of my children (the other is not such a soup lover but humors us). It's a version of one from a 2003 Bon Appétit (hoarder, I know), and it's relatively healthy and delicious, and feeds a crowd, too. Hoping it might fit somewhere into your own memories yet to be made.
Ingredients: 
8 thick-cut bacon slices, chopped (I just cut the slices up with kitchen shears, straight into the pot)
1 tablespoon butter
2 large onions, chopped
2 large red bell peppers, chopped
9 cups low-salt chicken broth
6 cups ½-inch butternut squash cubes (I buy the pre-cut squash, which makes this a tad more expensive but a thousand times easier)
2 russet potatoes, peeled and cut into ½-inch cubes (sometimes I use sweet potatoes instead, if I'm feeling a little healthier)
1 ½ tablespoons chopped fresh thyme
2 16-ounce bags frozen corn kernels
1 store-bought rotisserie chicken, meat shredded, skin and bones discarded (you should have around 4 cups of chicken; don't worry about being exact)
2 cups chopped green onions, divided
½ cup chopped cilantro plus extra for garnish
Recipe directions: 
In a large pot over medium-high heat, cook the bacon until it is crispy. Use a slotted spoon to transfer the bacon to a paper towel-lined plate to drain. Remove all but 3 or so tablespoons of the bacon drippings from the pot. Add the butter, then the onion and bell pepper. Sauté over medium heat until the onions are translucent, about 10 minutes. Add the broth, squash, potatoes and thyme, and bring it all to a boil. Reduce the heat to medium-low, and simmer, uncovered, about 20 minutes or until the squash and potatoes are soft. Add the corn, and simmer another 20 minutes. Add the bacon, chicken, 1 cup of the green onions and ½ cup cilantro, and simmer 10 minutes. Season to taste with salt and pepper. Using a hand-held blender immersed in the pot, purée about ¼ of the soup, or enough to make it thick but not entirely smooth.
(If you don't have an immersion blender, just transfer some of the soup to a blender, whiz it up, then add it back to the pot. You'll want to let the soup cool a little bit before blending, and be sure to take out the blender's stopper so you're not cleaning soup off the ceiling!)
When serving, top with green onions and cilantro.
Want more buzz like this? Sign up for our Morning Buzz emails.
To leave a comment, please log in or create an account with The Buzz Magazines, Disqus, Facebook, Twitter or Google+. Or you may post as a guest.