Pies and Puris: Thanksgiving in an Indian American Household
Click the Buzz Me button to receive email notifications when this writer publishes a new article or a new article in this column is published.
I wake up to the aroma of Indian masala cooking on the stove. It's 8 a.m. and my mom is already at it, frying up onions, garlic and ginger that will form the spice base for many dishes. My dad is off at the grocery store, buying the last-minute necessities we forgot during yesterday's grocery run. I, meanwhile, am still groggy, so I make myself a cup of coffee before beginning my baking marathon — I'm always in charge of dessert.
Thanksgiving in my house is synonymous with over-indulging on carbs and sitting on the couch in front of the TV in a food-coma for the rest of the day, like most other families. But the source of that food-coma isn't traditional Thanksgiving staples like roast turkey and green-bean casserole. Instead, it's a combination of chicken tikka masala, saag paneer, puris (essentially deep-fried bread) and, of course, all varieties of pie.
Thanksgiving is often a busy week in the Salhotra household. When my mom hosts Thanksgiving dinner, menu preparation begins weeks in advance, grocery shopping goes on for days, and cooking is a full-day affair of chopping, boiling, frying and baking. Regardless of whether it's just my immediate family of four, or a larger crew of relatives and friends, the day is centered around food.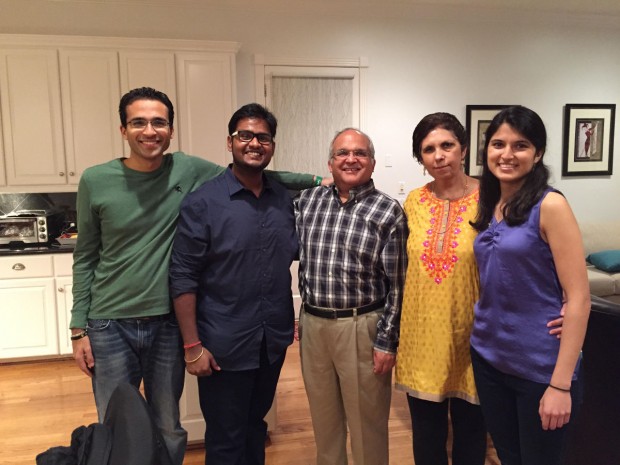 Throughout the morning, my mom continues working on the main courses. On one stovetop, a pot of chana masala (chickpea curry dish) is simmering. She adds a dash of chili, a pinch of salt and a whole cinnamon stick that begins to unfurl. She asks me to taste the curry — too little salt. One more pinch. Perfect. Then she stirs another pot. This one contains the creamy saag paneer (a dish with spinach and cheese cubes cooked in Indian spices). My mom has perfected this dish — her secret is to use a mixture of a restaurant's saag paneer, which tends to be creamier and sparse in paneer pieces compared to the home-made version, plus some of her own fresh spinach and homemade paneer made with whole milk. (See her paneer recipe here.) 
My brother soon comes downstairs and starts getting the house ready for guests. My grandparents and some close friends are coming over, so we need the extra chairs from the garage. And everyone's shoes and books and jackets need to be picked up so that the house is presentable.
My dad returns from the grocery store, lugging in several extra items that weren't on the list. "I couldn't help myself from picking up an apple pie," he says, holding up a freshly baked traditional lattice. Though my family's taste buds are more disposed to spicy Indian curries than Thanksgiving turkey, we are all pie connoisseurs.
When my dad brings out the apple pie, I protest out loud that we will have too much food. But come time for dessert, I will surely help myself to apple pie a la mode. "Don't worry, I got the vanilla ice cream too," my dad says.
I glance at the clock and somehow its already 2 p.m. I have just put a pecan pie in the oven, and I start prepping a turtle pumpkin pie, whisking together milk, vanilla instant pudding mix, pumpkin and cinnamon. I pour the mixture into a graham cracker pie crust, top it off with cool whip and chopped walnuts, then drizzle it with caramel.
Now, it's 4 p.m. and the clock is ticking. I run around the house picking up any miscellaneous items. I toss them into the kitchen junk drawer and then run upstairs to shower. My brother's friend comes over and they start talking football, flipping on the TV to ESPN.
As a final touch for dinner, my dad picks home-grown bell peppers from the backyard and we arrange the peppers, cucumbers and carrots on a plate to form a colorful salad. The salad is just to add a crunch to the curries and lentil dishes.
Finally, the oven beeps and the smell of brown sugary pecan pie goodness wafts into the kitchen. All is ready and it's time to eat. Food coma here we come.
Want more buzz like this? Sign up for our Morning Buzz emails.
To leave a comment, please log in or create an account with The Buzz Magazines, Disqus, Facebook, Twitter or Google+. Or you may post as a guest.