Sunday Mornings with Rania: 307 Shootings in 311 Days
Click the Buzz Me button to receive email notifications when this writer publishes a new article or a new article in this column is published.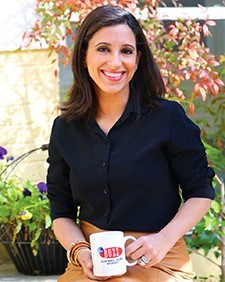 Another day, another shooting. Another round of innocent lives lost, parents broken, friends shaken, and lives devastated. And once again, tragedy hits in a "safe" neighborhood, a community that never expected this…
According to USA Today, the shooting at the Borderline Bar & Grill, on "college night" in Thousand Oaks, the second-largest city in Ventura County, Calif., will take its place as the 307th mass shooting over a period of 311 days. This 307th shooting now called the deadliest mass shooting in the United States since 17 classmates and teachers were killed in Parkland, Fl. only nine months ago. And let's not also forget that less than two weeks ago, 11 were killed while doing nothing more than attending services at a synagogue in Pittsburgh.
How do we make sense of these heartbreaking losses? How, when students in Calif. were killed for doing nothing more than going to a bar to watch a Lakers game and play pool… How, when parishioners are killed for doing nothing more than going to their temple in PA…. How, when students all over this country have been killed for doing nothing more than going to school?
How do we process this? It's so overwhelming that, on some level, we must shut down and turn all the bad off… I understand wanting to do so but we cannot. As a society cannot afford to keep ignoring the signs, symptoms and methods used to cause such destruction; we have to come together, get creative and do whatever we can to stop this epidemic.
As always, Crime Stoppers of Houston strives to offer even the smallest steps in the face of the most complex issues.
Realize. These mass shootings have nothing to do with where you live, work, go to school. It's not about being in a "safe" or "unsafe" place – all it takes is one person, one weapon, one plan. That's it. Realizing this will help us reshape our outlook and the way we live and plan our day-to-day lives.
Notice. Once you realize that your environment doesn't protect you or your loved ones from these tragedies, it's time to get serious about next steps. Go out and do everything you planned to do but do it being public safety minded. Going to the movies? Think of your exit strategy in case a gunman walked in through each of the doors around you. If you're in a crowded club, realize that a gunman walking in will usually start shooting near the doorway. It's best to be further in yet by an exit or window. In the schools, make sure there are active shooter drills and that your kids know them and understand them.
Calm. In thinking these things through, you're setting yourself up to remain as calm as possible in the face of tragedy. The greatest risks once gunshots start is the panic of not knowing how to proceed and what options you have for survival. Think your strategy through in advance. Just think it through and remain as calm as possible.  
Proactive. Law enforcement cannot proactively stop every crime from happening. There is a growing correlation between suicide and mass shootings. We must address this. There is also the reality that many of these attackers operate in the pre-criminal space for many months or years before an attack. We need to be the watchdogs of the community during this time. Do you notice a friend, neighbor, co-worker, acquittance, school peer, colleague etc. behaving oddly or expressing suicidal thoughts? If so, be proactive in talking to that person and asking others if they've noticed anything too. Don't ignore but rather engage, try to talk and see if there's anything there that needs to be addressed. I've had many meetings with local law enforcement where they talk about the power of "diffusing" a potential attack just by reaching out. We have this power too. Form a group, reach out to others in the community who are showing signs of distress or issues, embrace and empower change.
Crime Stoppers. If you suspect that someone is about to commit an act of terror, PLEASE call Crime Stoppers anonymously at 713-222-TIPS (8477) and allow us to work with our partners to stop the violence. This applies for children in schools to the community members in the community. We are a free tool, one call or email or text away. CALL US.
Stop. Let's stop arguing, stop blaming, stop dividing, stop isolating. Let's stop. Let's say thank you to first responders who risk their lives for us each and every (in the Calif. case, Ventura County Sheriff Geoff Dean spoke of six off-duty police officers who happened to be at the bar that night and who willingly used themselves to shield others from gun wounds); to the elected officials who are working on meaningful legislative changes (and if you don't have those types of elected officials where you are, vote them out); to the teachers who are overworked and underpaid; to the principals, the bosses, the cashiers, the former military, the loners… Please, let's stop targeting, defining, barking and ignoring. Let's just all stop.
Love. We cannot grow numb. In a recent press conference, Sheriff Dean (who retired Friday) said:  "We've got to do something about the hate. And we've got to do something to just spread the love and reach out and help people and be patient with them and understand them, because this will touch so many lives around our community. It saddens us all and it tears at our hearts and emotions as it should, and if we ever get to the point where it doesn't, then there is something wrong with us."
These articles are the hardest to write. There are moments following these tragedies where I simply have no more words to say. But then I think of the victims, both the ones that have fallen and the ones that are still to come. We must keep talking about this. We must all agree to come together to form a shield of protection around our communities in ways big and small. Honestly, we do not have a choice.
For more information on Crime Stoppers of Houston, go to crime-stoppers.org and follow Crime Stoppers on Facebook. Have topics in mind that you'd like Rania to write about? Email her directly at rmankarious@crime-stoppers.org. Connect with Rania on Instagram and Twitter. Read past Sundays with Rania posts here.
Editor's Note: Views expressed here are those of the author and do not necessarily represent the views of The Buzz Magazines.
Want more buzz like this? Sign up for our Morning Buzz emails.
To leave a comment, please log in or create an account with The Buzz Magazines, Disqus, Facebook, Twitter or Google+. Or you may post as a guest.