George H.W. Bush
Neighbors remember the president
Click the Buzz Me button to receive email notifications when this writer publishes a new article or a new article in this column is published.
George Herbert Walker Bush – the 41st president of the United States, father of six including the 43rd president, and husband to his beloved Barbara – passed away Nov. 30 at age 94 in his Houston home. Bush had been a part of the Houston community for decades, starting in the 1960s before he launched his political career and throughout his post-retirement years. As a member of St. Martin's Episcopal Church and a long-time resident of the Tanglewood area, Bush and his family touched the lives of many Buzz-area residents, two of whom shared some fond memories with us.  
When Linda Linder worked at Sears in 1966 alongside a 20-year-old George W. Bush, she had no idea her coworker and his father, George H.W. Bush, would become United States presidents. "The head of employment kept saying, 'You need to get to know that George W. Bush – he's going to go places,'" Linda said. 
Fast forward 20 years, and Linda was sitting in the pews at St. Martin's Episcopal Church, the same church her co-worker's father, George H.W. Bush, attended. She saw him step up to the pulpit to deliver the sermon. By this time, he was vice president. Despite his prominence, Linda recalls the elder Bush as humble. "He was the vice president, but he was up there like any other parishioner," Linda said. "He was not impressed with himself at all." 
In January 1993, days after Bush attended the inauguration of his challenger Bill Clinton, he was again at church. This time, he was in the activities center greeting churchgoers at his own welcome reception. "I remember vividly he shook my son's hand," Linda says. "To think last week he was the leader of the free world, and today he's at church and drinking coffee like any other person."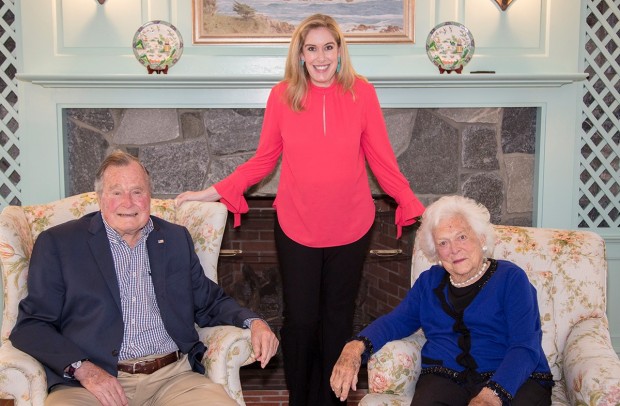 Linda, a retired teacher who lives in Memorial, came to admire Bush as a fatherly figure. She saw him attend church Sunday after Sunday, shadowed by a Secret Service agent but without any fanfare, even as he struggled with Parkinson's disease. And she heard stories from her daughter Stephanie, who worked for him as the senior director of development for the George H.W. Bush Presidential Library Foundation. She says he used to announce to the office that he was taking everyone out for Tex-Mex at Molinas or pizza at Fuzzy's.
When Linda was a second-grade teacher at Second Baptist School, her students would deliver a presentation on a president or first lady. Those who selected George H.W. Bush would write a letter to the former president, who, without fail, would take the time to write back. "The student would receive this note from the president," says Linda, "and it was like the biggest treasure in the world."  
For John Lisenby, a Houston home builder and land developer whose wife Nancy has worked in Bush 41's office for over 20 years, it's Bush's adventurous spirit and generosity that stand out the most. Whether it was trying a new variation of skeet shooting, fishing in the rain, or rallying friends and staff to watch the Astros play at Minute Maid Park, he said, Bush spread joy and laughter.   
John and Nancy once stayed with the Bushes in their summer home in Kennebunkport, Maine, and John remembers waking up there on Sunday morning. He and Nancy were getting dressed for church when they heard a knock.
"Dad wants to know if y'all wouldn't mind skipping church to go fishing," called out Bush's daughter, Dorothy "Doro."  Bush had apparently received a call from a friend who was successfully catching fish.
The Lisenbys were up for the adventure. Even rain couldn't stop this crew – when they stepped outside and realized the weather, the Lisenbys followed Bush back home to grab rain gear. Soon, they were speeding on the Atlantic Ocean, Bush at the helm, while security-detail agents struggled to keep up in a zodiac boat. 
"Bush did not fish at all," John says. "He just had so much fun watching everybody else have fun in the pouring-down rain."  
One year, John and Nancy hosted the board of directors from the George H.W. Bush Presidential Library Foundation at his farm in Independence, Texas. After playing horseshoes, the group shot a round of skeet. Bush didn't perform very well – John later discovered that the president recently had undergone surgery and still had stitches in his shoulder. But this didn't stop Bush from shooting another round. 
"I explained to him that we had different skeet games we would play," John said. "I told him this one was a little juvenile, but we liked doing it." 
Instead of traditional skeet shooting, where a fixed number of targets are ejected from two elevated "houses," targets would be ejected unannounced and as quickly as possible. The shooters' goal, John told Bush, was to not let any skeet hit the ground.  
"His eyes just lit up," John said. 
"And I said, would you like to do that, sir?"
"And he said, yes, I would." 
Bush did not let any skeets hit the ground. 
John said the reality that George H.W. Bush was the former president of the United States "never leaves your mind." But, like Linda, John admired Bush as a fatherly figure who treated his extended network of staff, friends, family, neighbors and even strangers with kindness.
He will be missed.   
Want more buzz like this? Sign up for our Morning Buzz emails.
To leave a comment, please log in or create an account with The Buzz Magazines, Disqus, Facebook, Twitter or Google+. Or you may post as a guest.