Holiday Cookie Gifts: Peanut Butter Balls
Click the Buzz Me button to receive email notifications when this writer publishes a new article or a new article in this column is published.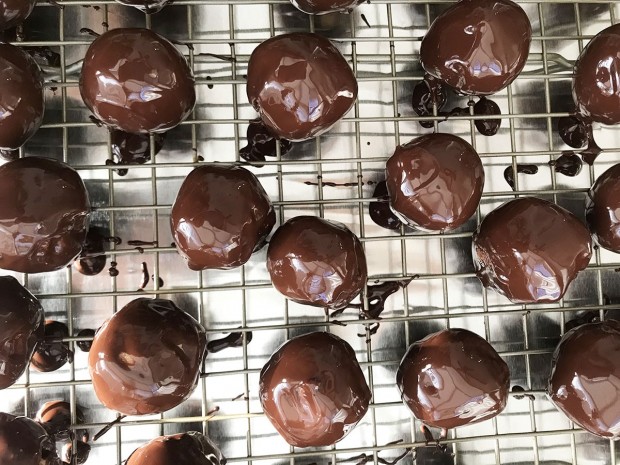 Last Thanksgiving, as our whole family sat around the table finishing lunch and visiting, my nephew Ben was admiring the centerpiece. In the middle of the table was a long scattering of bud vases filled with mini orange and yellow phaleonopsis orchid stems, interspersed with pomegranates and silver bowls of nuts in their shells. Extra pretty, I thought. Ten-year-old Ben thought so, too, and started naming off all the nuts – walnuts, pecans, filberts, Brazil nuts. My daughter was impressed and said so, which prompted Ben to say proudly, "I know my nuts!"
Everything at the kids' end of the table stopped for a second while all eyes went to Ben. Then came peals of laughter as the kids explained to the grown-ups what had happened and exactly why it was funny, because we did need an explanation.
Somehow the same thing has happened to anything named "balls" – was that word even funny before Saturday Night Live's Schweddy Balls skit? I grew up in a house of girls and still live in a house of girls. This is not my forte. But I've apparently given my children and their cousins and friends a lot to laugh about with my choice of description for everyone's favorite holiday candy: Peanut Butter Balls. I guess I could call them Buckeyes (although these would leave a round of peanut butter exposed at the top of the ball) or Peanut Butter Truffles, but I've just made this easy and called them what they are. And what they are is addictive. Kind of like an over-the-top-good Reese's that you happen to make a whole lot of and you'd better wrap up and give away before you eat them all.
Which is why it's so great that these peanut butter balls look gorgeous wrapped in cellophane as a holiday treat or in a silver bowl on a cookie buffet. Seriously, it's a win-win: Your friends will be happy you shared, and you'll selfishly want to share so that you get them out of the house as fast as possible. They're that good. In spite of their name.
Peanut Butter Balls
adapted from Smitten Kitchen's recipe (Over the years, I've gone through so many recipes for these, and this is the best I've found. I use a little more cream cheese and less sugar than Deb Perelman does – play around and figure out how you like them best.)
Ingredients: 
3 ounces cream cheese, softened
1½ cups smooth peanut butter (not the natural kind)
1 cup graham cracker crumbs (I pulse a sleeve of graham crackers – about 9 whole – in the food processor, leaving the crumbs coarse)
½ teaspoon kosher salt
2 cups powdered sugar
10 tablespoons unsalted butter, melted and cooled
12 ounces dark chocolate, coarsely chopped
Recipe directions: 
Beat the cream cheese and peanut butter together in a stand mixer until just combined. Add the graham cracker crumbs and salt, and beat until they are incorporated. Add the sugar and butter in two batches, beating slowly until the sugar is incorporated (or else you will have a big, powdery mess). Increase the speed and mix until everything is combined, scraping down the bowl once or twice. Put this aside in the fridge.
Melt the chocolate in a double boiler or for 30-second intervals, stirring in between, until it's smooth. Let it cool to a little warmer than room temperature. (I like to temper the chocolate, which makes it shiny and gives it a "snap" when you bite into it. Click here for instructions on tempering. 
While the chocolate is cooling, line a sheet pan with parchment or foil, and spray it with non-stick cooking spray. (I sometimes place a cooling rack over the lined shett pan, then spray the rack with non-stick cooking spray.) Scoop a half-tablespoon or so of the peanut butter filling and roll it in your hands to make a ball, then place the balls on the sheet pan or cooling rack. Using two forks, dip each ball into the melted and cooled chocolate, rolling them around until they are coated. Put the chocolate-covered peanut butter balls on the sheet pan (or on the cooling rack so that the excess chocolate drips through). Chill the balls in the fridge, on the pan or rack, for at least 30 minutes, and keep chilled until serving or gifting. These do great in the freezer as well.
Want more buzz like this? Sign up for our Morning Buzz emails.
To leave a comment, please log in or create an account with The Buzz Magazines, Disqus, Facebook, Twitter or Google+. Or you may post as a guest.