From HSPVA to 'The Voice': Beloved Teen Builds Fan Following
Click the Buzz Me button to receive email notifications when this writer publishes a new article or a new article in this column is published.
"It's a little off the rails right now," The Voice sensation Sarah Grace said as she paused for a few moments between a schedule packed with vocal lessons, stage rehearsals, and school work. 
Even amidst the frenzy, this bubbly 16-year-old Houstonian remained cool and collected as she chatted over the phone from Los Angeles on Thursday afternoon, four days before her next live performance on Season 15 of NBC's The Voice. Last week, in episode 20, Sarah Grace earned a spot on the show's top ten by securing enough votes from fans across the country. 
This southern belle's journey from Houston's Kinder High School for the Performing and Visual Arts (HSPVA) to national television all started last November, when The Voice contacted HSPVA asking if any of its students would be interested in auditioning for the show's upcoming season. Although Sarah Grace spends her days studying trumpet at HSPVA, she's also built a reputation as a strong, soulful singer both in the school and wider Houston community through her band "Sarah Grace and the Soul." 
Aware of Sarah Grace's singing talent, HSPVA passed along Sarah Grace's information to The Voice last November. Since then, Sarah Grace successfully moved through multiple hoops to make it onto the show, which aired in September with Sarah Grace's electric performance of "Ball and Chain." That episode featured the "blind auditions" where the show's judges — Kelly Clarkson, Blake Shelton, Jennifer Hudson and Adam Levine — had their backs turned and, based on the contestants' voices, had to decide whether to turn around and become a potential coach of the contestant. During Sarah Grace's performance, multiple judges turned around, and Sarah Grace selected Kelly Clarkson to be her coach.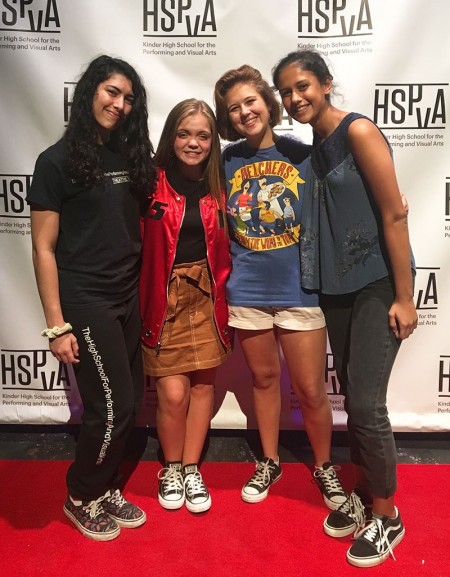 "Getting to work with such accomplished and successful musicians has been incredible," Sarah Grace said. "I had my first vocal lesson with Kelly Clarkson, which is really wild to say." 
When Sarah Grace started the school year as a sophomore at HSPVA, she knew that she was a contestant on the show but had to keep this a secret from friends and classmates for weeks. Finally, in September, Sarah Grace collaborated with school administration to hold a watch party for the show's premiere on Sept. 24. Since then, the HSPVA hallways have been buzzing with talk about the show. 
"We're always talking about it and telling everyone, don't forget to vote for Sarah Grace," said Ariya Selvakumar, a junior at HSPVA who attended the watch party. "We are all rooting for her and are so incredibly excited that she gets to be a part of this." 
School administrators emphasized that Sarah Grace is a beloved member of the HSPVA community, involving herself in activities outside of the school's music scene. This year, she is a member of the student council, and last year the ninth-grade teachers named her "Ninth Grader of the Year." 
She has also volunteered at events for prospective students, making them feel comfortable and welcoming them to the school, said HSPVA principal Dr. Scott R. Allen. 
"Everybody loves Sarah Grace," Dr. Allen said. "She's got this great personality, and it's been fun for the students to rally around her. This couldn't have happened to a nicer kid."  
As much as the school community loves Sarah Grace, Sarah Grace is equally grateful for the school community. Sarah Grace said she dreamed of attending HSPVA ever since she first found out about the school back as a sixth grader at Westbrook Intermediate. 
"I heard about HSPVA and said, 'I need to go here,'" Sarah Grace said with conviction. "And then I auditioned, and holy cow it was such a stressful experience. I'm so blessed I got in because it's the perfect school for me." 
The young artist says her inspiration for becoming a musician stems from her early childhood. She was born with synesthesia, a perceptual phenomenon where stimulation of one sensory pathway involuntarily stimulates another sensory pathway. For Sarah Grace, this manifested as chromesthesia, wherein hearing sounds automatically invoked an experience of color and vice versa. 
Sarah Grace said she no longer has this auditory-visual experience but that it is what originally what inspired her to create music. 
"Creating music was not only an auditory art but it was also a visual art," she said. 
Sarah Grace first picked up singing, then guitar and ultimately piano. As a fourth grader, she told her family she wanted to start a band. Her younger sister Reagan wanted to play the drums, but because Reagan didn't want to practice alone, Sarah Grace's father Brian picked up the guitar. "We formed this family band, but we weren't very good," Sarah Grace said with a laugh. "We have no musical background at all." 
But Sarah Grace's band has grown over the past several years. The band - Sarah Grace and the Soul - still includes Reagan Kimberly, 14, on the drums and also includes 17-year old Daniel Holder on bass. They play a mix of covers and original songs all over Houston and even have an original song, "What I Came For," on Spotify.  
Sarah Grace considers herself a blues, rock, soul and roots artist "with a little bit of pop thrown in there." She credits the Houston blues community for supporting her band for the past several years and opening up stages for her to perform on.  For example, the Houston Blues Society sent the band to Memphis to perform at the International Blues Challenge.
Even though Sarah Grace said she's loving the California sunshine and enjoying learning from her coach Kelly Clarkson, she has not forgotten her friends and family back in Houston. During episode 17, which aired on Nov. 19, Sarah Grace dedicated her performance of Elton John's "Goodbye Yellow Brick Road" to HSPVA, calling the school her "sanctuary." 
She has also continued to keep in touch with friends, keeping track of birthdays and school happenings, through social media. Sarah Grace's father, a firefighter, is with her in L.A. She said that her mother, an audiologist, is rooting for her from Houston with her sister, who is now in eighth grade.
"I love everyone's support and I hope that I'm doing Houston proud," she said. 
HSPVA students and faculty are certainly proud of how far Sarah Grace has already come. And they have organized a watch party - strictly for its students and family members - for Monday's upcoming episode, airing at 7 p.m. CT.
Want more buzz like this? Sign up for our Morning Buzz emails.
To leave a comment, please log in or create an account with The Buzz Magazines, Disqus, Facebook, Twitter or Google+. Or you may post as a guest.