Chef's Corner: Maria Gonzalez and Mike Potowski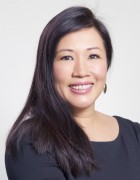 Click the Buzz Me button to receive email notifications when this writer publishes a new article or a new article in this column is published.
Find out about your favorite chefs in our Chef's Corner column. This month, restaurant writer Dai Huynh interviews Maria Gonzalez and Mike Potowski.
In the late '90s – long before "clean" and "green" became popular – veteran restaurateur Benjy Levit was an advocate of grain-and-vegetable-forward options. Now these items (among others) are front-and-center at his new concept, The Classic All Day (5922 Washington Ave.), which replaced his nearly decade-old namesake near Memorial Park.
Here, his executive chefs, Mike Potowski and Maria Gonzalez, discuss rebranding the modern American menu with rejiggered breakfast, lunch and dinner classics to entice current tastes. Gonzalez shares, too, how she shed more than 80 pounds after she started cooking for Levit. 
The National Restaurant Association reported that seven out of 10 adults are trying to eat healthier and simpler at restaurants. Not only that, but diners want items made with high-quality greens, grains and proteins. What are you guys doing at The Classic to meet diners' shifting tastes? 
Maria: Diners are more educated about what they're consuming. They are counting their calories for sure.
Mike: We have a rotisserie in the back, and so we roast our chickens on that. We are not serving mashed potatoes; we're not serving potato au gratin or mac 'n' cheese. Instead, we're serving a lot of vegetables. But back to the rotisserie chicken. We put a lot of effort into it. It takes us three days. First, we brine it for 24 hours with herbs and salt, and then we rub it with a spice rub and dry it out for another day before roasting. The rub has ground cumin, coriander, garlic and aonori, which is seaweed flakes, something Maria and I love.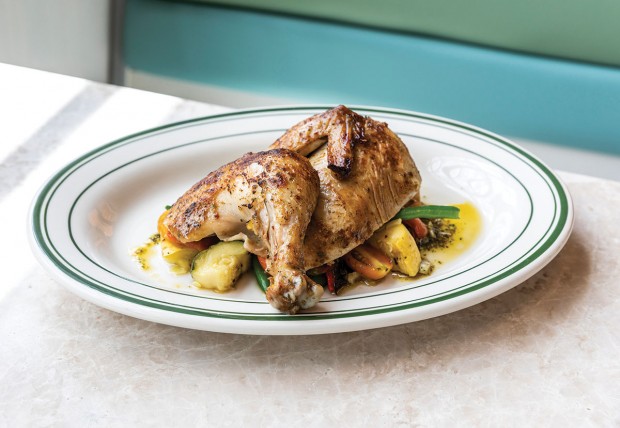 Along with new dishes, including the shrimp rigatoni pasta with uni butter and Russian-inspired pelmeni dumplings with mushrooms, hazelnuts and crème fraiche, we noticed, too, a few remnants of Benjy's? 
Mike: The menu is in progression. But we want a place that people can come more than once a week. We're listening to our customers, and so some elements of Benjy's are coming back because of customer demand.  
Maria: Yeah, like the goat cheesecake that people have been asking for, and the brussels sprouts, things we thought we had moved on from. But we have had to evolve them into The Classic's signatures as opposed to Benjy's. Take the goat cheesecake, for instance. Instead of searing it on the flat top, we bake it instead, so it's little healthier. The brussels sprouts, we roast them, and then we fry them. And instead of adding just the Gruyere cheese and the gastric, we added a little more fruit, a little more herbs, so the flavors are cleaner.  
What else is back?
Mike: That's it really.
We're glad that Benjy's famous Mom's Chocolate Cake is still around. It's worth every fudgy calorie. But Maria, 10 years ago, after you started working here, you dropped 80 pounds. That's incredible. How did you do it? 
Maria: When I started working here, I changed the way I cook, along with starting spin, and the weight just came off. It was all downhill from that point onward. I'm currently at 21 percent body fat, which is great! 
But cooking here, I started to think differently about ways to bring flavors to my food without adding fat. If I needed fat, why not try coconut fat or olive oil? If I wanted starch, why not make cauliflower rice? I'm always looking for ways to improve a dish, making it healthier without sacrificing flavors. Otherwise what's the point? 
One of the most popular dishes at The Classic is the grain bowl with a fried egg, seasonal vegetables, sweet potatoes and quinoa. Typically, you simmer this super grain in hot water for 10-15 minutes. But you don't do that. 
Maria: I soak it overnight in water. I treat it like beans. But we make quinoa by the pounds. At home, just soak it for about 45 minutes, then steam it rather than boiling it in water. It comes out perfect rather than wet and mushy. 
We must try that. We're all trying to eat better in the new year. Where do you guys go out for a healthy meal? 
Mike: I have three kids. We don't go out. 
Maria: Pho Binh near Gessner (8336 Southwest Freeway). I love the pho with the tripe. Phat Ky (11792 Wilcrest Drive) is another good place. The matcha tea cake there is so deliciously good. And then there is my go-to Sweet Tomatoes. They're all over town. But it's basically a salad bar, and I can eat all I want.
See the recipe for Benjy's Mom's Chocolate Cake and, for something on the lighter side, find the recipe for The Classic All Day Raw Kale Salad by Maria Gonzalez. 
Editor's note: Buzz dining columnist Dai Huynh is a James Beard food-journalism award winner and longtime Houston-based restaurant writer.
Want more buzz like this? Sign up for our Morning Buzz emails.
To leave a comment, please log in or create an account with The Buzz Magazines, Disqus, Facebook, Twitter or Google+. Or you may post as a guest.