Keeping it simple
Click the Buzz Me button to receive email notifications when this writer publishes a new article or a new article in this column is published.
Buzz Baby is a column about life with little ones. Writer Annie McQueen has three children age 4 and under.
The other day, I was driving around with my kids, looking for something to do. It wasn't a rainy day or a cold day where we felt cooped up in the house – it was just a regular day. 
My mind was in a lot of different places trying to come up with the best idea of a place to go to keep them busy and entertained – and grab a healthy snack since they were all hungry.
Then it came to me – why don't we just keep it simple and go home and do absolutely nothing. 
Definitely not a mind-blowing thought, right? But it was a big deal to me at that moment. I realized that I had gotten so into the habit of leaving the house to find things to do that the simple thought of going to our own home didn't even occur to me. 
I turned the car around and felt a wave of relief come over me, not because I didn't want to take my kids to do something, but because I was excited at the thought of doing something so simple. My kids enjoyed the day too. 
Often, having small children can feel nonstop – there's always something to do, things to remember on the way out the door, endless chores, memories to make, photos to take. After all, it's 2019 now (happy New Year, by the way); kids' birthday parties often are more intricately planned than ever, and, with social media, there's added pressure to snap that perfect picture at the perfect event to share with the world. (Don't get me wrong – social media is a great and fun way to connect with people, but as a parent, it can complicate an outing. "Did I remember to take a cute photo to post?")
I spoke to other Buzz parents on ways they like to keep things simple. A few of the top ideas I heard were no social media (some have opted to take a temporary hiatus) and keep games simple, like old-fashioned tag in the backyard or hide-and-go seek or build a fort. A lot of parents said they put away their phones when it's time to play with their kids.
With kids in programs or school, schedules can fill up fast, and I heard a few parents say that they don't always say "yes" to social outings like play dates or birthday parties right off the bat. 
Amy Atwood, a mother of one, says she takes her family's schedule one day at a time. She says she has a large whiteboard monthly calendar hanging in their laundry room "so that I can be more mindful of how I fill in the daily squares. Before I commit or say yes to something, I check to see what else is going on for that week."
Amy says her goal is to have a few activities spread throughout the week. She avoids "overbooking us to the point of exhaustion, which can be my tendency. I've found that down time at home – for all of us – is such a gift."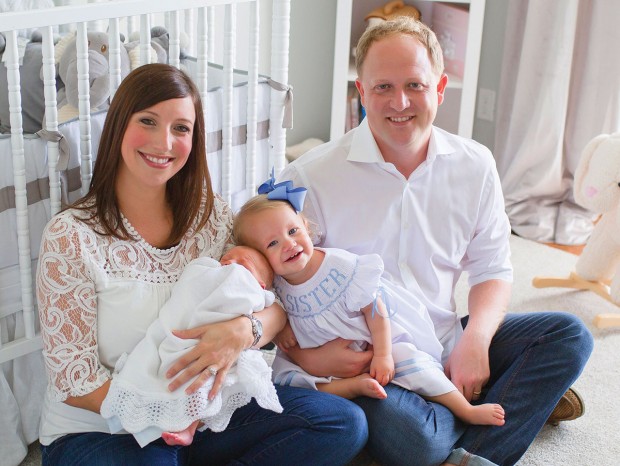 Another large component of parenthood is meal planning, and there are ways to keep it simple while keeping it healthy, says dietician and mom-of-two Julie Hughes. 
"My 'keep-it-simple' meal prep is using canned vegetables and soups for meal times," says Julie, who just welcomed a baby boy. "As I dietitian, I can tell you most people underestimate their use. However, it's such an easy way to get in high fiber vegetables and a quick healthy meal."
Julie shared some examples of simple but healthy meal ideas: cans of peas and carrots, mixed vegetables, lentil soup, minestrone soup and vegetable soup. "I doctor them up with a dash of salt and a little butter for flavor," she says. She said children under 2 actually need a high fat content for brain development, so the butter helps with that. Her daughter Caroline's favorite are the Birds Eye frozen vegetable and pasta dishes with lentils.
As a new year starts, I am personally going to try and remember to keep it simple more often and minimize the "go-go-go" mentality, with less of trying to fill the day and less of trying to rush to the next activity and more of putting on pajama pants, sitting on the floor after school, and just talking about the day. Repeat to self: Less is more. 
Want more buzz like this? Sign up for our Morning Buzz emails.
To leave a comment, please log in or create an account with The Buzz Magazines, Disqus, Facebook, Twitter or Google+. Or you may post as a guest.