Sunday Mornings with Rania: How and Why to Register Your Security Cameras
Click the Buzz Me button to receive email notifications when this writer publishes a new article or a new article in this column is published.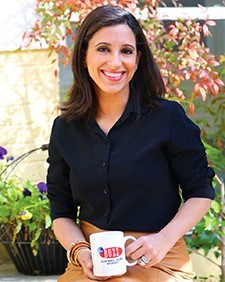 Happy 2019! I hope all of you had a wonderful holiday season! As the year begins, I'm committed to sharing new gadgets and gizmos that are public safety minded with you from time to time in this column. With that in mind, let's kick off the year highlighting a program that law enforcement is rolling out across Houston and the country: Registering your home security camera with your local police department. Below I share what this is, why it's important and debunk some misconceptions about the program: 
What Is Being Asked: 
As crime moves from the city to our neighborhoods, law enforcement rely more and more on video surveillance to capture good footage of suspects, develop an accurate timeline of the crime and, most importantly, evidence that the person in question committed the particular crime being discussed. While the city has cameras at certain intersections, it becomes more difficult to grab this critical surveillance video deep in neighborhoods. That's where you and I am come in.
Many of us have security cameras around our homes, which are continually capturing our property and slightly outside our property in real time. Law enforcement is asking homeowners to register those surveillance systems with them. What does "registration" really mean? Adding yourself to a law enforcement database that indicates you have cameras and are potentially willing to share video if necessary. In the case of a crime in your area, law enforcement can immediately access this database, see who has active surveillance in the area and which cameras may have captured video of the crime. If it's believed that your camera could help solve a case, you will be asked if you are willing to grant law enforcement access to the footage. Who would say no to that?  
What We Should Consider: 
Depending on where you live, contact your local police station and ask if they have a program set up. Specific programs and registration programs can differ.
Registering your home security with local law enforcement creates a valuable resource for police officers investing crimes near your home. It grants law enforcement the ability to observe the area before, during and after the crime. Additionally, if many homes in a neighborhood have registered their systems and are willing to share footage, it also allows law enforcement to trace the steps of criminals coming in and out of your neighborhood as well as the kind of car they may have driven to get in or out of your area. 
Video is the best means to provide descriptions of suspects. Additionally, being able to watch the crime take place can provide great insight to local law enforcement including what you and your neighbors can do to prevent these crimes from happening in the future. 
Community members who register their cameras may receive promotional materials to display and deter criminals from targeting their homes. With enough materials displayed, criminals may skip neighborhoods entirely. 
It's a wonderful way to allow law enforcement and the community to partner. Sharing a video helps law enforcement solve cases much quicker, which supports safety. 
Misconceptions About Registration: 
Law enforcement cannot live stream or tap into your cameras. 
They do not have access to any part of your security system. 
They don't even have automatic access to important video captured on your cameras. 
Registration only puts you on a list and identifies you as someone who may share video if needed. In some cases, the program will also take down how many cameras you have and in which direction they are pointing so law enforcement knows beforehand whether or not your home system may have captured critical information. 
Families who register may have the benefit of having their local police come and talk through their surveillance system, offering simple advice on the best places to place cameras. 
Registration does not diminish any of your legal rights to your system or what is recorded nor grant law enforcement any additional powers over your personal property or your surveillance system. 
Where to Place Your Cameras - Consider: 
Putting cameras high enough that criminals can't reach to push them away from facing a possible criminal act.
Ensure there are no fences or stairs nearby so criminals can't climb up and knock cameras down
Strategically aim cameras to take footage of doorways, windows and the perimeter of your property.
If you have multiple cameras, aim some toward your property and others toward the street in order to capture a wider view of what's happening. 
See more on this topic here.  
Registering Your Camera by Neighborhood
Here's some information specific to Buzz neighborhoods: 
Memorial Villages:
Memorial Villages Chief of Police Ray Schultz said that registering your camera is part of the V-LINC registration. The Villages partnered with Ring Doorbell last year, as did Houston Police Department, and participate in their Neighbors program; the information is used to assist the department in locating properties where video systems are after a crime occurs. He said information obtained can be used to identify suspects, link cases or create helpful information sheets, and this type of information sharing has been successful in the Villages. For example, in one case, an individual who stole a car was captured by a neighbor's home system; the police department was able to create an alert with this information, and an officer recognized the vehicle from the photo. 
"I fully support the use and registration of these (now very affordable) video/technologies," said Chief Schultz. "In the Villages, there are over 1,000 various video systems in place [which means] 1,000 tools working to protect our residents and their families." Register for V-LINC here.  
City of Bellaire: 
Officer John Edwards, the Community Resource Officer at Bellaire Police Department, also believe this program has great value to help solve cases. He said one recent use of the program was what was believed to be a burglar looking at homes turned out to be a driver whose car was blocked in; the driver was trying to get a homeowner's attention. A review of the camera footage helped "solve" this case, he said. Bellaire Police Department has a camera mapping form online. For those who sign up, the BPD will contact you if there is a criminal incident in the vicinity of your security camera. See more information and the sign-up form here.
City of West U:
West U's Sergeant Jessica Ly said that, at this time, there isn't a way to register cameras online; however, if residents have cameras, they're welcome to register it by calling the non-emergency line: 713-668-0330. 
In a time where criminals run rampant and attack in any area at any time, a community response is the best response. Law enforcement cannot be everywhere at all times. Let's help them help us and together, send a clear message to would-be criminals that we are serious about the safety of ourselves and our homes and will take proactive, extra measures to thwart criminal attempts. I firmly believe that working together, we are stronger!
Read past Sundays with Rania posts here. Find more information on Crime Stoppers of Houston on their website or follow them on Facebook. Have topics in mind that you'd like Rania to write about? Comment below or email her at [email protected]. Rania is co-host of a weekly podcast which features interesting local and national guests who used their platforms for the good of the community. Connect with Rania on Instagram and Twitter. 
Editor's Note: Views expressed here are those of the author and do not necessarily represent the views of The Buzz Magazines.
Want more buzz like this? Sign up for our Morning Buzz emails.
To leave a comment, please log in or create an account with The Buzz Magazines, Disqus, Facebook, Twitter or Google+. Or you may post as a guest.