What's in a (Big, Fat) Indian Wedding? 
Click the Buzz Me button to receive email notifications when this writer publishes a new article or a new article in this column is published.
"C'mon, it's not that cold," I muttered to my cousin who sat next to me layering yet another shawl across her lap.  
"Put your other shawl on," my aunt screeched at us from the backseat of the open-air jeep. "Cover yourselves properly or you'll catch a cold." I dutifully wrapped another shawl around my body.
As we drove onwards—leaving behind the city lights and bumper to bumper traffic—I took a deep breath in, closed my eyes and tried to soak up this moment. The slight discomfort of the chilly desert air, the sounds of my agitated aunts in the backseat, and the excitement for what lay ahead. With a blink of an eye, this weekend would be behind us and we would only be left with fond memories and photographs. 
I opened my eyes, and the jeep jolted to a stop. We looked around in admiration at the scenery before us: miles of sand dunes, a beautifully lit stage, dinner tables draped with bright fabrics and waiters walking around with plates of sizzling appetizers. 
I posed for a photo in front of the jeep when the DJ hit play, and Bollywood beats reverberated throughout the dunes. Hordes of fancily clad men and women stepped off the buses. Here we go, I thought to myself, let the wedding festivities begin!  
Round One: A Night on the Dunes
If you've ever been to an Indian wedding (or if you've watched Bride and Prejudice), you know that they can never be too bold, too bright or too big. In fact, the bolder, the better.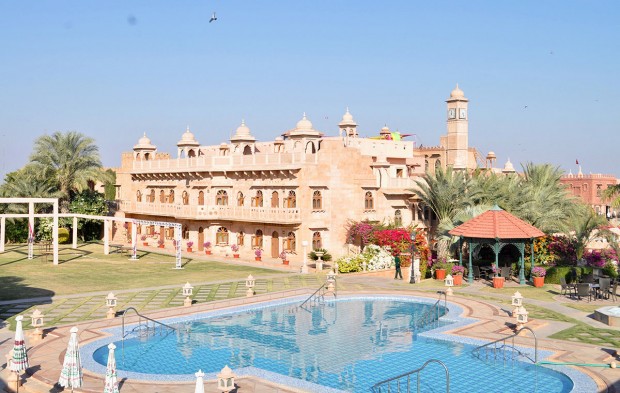 I have attended several Indian weddings here in Houston, but I've only been to two in India, which is, of course, where the true glitz and glamor of the Hindu wedding shines. This was certainly the case last December, when I experienced an Indian wedding extravaganza firsthand at my cousin Dhruv Salhotra and wife Emilia Allen's wedding in India. The couple chose a destination wedding in a town called Khimsar, about 60 miles outside of Jodhpur in the northern state of Rajasthan. 
The wedding was held at a 16th century fortress that has since been converted to a luxury hotel. Picture the architecture of a castle, the grounds of an estate and the sounds of a big, crazy Punjabi family, and you'll have a pretty accurate picture of the weekend.
The wedding craziness started when we arrived at the fort on Saturday, Dec.15, 2018. The entire 84-room hotel was rented out for the wedding, with about 200 guests attending. That afternoon, everyone was running around the hotel trying to get their clothes ironed in time for the first function; meanwhile, the groom's sister was rallying everyone for dance practice (yes, there really are choreographed dances), and the aunts were already gossiping about who in the family was next in line to get married (not me, thank God). 
About an hour after the designated start-time for the first function—since we were, of course, running on "Indian Standard Time"—we were ready to head to the Sangeet, a pre-wedding party where the family gathers to sing, dance and celebrate the joy of the upcoming union. Like the Indian wedding more broadly, the Sangeet is a time for the families and friends to celebrate what is, according to Indian tradition, the most important milestone in an individual's life. 
    
The bride-and groom-to-be arrived at the party fashionably late with nothing short of a royal entrance. Both Dhruv and Emi love to dance, and neither are afraid of the spotlight. So, they entered the dunes looking like movie stars, wearing matching silver and maroon attire and getting down to "Suit Suit," a Punjabi song in which a male singer admires a woman wearing a Punjabi dress.   
Once on stage, the couple dragged their friends and family onto the dance floor, all of whom were eager to show off their own moves. Soon, Vedanta, my cousin's husband who I swear was born to be an MC, took over the mic and asked everyone to surround the stage. Uh oh, it was time for the choreographed dances...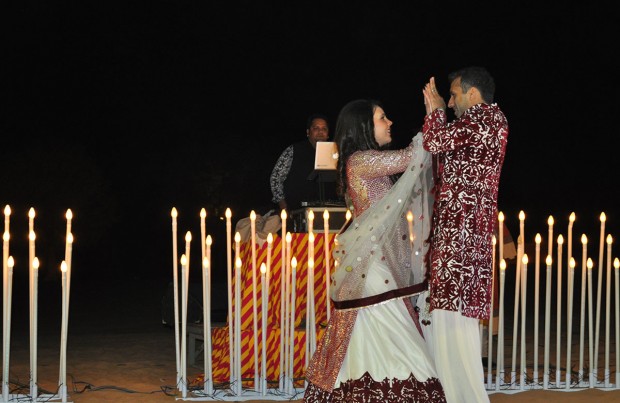 For months, my family's WhatsApp group had been buzzing with videos and messages about these dances that had been carefully planned by Dhruv's friends. But, despite all the discussion, it was only hours before the event that we had finally practiced the moves. So, you can see why I had low expectations for my family. 
To my surprise, though, everyone met the challenge, and the performances went off without a hitch. Apparently, my family knows how to dance under pressure.
The dances were sequenced such that they told a story about Dhruv, who moved from India to the United States at age 18 and later fell in love with Emilia, a Puerto Rican-American woman who grew up in Michigan.  
In my favorite performance, Dhruv's uncles (including my dad) danced to "Meri Pant Bhi Sexy," meaning "My pants are sexy." This dance was meant to show "where it all started" (i.e. where Dhruv gets his swagger). I, for one, was bent over laughing hysterically as I watched the four big-bellied bald Indian men swaying their hips and mouthing that their hair is sexy.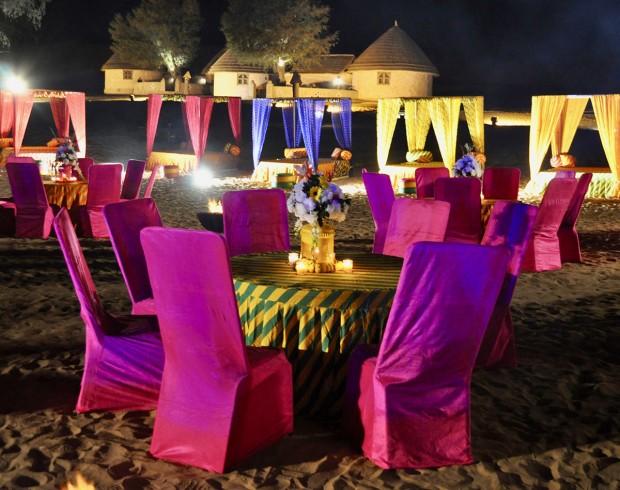 I soon had to pull myself together, though, as the cousins were next up, performing "Dilli Walli Girlfriend," a song about a man who left his girlfriend in Delhi. This song symbolized Dhruv's fascination for the US and his desire to leave India for the States.  
As portrayed through the following dances, Dhruv fell in love with Emilia, but was soon feeling his homeland of India calling him back. Ultimately, he proposed to Emilia before moving back to New Delhi to start his own business. The couple managed a two-year long-distance engagement leading up to their two weddings: one in Detroit in August 2018 followed by this wedding in India.
The dance numbers culminated with performances by Emi and Dhruv themselves, who, as a testament to their global relationship, performed one American song, one Latin song and one Bollywood song to a raucous applause from the audience. 
After dancing for hours, we finally shuffled our way into the dining room at 12 a.m. Despite the hour, we stuffed ourselves with Rajasthani specialties like lamb curry and bajre ki roti (millet bread), and desserts like gajar halwa (a carrot dessert) and ras malai (a cottage cheese dessert). By the time we made it back to the fort and I hit the hay, it was past 2 a.m. 
Round Two: Mehndi Party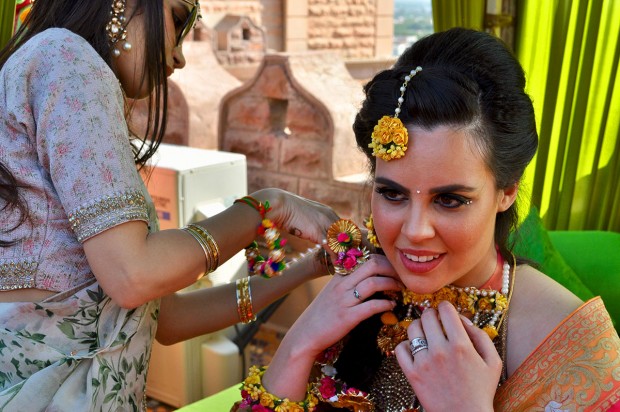 The next day we woke and prepared ourselves for round two: the mehndi party, which would get started around noon. Mehndi is the oldest form of body art, in which decorative designs are applied to the body with a paste that comes from the leaves of a henna plant. The paste is dark green when applied, but once dried and washed off, it reveals a reddish color. Aside from being decorative, mehndi is also known for its medicinal properties; supposedly mehndi was traditionally applied on brides to relieve wedding-day stresses. 
Emi's bridal henna had already started the prior day. Two artists had spent almost three hours applying henna to her feet and legs, and then Emi waited about three more hours before removing it. During the Mehndi party, artists applied henna from Emi's fingertip to lower bicep, spending about five hours from application to removal.  
It's commonly believed that the darker the color of the henna tattoo, the more you will be loved by your husband and mother-in-law. So, after my cousins and I had washed our hands, we compared the colors of our own tattoos. "I guess you will be loved more than me," one of my cousins joked as she compared the light orange shade with our younger cousin's darker red.
Traditions aside, the mehndi party is truly another opportunity to dance, sing, eat and celebrate—something that Punjabis will do whenever the opportunity presents itself. 
This mid-day celebration took place on the rooftop of the fort, which was decorated with green, yellow and pink canopies and flowers. 
After eating more than my stomach could handle and dancing till my feet were numb, we had a couple hours rest before it would be time for the final round—the wedding ceremony.  
The Final Round: Tying the Knot 
After celebrating the night prior and all afternoon, it was finally time for Emi and Dhruv to officially tie the knot.
But, several traditions, kicking off around 6 p.m. would first lead up to that big moment. It started with one of my favorite parts of Indian weddings: the baraat. The baraat is the groom's procession to meet the bride's family and traditionally involves the groom's family and friends dancing from the groom's home towards the marriage location. In this case, we simply danced from the entrance of the fort to inside of it. 
Despite the short distance, the baraat lasted an hour, as the procession spent more time dancing in place than moving forward. It featured Dhruv at the back of the line, dancing through the sunroof of a decorated a car, wearing a bright turban on his head and a sehra, a traditional flower veil, over his face. 
When we finally reached the inside of the fort, it was time for the milni, where each man from the bride's side welcomes the corresponding relative from the groom's side by exchanging flower garlands (e.g. Emi's father exchanged a garland with Dhruv's father). 
I struggled to get a solid viewing spot of the milni and ended up nearly tripping over my high heels in doing so. The biggest lesson I learned from the wedding: opt for flats rather than heels. 
By this point, it was already 9 p.m., and we were ready for another round of a multi-cuisine all-you-can-eat feast. 
Once our bellies were full and our feet tired, we moved towards the mandap, the canopy under which the Hindu ceremony, to be led by a local priest, would take place. The ceremony lasted about two hours, starting at 10:30 p.m., but among all the different traditions and religious rituals, the most important part of the ceremony was undoubtedly the seven pheras, or wedding vows. 
Before taking the vows, the bride's saree and the groom's scarf are tied together in a knot. Then, while reciting each vow, the couple revolves around a sacred fire seven times. Broadly, the vows cover the promises that each partner should uphold in their married life.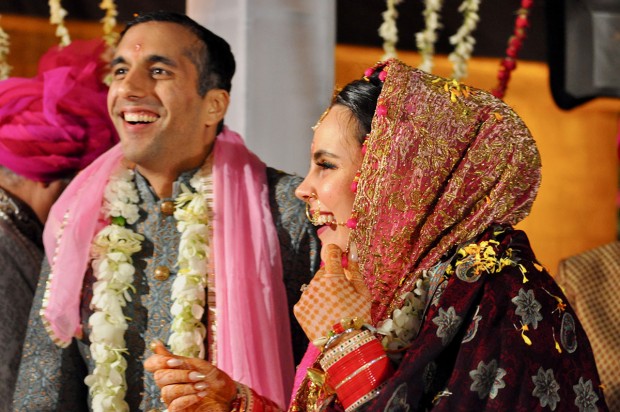 The pheras are a beautiful part of Indian weddings, but I am always distracted by the physical feat: how does the couple manage to so gracefully circle a fire, while tied together and wearing such cumbersome clothing, all the while reciting vows in Sanskrit? 
As I sat in front of the mandap, still marveling at this impressive ritual, I realized the wedding weekend was drawing to a close. After congratulating the newlyweds, everyone would disperse to their rooms, and the next morning would be occupied by the chaos of guests packing up and saying their goodbyes. 
But my sadness was quickly replaced, first with amusement—when I heard my aunts again speculating on who would get married next—and then with excitement the next morning, as I looked ahead to the next adventure. For the following week, my family was set to sightsee in Rajasthan, a state known for its temples, fortresses and regal history. 
If you or someone you know is planning a trip to Rajasthan, check out the below list of my favorite spots!  
Rajasthan highlights from Pooja's Trip: 
Jodhpur: 
Udaipur: 
City Palace: Explore the rich heritage of the Mewar Dynasty at this palace complex overlooking Lake Pichola. Grab a bite to eat at The Sunset Terrace.
Kumbhalgar: This UNESCO World Heritage Site is also the second largest wall in the world (second to the Great Wall of China). Be sure to wear comfortable shoes as you'll be doing some climbing. 
Want more buzz like this? Sign up for our Morning Buzz emails.
To leave a comment, please log in or create an account with The Buzz Magazines, Disqus, Facebook, Twitter or Google+. Or you may post as a guest.