Cheers to 100 Years: Pearls of Wisdom from a Centenarian
Click the Buzz Me button to receive email notifications when this writer publishes a new article or a new article in this column is published.
Yolande Dauber recently celebrated the milestone of reaching 52 million and 560 thousand minutes, also known as turning 100 years young. Yolande's enthusiasm for life shines through her animated gestures and radiant smile as she reflects on her life journey. 
Yolande was born in Brooklyn, NY on Nov. 16, 1918. She received her undergrad in General Business at Hunter College (girls only) by the time she was 19 and then completed a Master's in Business from Columbia when she was 21. She flew through college as it was the 1930s and money was tight. 
During her college years, she fell in love. The lucky catch was Ernest Dauber who went to City College (boys only). Yolande laughed as she says, "Poor guy, didn't have a chance!" They were married when Yolande was 21 and, at 22, the happy couple welcomed Philip, the first of three baby boys, followed by Arthur and Henry. 
"I was just lucky all around!" she exclaims. "When I got married, I didn't know how to do anything like cook or the laundry, but it was okay. I figured it out!"
It seems that Yolande has been helping family and "figuring it out" with a smile on her face her entire life. 
Ernest's parents both died at a young age when Yolande and Ernest were still newlyweds. Ernest had a younger teenage brother and sister that came to live in their apartment because there was nowhere else for them to go. Yolande recounts, "His brother was very sick and stayed with us on and off for 15 years. Raising three young boys and taking care of Ernest's siblings was a great challenge." She pauses and smiles and matter-of-factly says, "But it all worked out." 
Her grin grows and she throws her hands in the air, shrugging and giggling. "Even as it was going along, it was hard, but it all worked out." 
When she turned 42 and their youngest son was in high school, Yolande remembers, "I didn't want to fall into the trap of feeling like 'there was nothing for me to do but sit around and wait for death'. That wasn't for me. So, in 1961 I went back to school to get certified to teach." For the next 25 years, Yolande worked as a middle school teacher and guidance counselor. She loved every minute of her job. Over the years, Ernest and Yolande stayed busy enjoying travel, season tickets to the Metropolitan Opera House as well as other music venues and parties with a variety of fun and interesting friends. 
In 1992, after living in Brooklyn for her entire life, Yolande and Ernest started a new chapter. When they were in their early '70s, they relocated to a senior living community in Deerfield Beach, FL. "The weather was lovely, and we had wonderful friends there," Yolande recalls. 
In 2012, when Ernest was 94 and Yolande was 93, the couple decided it was time to relocate to Houston to be closer to family. That's when they moved into the Medallion, the assisted living residence on the Seven Acres Jewish Senior Care Services campus. 
At the age of 95, just a few months after they moved to Texas, Ernest passed away. With the ever-present smile on her face, Yolande shares: "I was very lucky to be married to the man I loved for 73 years."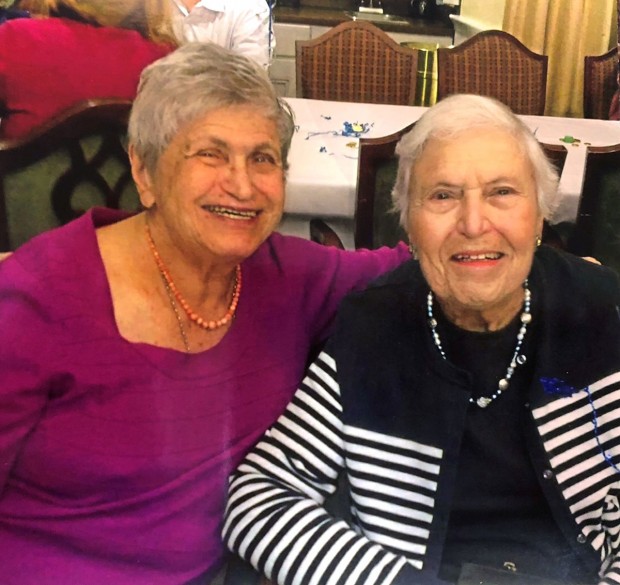 Shortly after Ernest's passing, Yolande met Doris Perlberg. Both Doris and Yolande lived at the Medallion but didn't meet until after their husbands died, just two days apart from each other. Yolande and Doris connected during the first year after their husbands' deaths because they would both say kaddish (the mourner's prayer) every morning at the synagogue located on the Seven Acres property. A special friendship was forged. 
"God works in mysterious ways," Yolande says. "Our husbands never met because they were sick but ends up, they are buried only about 500 feet from each other here in Houston." 
Sometimes Yolande's long-time aide and companion, Jennifer Smith, drives Yolande and Doris to the cemetery to pay their respects. Yolande enjoys spending time with Jennifer and her family, often driving with Jennifer to pick up her kids in the after-school carpool line. 
Another welcome visitor has been Coral Vaknin, a high school student at Beren Academy who's partnered with Yolande for the Better Together program, a program in which students are paired with seniors to create friendships and learn from each other. Coral spends time with Yolande and often brings meaningful gifts, such as the blanket on Yolande's bed with pictures of the two of them together. 
At age 100, Yolande is still always learning, frequently reading or listening to book recordings. She enjoys having a laptop so she can Skype with out-of-town friends and family, send emails, look at new and old photographs, check her Facebook page and play online games like Sudoku. Until last year, she took a variety of Rice University enrichment classes on subjects such as music, art and history. 
And still she's helping family and friends "figure things out" with a smile on her face. When Hurricane Harvey flooded the first floor of the Medallion, Yolande welcomed Vera Crawford, a flooded first-floor resident, to stay with her for a few months during repairs as Yolande's room was higher up and dry. The two enjoyed being roommates.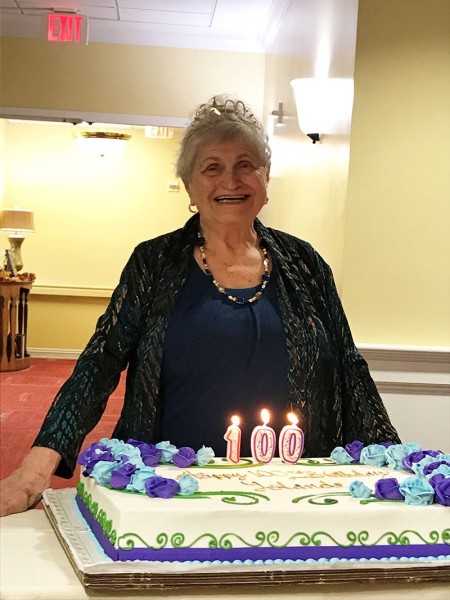 When asked what legacy she wants to leave her family, Yolande answers, "I want them to remember me as Grandma Yolande and that I loved them a great deal. I expect each one to achieve great things because I think each one is great. Each one is wonderful." In addition to their three sons, Yolande and Ernest's family includes eight grandchildren and eleven great grandchildren. 
For the past seven years, Grandma Yolande has had a standing dinner date on Sunday nights with the Dauber family members that live in Houston including Arthur, Joyce, Charles, Sylvia, Matthew, Ben and Lauren Dauber; Cindy, Jeff, Molly and David Anapolsky and Joel and Robert Irwin and their children Danya and Danny Schwartz, Debra and Beryl Joffe and Seth Irwin.
Recently, Yolande's family and friends traveled from all over the country to celebrate their favorite centenarian at Brennan's Restaurant. She gifted the crowd with these wise words: "I'd like to wish all of you good health and great success. Make each day count because that is all there is. Every day all the small things add up. Just enjoy your life."
The birthday girl was glowing even more than her birthday candles (no, they didn't make her blow out 100 candles on the cake) when her adoring fans rose enthusiastically for a well-deserved standing ovation.
Yolande, cheers to 100 well-lived years!
Wise words from Yolanda for living 100 wonderful years: 
The beaming birthday girl shares some pearls of wisdom she's picked up over the past 10 decades:
If you have a positive attitude, it helps a great deal. "If you smile then people smile back to you, so you're never alone."
Keep yourself entertained by being independent. Read books and talk to people. There are so many things outside in the world to keep you busy. Just look around and do it. (Some activities Yolande enjoys include bridge, mah jong, bingo, knitting and blackjack.) 
Every day is an important day – not just the big days.
Find something good within every day. There is something good every day. The sun is shining. You meet a friend. You're reading a good book. Whatever it is, every day has something good.
Don't be alone. You have to have someone your own age to talk to. It's wonderful to have your children around - they're your support system - but it's wonderful to also have a friend. People around your own age understand you better. You don't even have to talk. You just look at one another and understand their problems.
Going to religious services is a good idea. It gives you something to think about. You thank God and you sit and you talk to Him while you're in services and that's very relaxing.
Exercise. Walk, walk and walk. Push yourself. If you can't do anything else, at least walk.
Try to eat a balanced diet. 
Welcome all your in-laws into your family; it makes life much more pleasant. You're all together in a boat working on the same purpose. Don't ask personal questions; try not to pry. 
Love your children. Be thankful for your children, grandchildren and great grandchildren. And just give them a lot of love because, in return, you'll get all that love back and that helps you live longer.
You have one life and your children have one life. Let each person live their own life. Don't lean on your children too much.
Take a shower every day.
And be thankful if you were lucky enough to have your parents pass on good genes.
People in this article:
Yolande Dauber
,
Ernest Dauber
,
Philip Dauber
,
Arthur Dauber
,
Henry Dauber
,
Doris Perlberg
,
Jennifer Smith
,
Coral Vaknin
,
Vera Crawford
,
Joyce Dauber
,
Charles Dauber
,
Sylvia Dauber
,
Matthew Dauber
,
Ben Dauber
,
Lauren Dauber
,
Cindy Anapolsky
,
Jeff Anapolsky
,
Molly Anapolsky
,
David Anapolsky
,
Joel Irwin
,
Robert Irwin
,
Elayne Dauber
,
Jeff Dauber
,
Marc Levin
,
Debbie Dauber
,
Paul Traina
,
Steve Dauber
,
Kenny Dauber
,
Max Dauber
,
Eve Dauber
,
Seth Dauber
,
Carylann Dauber
,
Mike Dauber
,
Luanna Dauber
,
Sydney Dauber
,
Daphne Dauber
,
Drake Dauber
,
Barry Dauber
,
Danya Schwartz
,
Danny Schwartz
,
Debra Joffe
,
Beryl Joffee
,
Seth Irwin.
Want more buzz like this? Sign up for our Morning Buzz emails.
To leave a comment, please log in or create an account with The Buzz Magazines, Disqus, Facebook, Twitter or Google+. Or you may post as a guest.