From Loss, a New Life
With help from her circle of friends
Click the Buzz Me button to receive email notifications when this writer publishes a new article or a new article in this column is published.
When Buzz-resident pediatrician Larissa Adkins Fletcher learned her husband, John, had Stage 4 esophageal cancer, one of the first things she told him was that she wanted to have another baby.
At the time, Larissa, 37, and John had a daughter, Emma, nearly 1. But Larissa always envisioned a larger family, and she knew she wanted that family with John. So, before John started an aggressive course of chemotherapy in an effort to save his life, he banked sperm. After just seven months of treatment, Larissa said goodbye to her husband of four years, a 42-year-old marathoner and accountant who grew up in upstate New York.
This summer, nearly two years later, she and little Emma said hello to a healthy baby girl, Elliana Joy, Larissa's second child with John.   
"Ellie's a really good baby. She smiles all the time," said Larissa, who had her eggs retrieved, and then an embryo implanted after John passed away. As she grieved for John, planning for the baby "was the one thing that kept pushing me forward," she said. In her home, pictures of John before he got sick line a bookshelf he built by hand.
Larissa and John met in 2010 the "new-fashioned way," Larissa said – online. On their first date, they were so nervous they drank enough water to keep them both in the bathroom all night. They had their second date at an aquarium, and a year later got engaged. After Larissa finished her residency, they married at a restaurant in Hawaii overlooking the beach. "It was a fairytale," said Larissa, with a smile. 
John and Larissa built their dream home in Pearland, with enough space for four kids. "We were both planners," she said. "John had an Excel spreadsheet of vacations we were going to go on. We had everything planned out." They had Emma, then decided to start trying for child number two when Emma turned a year old. It was around that time when John started feeling sick, with constant reflux. 
After tests, Larissa recalls, "the doctor came out to talk to us, and said, you have cancer. Esophageal cancer is what killed my father. I knew it wasn't good." Yet, they pursued treatment. "We had to fight," Larissa said. "I know we gave it our all. I can tell my girls that. Your dad fought." Near the end, John came home on hospice care. Emma spent hours with her dad, placing stickers up and down his arms.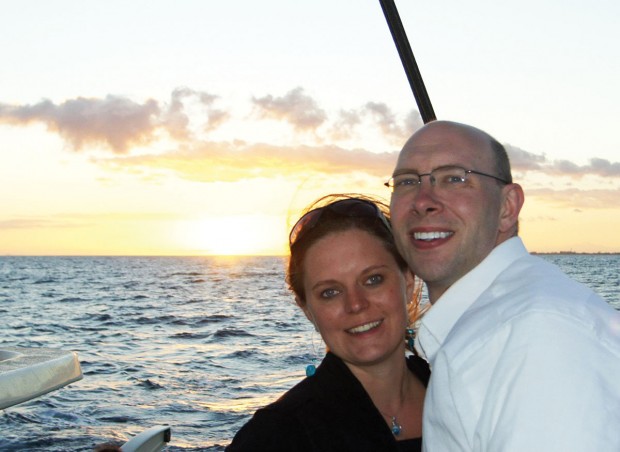 Before John died, he and Larissa knew they had five healthy embryos. Larissa had the first implanted the summer after he passed away, but the pregnancy didn't take. "I was devastated because this was our plan," she said. She took the next month off to de-stress. Then, she had another embryo implanted, and in October found out she was pregnant. Soon after, she and Emma moved to Westbury to be closer to friends and fellow church members.
At the hospital, in labor with Ellie, Larissa surrounded herself with photos from her honeymoon. She also wore John's wedding ring on a chain around her neck. She'd had it engraved for him years earlier. It reads: "I trust you." 
Ellie looks much like Emma did at this age, says Larissa, cute, bald and chubby. She's also calmer than her older sister, more "go with the flow," Larissa says. John would have relished playing with Emma – taking her to the park – while Larissa cared for Ellie.
With no local family that can support her, Larissa has relied heavily on the kindness of her Houston friends and neighbors, both during her pregnancy and now that Elliana has arrived.
Kim Koenig of Meyerland, an MD Anderson oncologist and fellow member of Larissa's church, South Main Baptist, helped organized a baby "sprinkle" for Larissa. Koenig is also part of a Houston women physicians group, and a national group on Facebook of physician-mom craft enthusiasts, and recruited women to hand-make baby items for Larissa. 
One woman made a bib printed with "Future Doctor." Another knit a pink hat and matching headband with turquoise bows. Larissa also received canvases made of fabric and wood that spell out Elliana's name. The set, which hangs in Elliana's room, matches one Larissa and John made for Emma when she was born. The local women doctors group threw the afternoon tea party at Kiran's for more than 70 attendees. 
Three women doctors – including Stephanie Deal in Bellaire – donated frozen breast milk to make feeding Elliana easier on Larissa, and church members set up a meal chain for the family after Elliana arrived.
"I think John," said Koenig, "would be extremely proud of Larissa."
Larissa knows John would have fallen in love with Ellie. "He'd want to hold and play with her all the time. I can imagine exactly how he would have been with her."
Want more buzz like this? Sign up for our Morning Buzz emails.
To leave a comment, please log in or create an account with The Buzz Magazines, Disqus, Facebook, Twitter or Google+. Or you may post as a guest.