Love Stories
Two couples going the distance
Click the Buzz Me button to receive email notifications when this writer publishes a new article or a new article in this column is published.
For couples Roxanne and Samuel Gold and Lori and Craig Teller, love was found on the road – and in the air. Their love stories are intertwined with travel, and for the Golds, who are about to celebrate their 60th wedding anniversary and met after Samuel hitchhiked to Houston, and for the Tellers, who just celebrated their 30th wedding anniversary and met on an airplane, their marriages have definitely gone the distance.
Lori Massin Teller did not know she was going to meet her husband when she boarded a Southwest Airlines flight in December of 1980.
She was traveling from Houston to Fort Worth for a youth group event. At just 15 years old and a sophomore in high school, she walked onto the plane with a friend. The Southwest open-seating concept allowed them to sit anywhere they wanted. Lori's friend suggested they make their way next to Craig, who was already seated when they got onboard. And although there is some dissent on where they actually sat (Lori says that Craig was by the window, and she was on the aisle, and he says that they sat next to each other) one thing's for sure: Lori and Craig have been together ever since. 
"I thought he was funny and cute and obviously very intelligent," says Lori, now a veterinarian and clinical associate professor at the College of Veterinary Medicine at Texas A&M University, with a small practice at Meyerland Animal Clinic, where she has worked since she was 12. "He spent the whole conference following me around."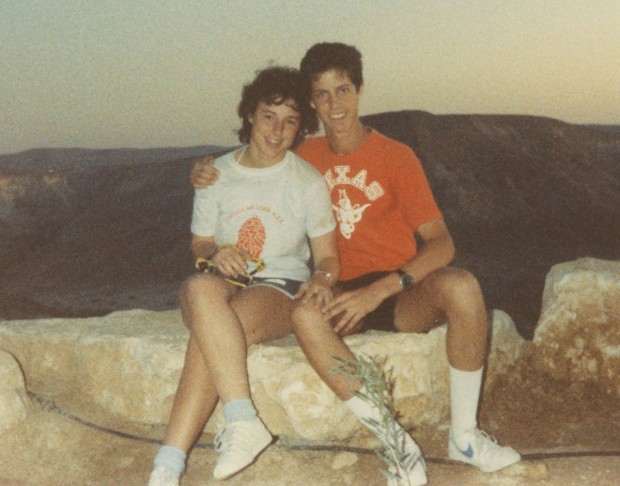 For his part, Craig says he was so smitten he decided to ask Lori out for not one, but a pair of dates when they got back to Houston. "I was so enamored I asked her out for two dates at one time!" says Craig, a dermatologist who is co-owner of Bellaire Dermatology. "I wanted to monopolize her time. Being a big sports person, I had to elbow and box other people out so they could not get to her." 
Craig's plan worked. "It was really sweet," recalls Lori. "The first date was a hayride in the middle of freezing cold January, and the second a dance. We became a couple and dated all through the rest of high school." And although they went to different schools (he at Bellaire High, she at St. John's School), they realized that attending different colleges was going to force them to commute farther to see each other, a traveling theme that has been repeated throughout their marriage.
"I had my heart set on being a veterinarian, and the only place to go was A&M. He wanted to be a doctor and went to UT," says Lori. Their freshman year was spent driving back and forth between College Station and Austin. After talking to her academic advisor, Lori switched to UT for sophomore and junior years to be closer to Craig. At the end of her junior year, Lori applied to A&M veterinary school and was accepted.
The next several years had the couple ping ponging between cities after Craig began medical school in Houston. "By the time he finished his first year of medical school we had been dating seven and one-half years," she said. "We got married in the middle of grad school in 1988. But we were still in different cities. I had two more years of veterinary school. We spent the next two years seeing each other on weekends. Our joke is we survived because we spent our first two years of marriage apart."
All jokes aside, the peripatetic pair say they their love has grown stronger during the decades. Their son, Austin, is now 25. "We have the same value system, and we both believe very much in each other," says Lori. "We had to deal with infertility in our 20s and breast cancer for me in our 30s. Ultimately you love someone in sickness and health, and we are both very loyal people by nature. 'Okay,' we would say, 'it's another bump in a road.' We have to deal with together. But it's always easier to deal with it with someone you love."
The Tellers say there is no shortage of love between them and they make sure that travel – no surprise – is a big part of their relationship. "Our biggest hobby together is traveling, and we know when we go on vacation, we can focus on each other and share adventures," says Lori. They have traveled all over the globe, most recently to Japan and Hong Kong.
Craig says they enjoy food and wine (he has achieved a wine sommelier certification) and making each other laugh. "You have to have humor," he says. "We like puns and we try to out-pun each other!"
"I think I am a very lucky person," says Lori. "My life has truly been blessed. Being with Craig, I get to be my true self. He takes me for what I am." And, in perfect step, Craig, agrees. "I think the biggest thing is that I married my best friend. We had such a great foundation," he says. "We fell in love, and it's a love that we are making sure persists and survives."
About to celebrate their sixtieth wedding anniversary in March, Roxanne and Samuel Gold have a love story that started with Samuel hitchhiking to Houston to attend High Holy Days services. It was 1957, and Samuel was in the army, stationed at Fort Polk in Louisiana.
"I wanted to go to synagogue," recalls Samuel, a retired optometrist who owns Samuel Gold TSO with sons Danny and Marc. "I was 24 years old, and I hitchhiked the 200 miles to Houston to the services that Beth Yeshurun was holding at the Music Hall downtown." As luck would have it, Samuel sat down in a row behind some brothers he knew from college, Danny and Murray Klaff. 
"They said: 'I know just the girl for you. You are short, and so is she!" says Samuel, laughing. "If I was taller, I would never would have met her; that's the truth!"
Giggling, Roxanne touches Samuel's hand and quips: "And we have shrunk together!" Their relationship is so tight the two of them often finishes each other's sentences, and laughter is a daily part of their lives together. "Not only did I come 200 miles, and I was short and she was short, and we were both single and to be seated behind these friends," Samuel continues. "It was bashert – it was good luck. It was ordained. A bolt of lightning came down and hit me."
They both say they were struck by that bolt of lightning. They were set up on a blind date a few weeks later (he hitchhiked back to Houston and took Roxanne to eat dinner at Larry Pico's Spanish Village) and have been together ever since. They dated long distance for a year while Roxanne taught at Grady Elementary and Samuel continued his service in the army, and then in 1958 got engaged and married in 1959. 
Because Samuel was not licensed yet in Texas as an optometrist, the couple lived with Roxanne's parents, and he unloaded trucks for Walgreens until he was licensed and went into practice. 
In time, they had their two sons and moved to the Stella Link area. Today their close-knit family includes Marc, wife Syndy and children Joshua, Michael, Kelsey and Kyle and Danny, wife Wendy and children Jeffrey, Scott and Stephanie. Photographs of grandchildren cover the walls of their Tanglewood home ("We are picture freaks," says Roxanne, laughing.
"We all live in Houston, and we have dinner together every Sunday night. We are Grandma and Grandpa, but they call us ATM actually," jokes Samuel, who says they have traveled the world in their six decades together. "We take our whole family on a cruise every year. They all call us regularly. It's a good feeling that they care about us because we care about them."
And that is the point that the Golds want to make: that caring, laughter, mutual respect and love have made their lives that much sweeter together.
"Sam and I always think of each other first," says Roxanne. "I do things that I think he most would appreciate, and likewise he does the same. And secondly, I am the luckiest woman: I have the best husband in the world." Not missing a beat, Samuel pipes in: "Life has worked out well for me," he says. "We have never wanted for anything because Roxanne has made my life easy for me. I am happier now than I thought I would be at this stage of life. It's fun to wake up and find her next to me."
Want more buzz like this? Sign up for our Morning Buzz emails.
To leave a comment, please log in or create an account with The Buzz Magazines, Disqus, Facebook, or Twitter. Or you may post as a guest.