Sing!Sing!Sing!: Discovering the Joy of Singing with Neighbors
Click the Buzz Me button to receive email notifications when this writer publishes a new article or a new article in this column is published.
For Barbara Reichlin, childhood summers are synonymous with song. From a young age, she attended Camp Arnold, where nearly every moment, from washing dishes, to building camp fires, to sitting in bunk beds, was spent singing camp songs. And at home, she'd hear her mom happily singing while cooking, her dad whistling while walking. Despite her love for singing, Barbara never imagined that she would one day start a pop-up choir where strangers from across Houston could come together to sing harmonized pop songs on Monday evenings after work. 
But now, Barbara is the proud founder and manager of Sing!Sing!Sing!, a group that does just that. Every first and third Monday of the month, anyone and everyone, from professional voice teachers to novice shower singers of all ages, show up at Evelyn's Park for a two-hour singing session. First-timers may walk in feeling frightened and shy, opting to sit in the back row, but by the end of the evening, everyone is singing their hearts out.  
"There's just so much energy in the room," said loyal Sing!Sing!Sing! member Linda Ware as she recalled a Monday meet-up where the group learned the Beatles' hit "Let it Be." "People just don't want to let go of the moment."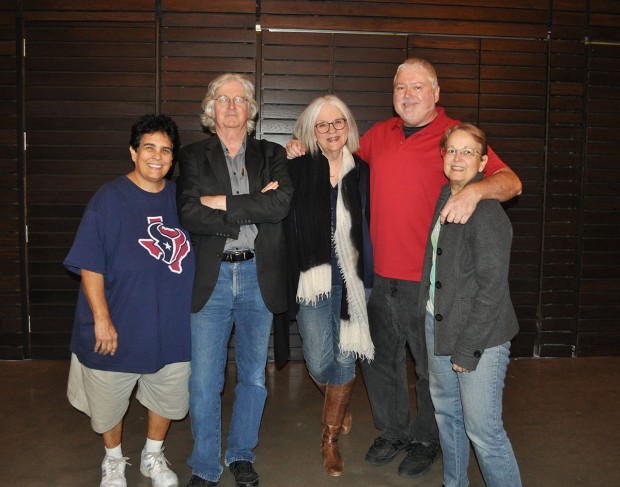 A partially-retired marital counselor, Barbara started Sing!Sing!Sing! in 2014, after gaining inspiration from YouTube. 
About five and half years ago, Barbara discovered PS22 (Public School 22), an elementary school chorus in Staten Island. The chorus had started as an ordinary fifth-grade choir, but it soon gained critical acclaim after the group's director, Gregg Breinberg, began a blog in 2006 where he posted videos of his students passionately singing pop songs. The blog became an Internet sensation and singers from Carrie Underwood to Fifth Harmony were inspired to visit the school to see the students perform their covers. The choir has now sung with dozens of artists and has even performed at the Academy Awards and on the Oprah Winfrey Show, among other notable outlets. 
Watching PS22 "for the gazillionth time" one night, Barbara stumbled across an adult choir based in Toronto called Choir!Choir!Choir! This no-commitment singing group had started as a one-off event, but soon became a bi-weekly drop-in meeting where hundreds of enthusiastic singers would pay five dollars at entry, receive a music sheet and then spend two hours rehearsing a three-part harmony to a popular song. The meeting would end with a recorded performance, which would then be uploaded to YouTube by the next day. Barbara quickly became hooked to these videos and felt inspired to sing with a group.
"I loved watching Choir!Choir!Choir! so much, it just started to hurt that I couldn't be there," she said. "And then I decided okay, maybe I can find something here in Houston."
Barbara identified a number of performance choirs in Houston, but she found nothing like Choir!Choir!Choir – a no-commitment, no-audition group where people sang solely for the joy of singing. So, she decided to create her own group, replicating the model of Choir!Choir!Choir!. 
Barbara recruited guitarist Sarah McConnell and voice teacher Patti Rabaza – who brought in another guitarist, Elton Witt – and launched Sing!Sing!Sing on Labor Day 2014 in her own office space in Bellaire. At the time, Barbara advertised the group only by sending an email blast to personal contacts. 
But around the end of 2014, Barbara began promoting the group on meetup.com, an international network where people can find events and activities based on their interests. By then, Barbara had worked with the owners of Cezanne's Jazz Bar on Montrose, who agreed to let Barbara's group meet at the upstairs space in Montrose. Meetup.com has helped the group grown significantly – while the first event drew 16 people, about 50 people attended the most recent meeting. 
The promotion has attracted many individuals who have moved to Houston from all over the world. 
"Our group has become a place for expats to connect with people," Barbara said. The group has included immigrants from Australia, the UK, Kenya and India, she added.
At the group's most recent meeting, on Feb. 18, I witnessed the group's diversity first-hand. Among the attendees who learned ABBA's "Take A Chance on Me," were Jackson Mwaura, a young man from Kenya who moved to Houston last November to work as a web developer. Jackson was in a choir in high school, and, eager to continue singing in Houston, he simply Googled "choirs in Houston" when he first moved here. 
"I saw an article [about Sing!Sing!Sing!] and then just emailed Barbara," Jackson said. He said the group is one of his favorite activities he's been a part of in Houston thus far. 
Also in attendance was Suneeta Parambil, a Bellaire resident who moved from Bombay, India about three years ago. She found out about Sing!Sing!Sing! through her friend Linda and soon became a regular. 
The group attracts native Houstonians too, of course. Bellaire resident Liz Scott found out about Sing!Sing!Sing! through a Houston Chronicle article published in 2015. Intrigued by the group, Liz cut out the article and saved it. But it wasn't until three years later that she took the plunge and attended a Sing!Sing!Sing! event.  
"I just decided, okay, today is the day," Liz recalled thinking one Monday last summer. 
At that time, Sing!Sing!Sing! was holding its meet-ups in Midtown Bar and Grille in Montrose. Recently, Evelyn's Park Conservancy invited Sing!Sing!Sing! to hold all of its meetings there. The new location has made it easier for people Bellaire residents like Liz to attend. 
"I've never been in a choir before, but I just love to sing," she told me.  
It's that sentiment – a simple love of singing – that seems to attract most of the group's members. And when I attended on Monday, the joy and happiness in the room was palpable. When I walked into Betsy's around 6:30 p.m. my first move was to get myself a glass of wine. As someone who sings solely in the privacy of my vehicle and occasionally in the shower, I needed to calm my nerves before letting strangers hear my sub-par vocal skills. After taking a few sips of wine, I walked into the meeting room, grabbed a piece of music and tried to sneak a seat in the back row. But director Judi Messina, a professional voice and piano teacher, was quick to tell us to fill up the front rows first. 
Fortunately, I ended up sitting next to a fellow newcomer and a familiar face, Diane Citek, whose son Tyler had gone to school with me at St. John's. Neither Diane or I knew what to expect from the evening, but we were happy to find that, any initial nervousness quickly dissipated and turned to laughter. Over two hours, Judi guided the group through the three-part harmony, cracking jokes and extending a quick "very good, very good," to the group after any successful run-through.
"I would definitely come back," Diane said to me at the end of the night. 
After we nailed the song, we stacked our chairs in the corner and stood in a large clump while Barbara took a video of us performing "Take a Chance on Me." Though we stumbled through some parts and were by no means perfect, it didn't matter one bit to anyone. I was having way more fun than I had expected, and there was something uniquely thrilling about being a small part of an endeavor whose sole purpose was enjoyment. As Linda had put it, "the beauty of it is that there's no pressure."
"We're all busy at work, or we're busy doing other things and we always have a deadline. With this, there's none of that. You just come and be happy."
 
The next Sing!Sing!Sing! meet-up is on Monday, March 4 at Evelyn's Park. Singing is from 7-9 p.m., but attendees are invited to come at 6 p.m. to dine, have a drink and socialize at Betsy's. The events are open to all ages, and no RSVP is necessary. Kids under 16 attend for free, while adults are asked to pay a $5 cover, which goes to the musicians. In addition to meeting on the first and third Monday of every month, the group also meets on select fifth Mondays. Find out more on their Facebook group. 
Want more buzz like this? Sign up for our Morning Buzz emails.
To leave a comment, please log in or create an account with The Buzz Magazines, Disqus, Facebook, Twitter or Google+. Or you may post as a guest.