'Fiddler on the Roof': A Night of Firsts at Episcopal High School
Click the Buzz Me button to receive email notifications when this writer publishes a new article or a new article in this column is published.
Texan teenagers don't usually transform easily into old-world Russian Jews, but on March 2, a whole cast of actors at Episcopal High School did just that when they opened their spring musical, Fiddler on the Roof.
George Brock, the 16-year veteran Theatre Program Coordinator at EHS, says it took a lot of YouTube watching to pull off. "The old Yiddish accent is one of the most difficult dialects in the world to learn," he says. "As an actor, you're going to be naturally resistant because it's very close to a Brooklyn dialect. The kids kept saying, 'I don't want to sound like I'm from Brooklyn!' and I kept saying, 'Where do you think the Brooklyn dialect came from?' There was a lot of back and forth, but in the end, they did a great job. I was really happy they didn't sound like a bunch of Texans!"
Opening night was a night of firsts for the school. Not only did EHS present Fiddler for the first time in the school's history, but the newly renovated Underwood Theatre was unveiled after an upgrade that took almost two years.
Mr. Brock says Fiddler was the first musical he was taken to see in a theatre as a child, and he immediately fell in love. So why did it take him 16 years to produce the musical at EHS?
"It's a very challenging piece," he says. "It requires a lot of very specific types of actors to do very specific things. We just didn't have all of the pieces in the puzzle casting-wise until this year. So I kicked the idea around with our music director and the choreographer – was she ready to bite off something that big? They were up for it. 
"You really need an incredibly strong person to play Tevia [the father and main character in the musical]," Mr. Brock says. "Not only did [senior] Max Dubose have the strength to play the part, but it's a very specific look, and he had it. Then you need five girls who look like they could be sisters, who blend together. And you have to have a really strong Golda [the mother in the musical]." Gwen Diaz, a sophomore, filled the role.
"You also have to have an ensemble that has dancers strong enough to do the Russian dancing in [the scene] 'To Life' and the bottle dancing at the wedding. This year we just had all the elements, and the pieces came together."
The dancers were pulled from the dance program and had not previously done musical theatre at the school. "They were also interested in musical theatre," Mr. Brock says. "They had performed elsewhere, in middle school, and they knew what they were going to be asked to do."
Not all of the student performers had seen Fiddler prior to acting in it. But Mr. Brock says it was a good experience: "I think any time you work on a piece, particularly one that is not your cultural heritage, it is enlightening and opens pathways in the brain and the soul to be more open to all ideas and all thoughts and all different cultures. It also gave the students a real history of Russia at that particular time."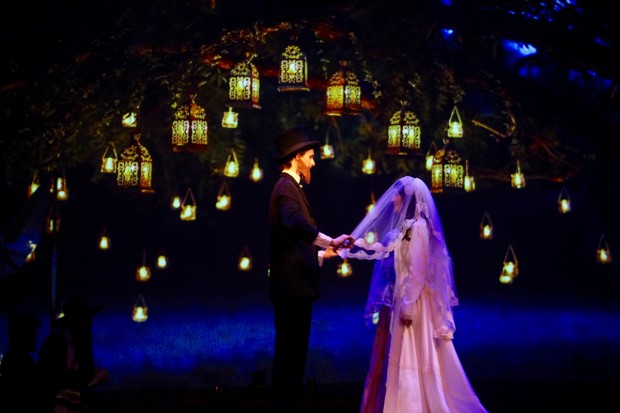 The musical explores tradition – and change – through the life of a Jewish family living in a pre-revolutionary Russian village. In the EHS production, there were two Jewish cast members – Chandler Levinthal, who played Motel the poor tailor's mother, and Gabe Kant, who played Fyedka, daughter Chava's Russian boyfriend, who was Christian.
The backdrop screens in the opening scene featured giant words written in Hebrew. On the day of dress rehearsal, Gabe walked in, approached Mr. Brock and said, "I don't know if you want to know this, you might not want to know this, but the Hebrew is upside down." The stock photos used were taken upside down. "I should have caught it, that's on me," Mr. Brock says. "But it was very funny."
Want more buzz like this? Sign up for our Morning Buzz emails.
To leave a comment, please log in or create an account with The Buzz Magazines, Disqus, Facebook, Twitter or Google+. Or you may post as a guest.