Friendship – and Fish
Four decades of Passover prep
Click the Buzz Me button to receive email notifications when this writer publishes a new article or a new article in this column is published.
Each year, Jewish families look forward to the Passover Seder with family and friends. Traditions thrive during this sacred holiday: readings, songs, prayers and food. Each item served during the meal is a symbol commemorating the freedom of the Israelites from Egyptian slavery.
Gefilte [guh-fil-tuh] fish, or stuffed fish, has become a staple served at Passover. While not a requirement of the Seder meal, like matzo and charoset (a sweet paste made of fruits and nuts), this dish of deboned fish formed into ball shapes and served chilled has become synonymous with the holiday.
Most of us don't like it, but we'd miss it.
Leave it to three Buzz residents and longtime friends, Lara Ladin, Nancy Levinthal and Shellie Lewis, to be exceptions. They actually like eating gefilte fish. Not only that, but they like making it – and have for almost four decades, since they were young mothers joining forces in a dynamic trio of tradition.
"We continued this every year because it was fun, we liked what we made, and each year became the best year ever," said Lara.
What fun they have had. They bond over the process, which takes several hours, and come together every year, for the planning, laughing, gossiping and tasting.
Each remembers the early days. Nancy had returned from Los Angeles in 1978, and had learned how to make gefilte fish while on the West Coast. The three friends, who met in college at The University of Texas, were among the few in their friend group who cooked. "It was tick tock, the game was locked," said Shellie. Added Lara, "Since no one else was interested, we never invited anyone else into our gang."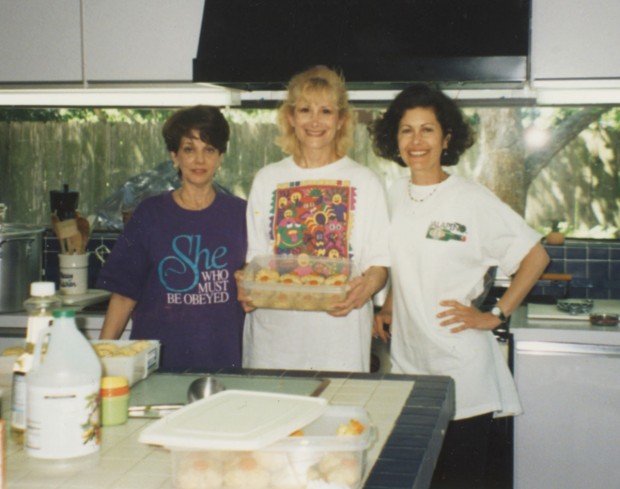 And what a gang they are. Laughing, talking over each other, and finishing the other's sentences, they are serious when it comes to making gefilte fish, which they have been doing together since 1981.
All agree ingredients are key – ground fish, matzo meal, carrots, celery, onion, salt and pepper. While kitchens rotate, each one has the same responsibility every year. Nancy selects their fish from Jimmy at J&R Seafood on Brompton Road near West University, which usually consists of white fish, trout and redfish. Lara and Shellie take care of buying, cleaning and prepping the carrots, onions and celery to chop up and put in the broth.
While this sounds like a simple enough recipe, the process is anything but. Some steps get lost in translation. Add salt to the soup pot, or not? "One quandary is the size and number of pots we've used," said Nancy. "In 1993, we used two pots, in 2014 we used two large pots, in 2015 we used one large and two small pots. Yet we still got 8-9 balls per pound every year."
Not every year was smooth sailing. "The best was when we had been cooking at Nancy's house on Underwood," said Shellie. "We put the fish heads and bones in trash bags out on the driveway. Every cat for miles would show up." Next time, they got smart and started driving the neighborhood for a dumpster. 
One year, Nancy forgot to tell the store to take the eyes out of the fish. "They were just staring up at us."  
It's an aroma-intense experience, even if you don't notice while you are cooking. "I walked outside to get my things," said Lara, "and as I walked back inside, I realized there really was an awful smell!"
Lara is the official taste tester. Then each takes a bite, critiquing. One year they decided they had used too much pepper, while another year they had overused matzo meal, making the gefilte fish too firm. 
The end result is always over 100 appetizing balls of gefilte fish to serve at the Passover Seder. (I never used to like the dish, but even I like theirs.)
Nancy wonders what will happen with the annual fish duty when they decide they are done. Her adult daughter Tara says it's time to teach the next generation. But none are certain their daughters could cook in the same kitchen and be productive.
Maybe one day. Until then, the gefilte fish is all theirs.
From Lara Ladin, Nancy Levinthal, Shellie Lewis
Ingredients: 
Vegetable oil
8-9 pounds ground fish (half white and half trout and/or redfish)
Fish bones: backs and heads (without eyeballs)
7-8 large white onions
6 cups sliced carrots
8-10 stalks celery (about 5 cups sliced)
Handful coarse salt
Fish Patties:
6 large white onions, grated
5 cups shredded carrots
1½ cups matzo meal
2-2½ handfuls of pepper (mixture of cracked and regular)
1-1½ handfuls of salt (mixture of Himalayan and Kosher)
10 extra large eggs, beaten
Recipe directions: 
Oil sides and bottoms of two large soup pots. Place half of fish bones on bottom of each pot. Slice onions and place half on top of bones in each pot. Place carrots on top of onions, half in each pot. Place sliced celery on top of onions and carrots, half in each pot. Fill pots with water, two-thirds to the top. Cover pots and let water come to a boil while making fish patties.
Fish Patties:
Mix the above ingredients with the ground fish. Form into patties, roughly 3 inches by 1½ inches, less than ½ inch thick. Remove covers on pots and lower fish patties into pots. Do not recover pots. Cook about 15 minutes. Remove from pots and cool. After cooling, strain the juice and pour the liquid over the gefilte fish patties. Place in refrigerator. The juice will thicken up considerably, which keeps the patties moist. Serve cold. Yield: 8 to 9 fish patties per pound of ground fish.
Want more buzz like this? Sign up for our Morning Buzz emails.
To leave a comment, please log in or create an account with The Buzz Magazines, Disqus, Facebook, Twitter or Google+. Or you may post as a guest.