Winter is Here: 'Game of Thrones' Fans Share Reflections on Final Season Premiere
Click the Buzz Me button to receive email notifications when this writer publishes a new article or a new article in this column is published.
I have a confession. Before last Sunday, I had never watched a single episode of Game of Thrones. Sure, I had heard of it but didn't know anything about it. 
Then, last week, final-season hype finally caught up with me. I called my older sister who lives in Virginia. She answered quickly, "Hi. Do you need something? I'm watching something on TV." I immediately knew something was up as Kathy loves to talk on the phone, and is usually a book reader, not a daytime television person.
She shared that she had started watching the first season of Game of Thrones with my 20-something nephew and his girlfriend who had decided to re-watch the first seven seasons of their favorite show before the premiere of the eighth season. 
She gushed, "I really like it. I'm trying to watch all 67 episodes by Sunday!" 
I didn't do the math of how many hours in a day versus how many hours of viewing but was thinking that scenario would probably involve not sleeping for a few nights.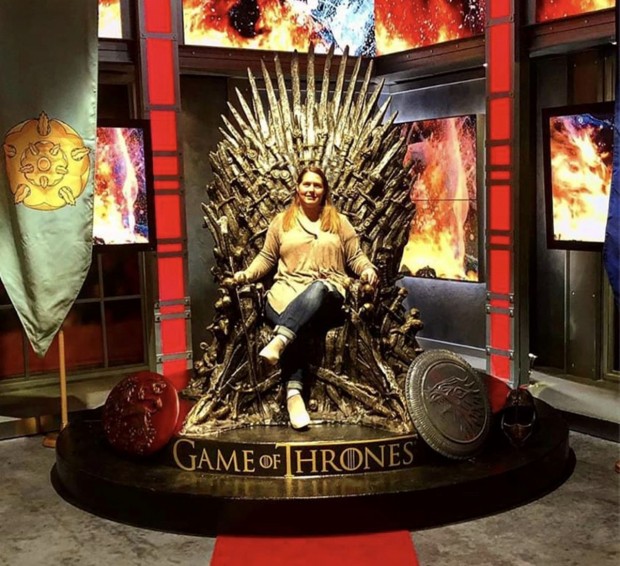 Sure, my friend, Jennifer Vanderbilt, who works in sports television, had posted a picture of her on Facebook sitting on the throne gracing the stage of the Turner Sports Final Four broadcast desk stage. 
Sure, I thought it was pretty crazy that Oreo had come out with a special Game of Thrones edition. 
But like a true little sister, all the hype hadn't really caught my attention until it was something my older sister thought was cool. She gave me a quick synopsis of the show and why she liked it, hung up and went back to binge-watching. 
Luckily, I'm also friends with some true long-time Game of Thrones fans, such as Shelley Ludwick. I knew she was a fan because she sometimes posts GOT post-episode exclamations on Facebook like, "Can you believe that happened?" Shelley works in fashion and often rubs shoulders with interesting people. She's cooler than me. She's out of my "hip television" league. She must have HBO.
So, when I asked her about her love of the show and excitement about the long-awaited final season premiere, she was nice enough to share her thoughts and stories from some of her fellow Game of Thrones fans.
Shelley enthusiastically reveals, "I have watched every single episode – I love this! My fave character is Tyrion Lanister [Peter Dinklage]! My friends and I all watch and text each other constantly!" (Multitasking at its finest. I told you she was hip).
One of Shelley's fellow Thrones lovers and texting partners-in-crime is Erik Bechtol. 
Last Friday, Erik got a call from the receptionist at his office that someone had dropped off a package for him with no tag. It seemed suspicious. But the bag said Johnnie Walker White Walker Game of Thrones Scotch – "at which time I decided it was worth the risk," he said. 
Erik found the bottle and promptly rubbed it in all his coworkers' faces. None of them appeared to be the culprit. Then he posted on Instagram to try to figure out who sent it. "A model I used to rep [Carmen Martinez] posted some emojis letting me know it was her, then texted me confessing. Laughs and appreciation had by all. I drank the whole thing this weekend." 
Erik is also in a Game of Thrones betting pool with friends and coworkers to bet on who dies during the show and if they become a White Walker, plus some bonus questions like "Who kills the Night King?" and "Who holds the Iron Throne at the end?"
During the season premiere, Mother of Dragons, Elizabeth "Khaleesi" Douglass, and her six-month-old dragon baby, Pierce, were dressed to slay for the viewing party at their house. Proud Dragon Dad, Justin, was a little less adventuresome sporting a TV audience member costume. Elizabeth, who's a proud brunette, shared, "I now know I'm definitely not a good blonde." 
The Douglass family – who have been Game of Thrones fans since the beginning - had a marathon day of celebrating, starting early Sunday morning with about 30 people over to watch the PGA Masters. There were about 11 people still hanging in for the Game of Thrones party that evening. The true fans will meet at the Douglass house every Sunday and have all made bets about who will be the next to die and who will sit on the throne at the end.
Empty nesters, Jeff and Tracy Everist, proud parents of big-time sports fan sons, Adam, Mason, Troy and Drake, shared, "We realized just how popular Game of Thrones was last Sunday when the boys said this was the best day ever with Tiger winning the Masters, a Rockets playoff game and the Game of Thrones final season premiere."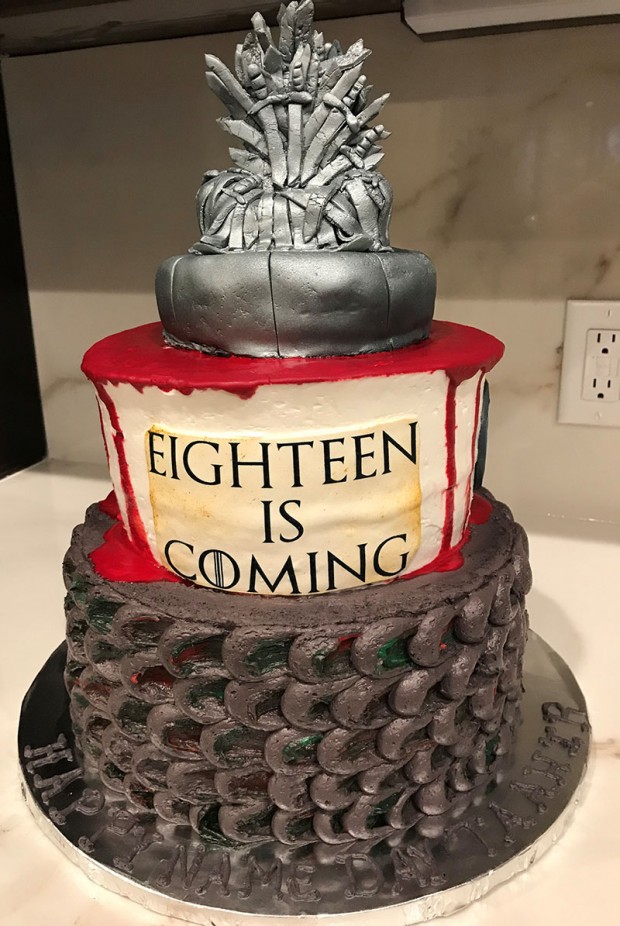 A Bellaire High School senior and avid GOT fan, Taahir Busaidy didn't start watching the show until last January after some friends inspired him. He watched about three episodes a day to catch up. His parents, Kamal and Naifa Busaidy, knew how much he liked the show, so they made Thrones the theme for his surprise 18th birthday party in February. His three-tier birthday cake said, "Eighteen is Coming" and had an Iron Throne replica as the cake topper. It also had some nice red blood icing running down the side.
Taahir said, "It's been a nice change to have something to talk about besides school and sports with my friends!"
He confided, "Some of my friends and I may have snuck out of a graduation party a little early last Sunday to make sure we got home in time to watch the new episode at my house." 
Adrian Kreps loves her Game of Thrones-loving husband, Brian Kreps, so much that she bought him some special GOT-themed desserts to celebrate the new season.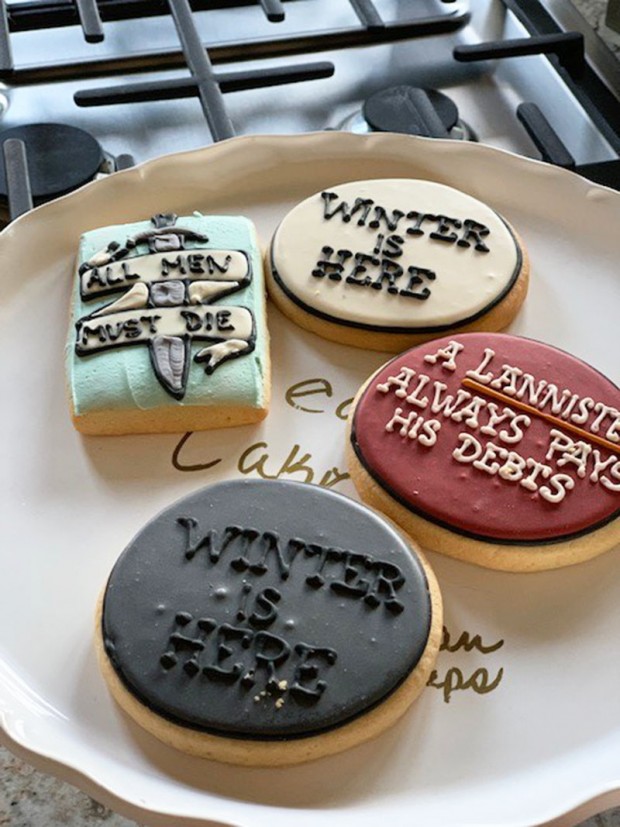 She said, "My husband is a huge GOT fan! He was looking forward to the new season. I saw fun Game of Thrones cookies on Instagram at one of our favorite bakeries, so I picked some up. My husband and his friends are the true fans."  
Hubby Brian shared, "I've really liked watching the show. I think every episode is really intelligent and I appreciate the great production the show has shown with the fantasy genre. I loved reading The Hobbit and such books growing up and I'm glad they have been true to George R.R. Martin's books that the series is based on. (A Song of Ice and Fire Collection: A Game of Thrones, Clash of Kings, A Storm of Swords, A Feast for Crows and A Dance with Dragons)."
Houston Game of Thrones fans will be happy to know that it is only a quick field trip away to visit, view and possibly even touch some of author George R.R. Martin's books, manuscripts and swords and other props from the show. Martin donated his literary collection to the Cushing Memorial Library and Archives at Texas A & M University. 
Jeremy Brett, Curator of Science Fiction and Fantasy Research Collection at the Cushing Memorial Library said, "Texas A&M is a public university, and so everything in Cushing belongs to the people of Texas. It's yours, all we do as Cushing faculty and staff is keep it safe and protected for you and for future generations of visitors. Everyone is welcome here, and there's something here, from over 6000 years of history, to excite and intrigue absolutely everyone."  
All of Mr. Martin's items are available to see anytime the library is open (open Mon.-Thurs., 8 a.m.-6 p.m.; Fri: 8 a.m.-1 p.m.; closed Sat-Sun.), but if you would like to hold the weapons, the library asks that you make an appointment (979-845-9359). 
So, my sister – who's still catching up on sleep – did, in fact, watch all 67 episodes in five days and realized it was going to be really hard to have to wait a week between episodes during this season.  
I won't be able to live up to my sister's high-achieving standards, but last Sunday night, my husband realized we had free weekend access to HBO. So, while the rest of the world was watching episode 68, we watched episode 1 and 2 (only 66 more to go!). Watch out, dragons and White Walkers - and hopefully some GOT-themed Oreos - we're coming! 
Happy viewing to all Game of Thrones fans until the big finale on May 19. 
People in this article:
Jennifer Vanderbilt
,
Shelley Ludwick
,
Peter Dinklage
,
Erik Bechtol
,
Elizabeth Douglass
,
Pierce Douglass
,
Justin Douglass
,
Jeff Everist
,
Tracy Everist
,
Adam Everist
,
Mason Everist
,
Troy Everist
,
Drake Everist
,
Taahir Busaidy
,
Kamal Busaidy
,
Naifa Busaidy
,
Adrian Kreps
,
Brian Kreps
,
George R.R. Martin
,
Jeremy Brett
,
Carmen Martinez
,
Sammy Bourji
,
Declan Donnelly
,
Rees Risoli
,
Ethan Gibson
,
Ian Wheeler
Want more buzz like this? Sign up for our Morning Buzz emails.
To leave a comment, please log in or create an account with The Buzz Magazines, Disqus, Facebook, Twitter or Google+. Or you may post as a guest.