The Giving Tree
Growing alongside its boy
Click the Buzz Me button to receive email notifications when this writer publishes a new article or a new article in this column is published.
When Brantley Payne graduated from St. Martin's Episcopal Preschool nine years ago, he was given a tree. At the time, it was the school's tradition to give all students who completed pre-kindergarten a copy of The Giving Tree by Shel Silverstein along with their very own tree. At the graduation ceremony, 5-year-old Brantley towered over his tiny sapling, which had just seven leaves and a sliver of a trunk. It looked more like a twig.
What a difference almost a decade makes.
Today, Brantley is about to walk across the stage at yet another graduation ceremony. At the end of May he will complete eighth grade at St. John's School and look forward to moving into Upper School next fall. In the nine years since he got his tree, the blonde and athletic boy has grown into a tall teenager. And his tree has grown into a stately oak.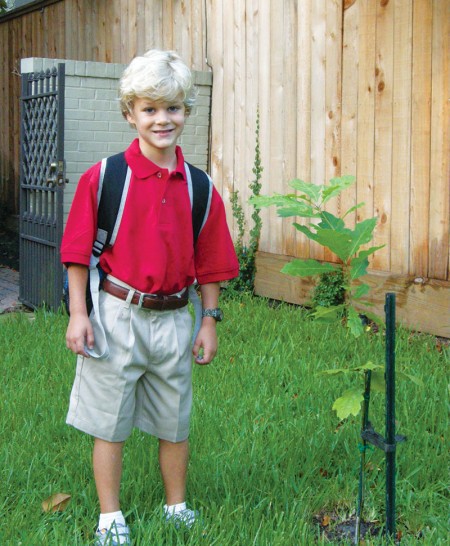 "It was so small when I got it, I could carry it in its pot," says Brantley, who will turn 15 in August. "And now, I look out my window and see it from the second story of our house. When I look outside, I wonder: how in the heck did it get this big?"
That's the question all parents ask when they look at their children. How do you measure the passage of time? In the case of the Payne family, it is via Brantley's Giving Tree.
Mary Majors Payne says she is proud of their intellectually curious son, who has a range of interests, from playing viola to being a lacrosse goalie. Brantley says he has loved school and reading, ever since that first pre-K graduation. "I am looking forward to high school for the programs in sports and the orchestra," he says. "I am excited to be taking math and higher level courses next year, and I am excited about the engineering program."
Mary Majors and her husband, attorney Leslie Payne, who also have a St. John's School sixth grader named Carlton, marvel at the growth of their firstborn and his tree. "It's a total reflection of Brantley and how big he has gotten," says Mary Majors. "Because the tree goes through cycles, it makes us pay attention. It shows the seasons just like we have the seasons of our lives." 
"In the winter, we see it without its leaves; then in spring it grows its leaves and it is so pretty," says Brantley. "I wonder how deep the roots go and how much of an impact it has had on everything around it." Mary Majors points out that their neighbors have been impacted by the beauty of the tree. "One neighbor called us in the fall and said, 'Have you seen Brantley's tree today?'" she says. "Right before it loses its leaves it's all red and just beautiful."
Mary Majors says they did not do anything special when they planted the tiny tree in their front yard. "We did not do any research, we just dug a hole, put it in and watered it and walked away," says Mary Majors, a civic volunteer. "We only wanted to have a place for it to get sunlight. We had to find a spot for the little tree to survive." Turns out, their location was just right for Brantley's tree to not just survive, but thrive. The Paynes made it a family project and they all took turns watering the tree.
"I feel like a tree growing is very representative of a child growing," says Mary Majors, who starts every school year out by taking a photo of Brantley in front of his tree. "The speed from which it grows from a sapling to the speed a child grows is similar. Every year when I take that photo of Brantley with his tree, I think, 'It's going too fast.' This tree will be here long after Brantley goes to college. It will remind me of him. I am working on raising a gentleman, and I am proud of the person and the leader he has become."
Brantley, too, sees his reflection in his tree. "I have grown with my tree," he says. "Eventually the tree will keep growing even when I have stopped growing. The tree will be here even when I am not here. It represents me."
Want more buzz like this? Sign up for our Morning Buzz emails.
To leave a comment, please log in or create an account with The Buzz Magazines, Disqus, Facebook, Twitter or Google+. Or you may post as a guest.