Mexico: Beyond the beach
Click the Buzz Me button to receive email notifications when this writer publishes a new article or a new article in this column is published.
Mexico's beaches are the stuff of legend: Cancun and the Riviera Maya, with brilliant Caribbean waters, exclusive resorts and an over-the-top Spring Break party scene; Puerto Vallarta, with its enchanting and rugged Pacific Coast; Baja California, with the upscale tourist towns of Los Cabos and the laid-back Todos Santos – U.S. travelers are no strangers to these shores, and flock there by the millions. 
What's less well-known, however, is the outstanding beauty and European charm of Mexico's colonial cities. It's a shame that most U.S. travelers never get beyond the beach, says Focus on Mexico editor Bette Brazel. 
"That's one view of Mexico – but there are many Mexicos," said Bette. "People need to know that Mexico is an indigenous country with 68 different languages… it's a vast country with all kinds of topographies, histories and cultures, and there's such a variety that you could spend your whole life just discovering that."
Topping the list for many is the UNESCO World Heritage Site of San Miguel de Allende, home to a flourishing expat community, a cultural bonanza and a lively party scene. For those who are not afraid to push out of their comfort zone and try out their Spanish, however, as Bette has observed, there's a whole world out there to explore. We caught up with three Buzz residents and frequent travelers to ask them about their experiences in Mexico's interior.
"I never go to the beach in Mexico," said Pam Sengelmann. "There's so much more to do!" From the ancient Aztec pyramids of Teotihuacan to the iconic Blue House – Frida Kahlo's home and museum – there's no end of things to see in the capital city alone. 
Like many Houstonians, Pam got hooked by San Miguel de Allende. Her best friend, CC Hetherington, was among the first investors in the area, buying and renovating a spectacular home there about 25 years ago, and invited her down for a visit. She was entranced, and has been going ever since.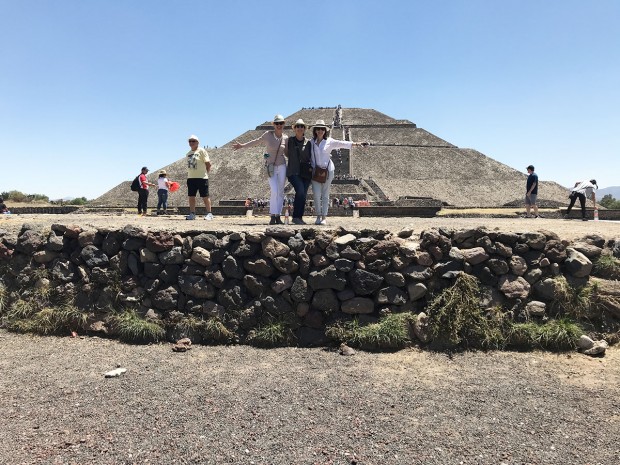 Linda O'Neal, too, was charmed by her first visit to San Miguel. The first time, she went with a group of girlfriends; they rented a huge home and spent five days celebrating a birthday. She fell in love with the place and decided to return to study art and weaving. She loves it so much that she's returned five times; several times she has rented a home, once for a whole month, and really immersed herself. 
So what is it about San Miguel that is drawing tourists by the droves? As Travel + Leisure put it, "In recent years, San Miguel de Allende has transformed from a sleepy and slightly down-at-the-heels Colonial hill town without a traffic signal into a fiesta-crazy magnet for international gastronomes."
The magazine recently named the town one of the world's friendliest cities.
Linda describes it as "a wonderful place… a little European city in the middle of Mexico."
San Miguel was the crossroads of the booming silver trade during the 1700s, and so despite its isolation it became rich, which is how it grew into an architectural marvel. Its grand cathedral, the Parroquia de San Miguel Arcángel, sparkles like a gothic fairytale castle, seen from a thousand balconies and the hillsides surrounding the city. The inner architecture is just as stunning, says Pam.  
"There are all these hidden and subtle doorways that enter into heavenly gardens and exquisite homes… all in their own ways unique and jewel-like," says Pam. "Every house is different, and they're all special in different kinds of ways."
Combined with the work of modern-day developers and investors, artists, chefs and shopkeepers, the colonial grandeur of this small city has blended the best of the traditional with modern tastes. The city's friendly party culture has opened doors to Pam and other visitors, who on any given day are likely to get an invitation to a cocktail party. The weather is perfect all year long, and the parks and botanical gardens highlight the lush beauty of Central Mexico. 
The city has become a shopping mecca for original and culturally influenced designs, says Pam, who had a business with CC called La Bodega, which showcased the work of San Miguel artisans and designers at Houston-area Christmas boutiques, pop-up shops and DASH. It is also an escape for Houston celebrities, who can be seen in local cafés or browsing crafts at the famous Tuesday Market. 
But San Miguel is just a microcosm of what can be found in Mexico's diverse and astounding interior, as Bette pointed out. Many travelers cite fears of violence and worry about not being able to speak the language. But English speakers are easy to find in major cities, says Bette, and reports of violence are highly overrated. She has traveled widely throughout Mexico on buses and taxis and has lived for several years in another expat hub, the charming village of Ajijic on the coast of Jalisco's mountain-ringed Lake Chapala. 
"Things happen here like they happen anywhere," she said. "Tourists are generally not targeted – but when they are targeted it's generally in the more touristy areas."
On her last trip, Pam decided to explore Mexico City with some Texas friends, and she was impressed. "It was so cosmopolitan; it was like a beautiful version of New York," she said. "The greenscaping and the parks are just amazing, everywhere you look – and the city is so pristine."
The only downside, she said, was the traffic – "which is to be expected with 23 million people." They dealt with it by staying in a certain district and planning many of their activities in that area. They stayed in Polanco – an upscale neighborhood known for its shopping and restaurants – and hired a driver, who waited for them everywhere they went, for a very affordable price. Uber, too, is handy and less than half the price than in the States. Highlights included a day trip north of the city to Teotihuacan where they climbed the Pyramid of the Sun. They took another trip south to Xochimilco, where they floated on the ancient canals on flower-decked gondolas, and they took in a spectacular folkloric ballet performance at the beautiful Palacio de Bellas Artes. 
Terry Elizondo, who has been traveling to Latin America for years, tends to avoid the touristy areas as well. She and husband Candelario have dreamed for years of retiring in Latin America, and so they traveled with that in mind, scoping out Panama, Honduras, Costa Rica and even Argentina. In Mexico they checked out many cities: Puebla, Oaxaca, Mexico City, Zacatecas, Guadalajara. 
Eventually they settled on Cuernavaca – a medium-sized colonial city an hour from Mexico City, beautiful, authentic and cosmopolitan. Terry, a recently retired attorney, got a job dogsitting three Chihuahuas for a month for a Canadian couple in their charming bed and breakfast, and over the course of the month, she realized the place was ideal. They've purchased a second home there in a beautiful historical neighborhood and are making the transition, and Terry couldn't be happier. 
"The weather is incredible; every day it's around 33 percent humidity and sunshiny," she said. "There is a volcano you can look at every day – Popocatepetl – you can see it from here. All these mountains surround it; that's why it's called Cuernavaca. I just look at the mountains and say, 'Oh my gosh, they are so beautiful.'"
She loves coming through the Tepozteco National Forest on her way home from Mexico City; Cuernavaca is home to four Natural Protected Areas. She also likes that it's close to Mexico City, where she and Candelario like to go once a month and spend the night, see the sights and enjoy the excellent restaurants. The central location also makes it easy to explore.
At home, she loves eating fresh tropical fruit – especially the ones picked from her own garden, where papaya, lemon, orange, lime and heirloom tomatoes grow in abundance. There's a yoga class and a library within walking distance. The massive palace of Spanish conquistador Hernán Cortés – the oldest conserved colonial structure in the Americas – is nearby. 
It's been fun connecting with other internationals living in Cuernavaca as well; as in San Miguel and many other cities, there is a socially active and tightly knit expat community, although they are as likely to come from New Zealand, Holland or England as they are to be from the United States. And unlike San Miguel, the expats are spread all over town – so her neighbors are Mexican, and she likes it that way. 
She's only had one uncomfortable incident. It happened at a grocery store, when someone overheard her speaking English to her sister, and came up to her and began berating her about Donald Trump. 
"Three clerks ran over and shuffled him away," she said. "Nobody likes Donald Trump down here – but they didn't like it that he did that to me."
Nobody has bothered her about the subject since, she said, and her interactions with locals have always been friendly and kind. 
"We've had lots of people come down and they can't believe how nice it is," Terry said. "Mexico has such a bad rap – and it's so unfair, because it doesn't seem to get any better. But what I've found is that if you mind your own business and don't do anything you wouldn't do in Houston, you will be fine." 
Editor's note: Buzz travel columnist Tracy L. Barnett is a Lowell Thomas travel journalism award winner and longtime travel and environmental writer. 
Want more buzz like this? Sign up for our Morning Buzz emails.
To leave a comment, please log in or create an account with The Buzz Magazines, Disqus, Facebook, or Twitter. Or you may post as a guest.