A Chronicle of Love: Journalism Student Interviews Veteran Journalists
Click the Buzz Me button to receive email notifications when this writer publishes a new article or a new article in this column is published.
I'm a journalism student who's changed her major more than once and haven't been sure about my career path. However, interviewing Don Mason and Claudia Feldman - two married, recently retired journalists who met at a Newsweek Christmas party - really opened my eyes to what journalism can do and what role I can play in it. 
As I was walking over to their quaint house, I kept thinking about the excited reactions I received when I mentioned to people I was planning to interview Mason and Claudia - "Oh my gosh, they're legends," "They're the best writers," "You have to do them justice" - and how I really wanted – needed – to get this story right. Within a few minutes of talking to the couple, I knew that I was in for an amazing story…
"A friend had told me, 'I met the man you're going to marry.'" 
That's all it took for Claudia to introduce herself to Mason (how he's known to friends) at the Newsweek Christmas party. "We were both seeing other people, but I just thought 'what the hell,' went over to him, and said hello," she recalls, laughing. That "hello" led to an amazing love story that is going on year 36. 
Claudia, who grew up in the Third Ward neighborhood and attended Pershing Middle School and Bellaire High School, went to Northwestern in Evanston, IL to pursue journalism. Mason, who had spent the first 10 years of his life in Illinois, went to Southern Methodist University in Dallas, TX, also to pursue journalism. Claudia had been an intern at the Houston Chronicle between her junior and senior years at college, and eventually got a job there. She started out as a general assignment reporter and did medical writing for a short time before going over to features, where she felt she really belonged. Mason started working for the Dallas Morning News right out of college. He started by reporting on the weather and county government, but when DMN wanted to open a borough in Houston, he moved. A year after Mason and Claudia met at the party, he went to work as an editor at the Chronicle. 
While they were both equally enthusiastic about journalism, there were different reasons and missions that attracted them both to it. Claudia, soft-spoken, yet extremely fervent, talked about how she "got to show all kinds of people" through her writing. Among them being a widower who became a bank robber and got his two teens involved in his life of crime, a kind-hearted, homeless man who lived under a bridge by the Galleria, and an attempted murder of a cheerleading candidate's mom during a cheer competition.
Mason, more practical and matter-of-fact, said, "I always liked writing. I was always better at English type things than math or science, so I knew I had to focus my career that way." For the first 10 years of his career, Mason was a reporter, but said, "I never cared for the reporting part of it, I didn't like to do interviews. Frankly, I just found editing easier." Claudia slightly shook her head at Mason's nonchalant remark before she spoke of the many people she met over the years who remembered Mason because "he made them better and taught them how to do their jobs, when you're an editor, you're a teacher." 
When asked to reflect on her career, she looked back on the in-depth interviews she did with various kinds of people and the unexpected connections she developed with them. Whether it be a homeless man or a kid who got wrapped up in a crime, she speaks from her heart and with respect and dignity.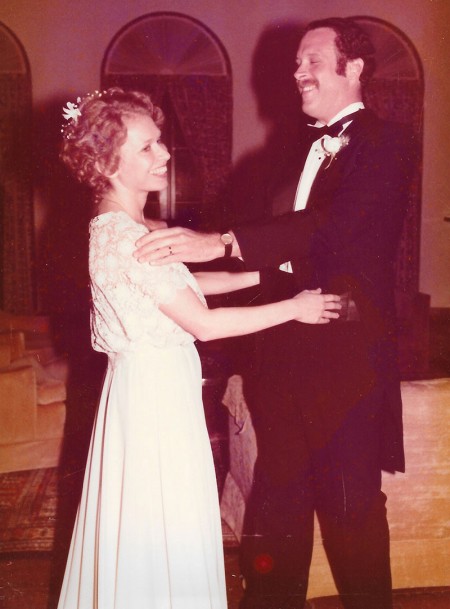 "Even if the readers and subjects are different, we're still the same, we all share common problems. Journalism is about finding regular people whom others deserve to know about," she said contently. Her goal was always to help people understand each other and coexist better. 
Mason's "purpose was a little more pragmatic than Claudia's" as he was focused on what he could do to get the paper done and out the next day.  He wasn't necessarily worried about "loftier" things, but when he worked on investigations and special sections, "there was a sense of purpose to make the world a better place," similar to Claudia. However, the stories Mason was most drawn to were political ones. In his early days, he covered a lot of elections and county government, and his interest in that world remained throughout the rest of his career. It was clear that they were somewhat opposites in how they approached stories and in what they brought to their field, but they both had tremendous respect and admiration for what the other did.
Mason spoke highly of Claudia's intense dedication - "she gets close to people and writes about them elegantly and beautifully. She would get up on a Saturday morning to go talk to somebody in jail or go talk to the homeless man under the bridge during an evening." Claudia admired Mason's talent of elevating stories - how he takes a story, no matter what level it's on, and makes it better. "I showed my stuff to Mason all the time because I respected his ability to edit, what he does is invaluable." 
The one time they were able to collaborate and share a byline was in 2010, when they were stranded in England due to a volcano exploding in Iceland the day they were supposed to fly back to Texas. The smoke from the explosion was such that it interfered with all air travel between the US and England, and so they were stuck in a London airport. They were technically on vacation but spent several days going back and forth from their hotel room and the airport trying to catch a flight home. At one point, they decided to write a story about the stranded persons' situations.
"I thought 'this is fantastic, he can write the nut graph,'" recalled Claudia. Mason did what Claudia considered the hard part, and vice versa. But they both agreed that they found this story "routine and easy." Mason stated that it was "one of those where you find the certain person and quote…" "…and you know you got it," Claudia finished. 
I smiled. I think for this story, Claudia put it best: "Journalism is about finding regular people whom others deserve to know about." 
Want more buzz like this? Sign up for our Morning Buzz emails.
To leave a comment, please log in or create an account with The Buzz Magazines, Disqus, Facebook, or Twitter. Or you may post as a guest.