Sunday Mornings with Rania: Hidden Dangers of AirPods
Click the Buzz Me button to receive email notifications when this writer publishes a new article or a new article in this column is published.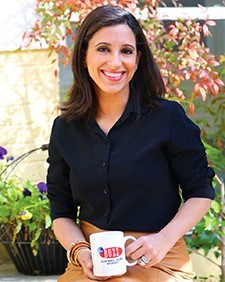 In the interest of full disclosure, I'm wearing them now, streaming music, as I write. These small gadgets have become a part of everyday life and a must have for teens; it's safe to assume their integration in society isn't going away anytime soon. But with stories surfacing this week about scammers using them to target local Houston victims, I did a deep dive into these pocket-sized gems known as AirPods. What are the hidden dangers that are important for all of us to know? Here's what I discovered. 
Scammers
I heard two similar stories within 24 hours. Both took place in nice neighborhoods within Houston. Both involve regular citizens going about their day and involve interactions with "well-looking, put together gentlemen" who were on "active and distressing AirPod phone calls."
The scam went like this: In scenario #1, the caller, knowing the victim could overhear his frantic call, was learning the news that his father had died and was asking the person on the other line to hold;  quickly and frantically, he asked the victim for money to get gas and head home as soon as possible. The couple, in this case, quickly pulled out a $20 and handed it over.
In scenario #2, the caller, again, knowing the women could hear him, paused the call to "introduce himself, ask the woman if she lived around here and was familiar with the area" and if she could point him in the right direction. He was conveying the idea that he was lost and needed directions. She pointed him the right way but noticed he proceeded to follow her home, which made her very uncomfortable. 
In scenario #1, local law enforcement described the frantic caller in detail and asked how much the couple gave the man. It appears he is in that spot weekly pulling that same stunt. It's estimated that, given the nature of his call, how put-together he looks, the frantic manner in which he goes from the AirPod call to speaking to the victims, he gets an average of $20 - $100 with each ask. We don't know the outcome of scenario #2 but law enforcement believes he was not lost and used the call and set-up to find out where the woman lived. A few days later, her apartment building was broken into, though we are not sure if the two incidents are connected. While neither the couple nor the woman was truly hurt in either scenario, there's room for conversations around what we think of criminals and how they appear and what we are willing to hand over to people we identify with. While we always want to be helpful, we should always remain careful. 
Beware of "Live Listen" 
If you have the newest iPhone software, then you need to know what "Live Listen" is. It's a feature that was originally created for those with hearing impairments and reserved for those with hearing aids certified under the Made for iPhone hearing aid program. It allowed the iPhone to be used as a directional microphone and the AirPods as hearing aids. The two together offers listeners a great solution in noisy places. Sadly, the feature is now being used by adults and teens alike to eavesdrop and spy on others.
It's incredibly easy to do. The user simply has to (1) activate Live Listen to their AirPods (2) leave their iPhone near the people they want to spy on and (3) walk away while picking up everything being said through their AirPods. While adults may not want their conversations overhead, I can think of many instances where this can be used in a horrible way against teens. Other concerns: the feature could be used as walkie talkies or in a manner that would help students cheat in school as they are fed answers in their AirPods from a phone a good distance away. 
Apple is aware of these issues and, at this point, is using PR to call upon people to stay honest. While we can hope for that, parents, it may be a good reminder to talk to teens about "stray iPhones" and the power they may carry while simply resting on a table near them. 
From Thieves to Counterfeiters, How to Protect Yourself  
Apple AirPods are expensive and are now among the most replicated and commonly stolen items. It's important to understand that "fakes" bought in less than reputable areas may initially appear to be a huge savings but may not work. Things to ask - what are the size of the pods, would they fit in your ear/a teen's ear? Are they for listening only or can you have a call while using the pods? Are they compatible with your phone? What is the battery life? Warranty? Also, for Apple AirPods, you can add them to "Find my iPhone" to try and locate them if they are lost.
Distracting Little Suckers... 
As especially the younger people in our lives use AirPods while walking, running, biking or while driving, let's throw out a few safety reminders: 
Make sure you can hear while you walk or ride a bike. From oncoming traffic to someone who needs to get your attention, please remember that you need to be able to hear and pay attention.  
Those driving need to remember that AirPods are great to have in an ear as you talk but, in some places, they may not be allowed; furthermore, it's not recommended for listening to music while driving. And, last but not least, they are small and slippery and fall easily in hard-to-reach parts of the car; if they drop, please leave it be until you are fully parked! 
All that said, remember, I am using my Apple Airpods as I write this article. They are a wonderful tool with many great features (I love having my hands free)! But given all their positives, I'm not naive to the potential negatives. Still, equipped with helpful knowledge, it doesn't make me love them any less. 
Join The Buzz Magazines and Crime Stoppers of Houston for a hands-on self-defense class in partnership with Krav Haganah and Evelyn's Park, Tues., July 30, 7-9 p.m. See more details here.  
Read past Sundays with Rania posts here. Find more information on Crime Stoppers of Houston on their website or follow them on Facebook. Have topics in mind that you'd like Rania to write about? Comment below or email her at [email protected]. Rania is co-host of a weekly podcast which features interesting local and national guests who used their platforms for the good of the community. Connect with Rania on Instagram and Twitter. 
Editor's Note: Views expressed here are those of the author and do not necessarily represent the views of The Buzz Magazines.
Want more buzz like this? Sign up for our Morning Buzz emails.
To leave a comment, please log in or create an account with The Buzz Magazines, Disqus, Facebook, Twitter or Google+. Or you may post as a guest.