Boling Brothers Earn Straight As: Academic and Athletic Awards
Click the Buzz Me button to receive email notifications when this writer publishes a new article or a new article in this column is published.
Have you heard about the recent Strake Jesuit College Preparatory graduate that's super-fast? He can zoom through an AP Calculus test in record-breaking time. Awesome speed combined with fantastic form and hours of practice helped him earn the title of 2019 valedictorian at a highly competitive high school. Not too shabby. His name is Michael.
Then there's another Strake guy that also does things pretty darn fast. He tends to reveal his speed by excelling at track meets. Last spring, he flew through the 100-meter dash in 9.98 and 10.13 seconds earning him the record holder of the fastest times in United States high school track history. Again, not too shabby. His name is Matthew. 
It's too bad someone couldn't take these two Houston teenagers, combine their great talents and then clone them. But actually, that's sort of already happened. Michael and Matthew Boling are twins and each comfortable and successful in both the academic and sports worlds.
The Boling boys' early entrance into participating in a team sport and wearing a uniform was during their Bellaire Little League days. 
Their Little League Coach, Arty Howard, shared, "Both Michael and Matthew were great players on the field. Michael was a vacuum - really great at scooping up all the balls out in the field and really cared who won. Matthew always had fun and was the same whether we lost or won. His favorite part was when the players got to run the bases after practice or the game - and he was always the fastest, even back then. It has been a joy to watch both boys grow into such fine young men." 
Michael and Matthew continued to enjoy sports and entered the world of classroom learning as students at River Oaks Baptist School through eighth grade. Michael represented the ROBS Raiders playing football, basketball, lacrosse, tennis and cross-country. Matthew played football, basketball and cross-country.
In addition to being gifted in academics, Michael is also a high performer in Track and Field. This year, he stood out as UIL District 23-6A's Pole Vault champion with a height of 13 feet, 6 inches. 
Michael only started the physically demanding sport of pole vaulting as a junior and then the next year became a District Champ as a senior. 
Dan Pepe, one of Michael's Strake Jesuit coaches, reflected on Michael's athletic ability. "I would say that Michael is of great character. He was very coachable. Everything I told him to do, he would do the first time. His progress is a testament to his athletic ability as well as his drive to excel. It's very easy to stagnate progress as a pole vaulter, but Michael was fearlessly committed to raising the bar."
Michael also dribbled and shot baskets for the Strake Crusaders basketball team during his freshman and sophomore years.
Even with the hoopla of his breaking-track-records videos going viral (running 100 meters in 9.98 seconds and 4.7 seconds as the anchor in a 4 x 400 relay) Matthew was still able to maintain a 4.2 grade point average. (Read more on his viral videos on the Washington Post and Sports Illustrated.)
Sophomore chemistry teacher, Edgar Diaz, commented on Matthew's academic work ethic. "His hard work on the track field was 100 percent replicated in the classroom. His was always laser focused in class and completed all work with great enthusiasm and precision. He was always willing to learn, asked questions when in doubt, and followed through with recommendations, which is a testament to his humility and ability to be molded by those around him." 
Mr. Diaz also hinted at Matthew's sense of humor. "He was also a joy to have in class, easy to get along with and always cracking jokes when he could. Running into him in the hallways was always fun because there was a joke to be shared or a fun update on his life. We are really excited for his future in college and beyond because we have no doubt he will achieve all of his goals. All he has to do is continue doing what he's been doing so far, which is to stay organized, keep his head low, and absorb everything like a sponge."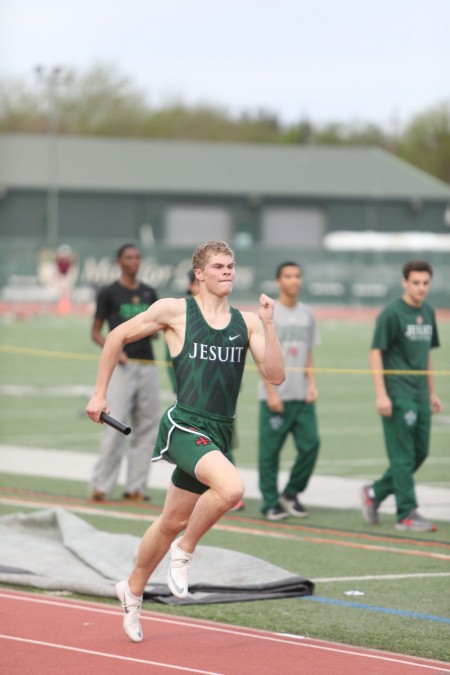 Whatever magic elixir is in the water at the Boling house needs to be bottled and shared. Perhaps world peace could be achieved! Or, at least, there would be more intelligent and athletic people here on earth!
Michael and Matthew will continue to stay close for their next life chapter. Michael is excited to head to Atlanta to participate in Georgia Tech's highly-ranked mechanical engineering program. Matthew will be about an hour and a half drive up the road at The University of Georgia in Athens.
Matthew will major in business and compete for one of the nation's best track and field programs. In addition to running, Matthew will also be long jumping. His 26 feet and 3.5 inches at the 2019 Texas Relays made him the No. 7 all-time performer in high school history. Professional and Olympic prospects are also on his future goals list.
Georgia Tech and the University of Georgia may be rivals in the Peach State, but for these Lone Star State brothers, neither could ever find a better fan section.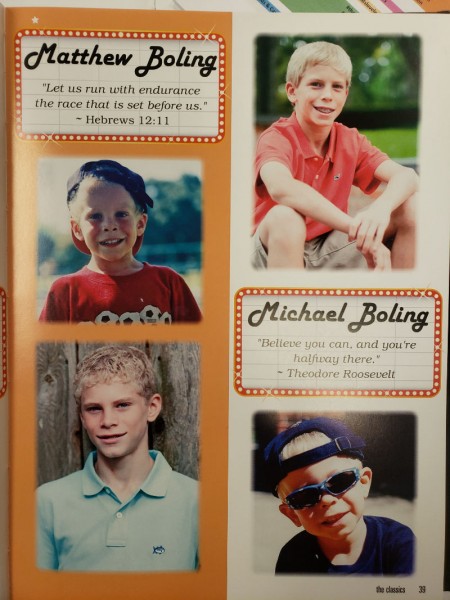 The 2015 River Oaks Baptist School yearbook includes pages for graduating eighth graders to list their favorite quotes. 
Michael's said: "Believe you can, and you're halfway there." -Theodore Roosevelt.
Matthew's said: "Let us run with endurance the race that is set before us."– Hebrews 12:11
Michael and Matthew's 14-year-old selves were wise beyond their years and seemed to know just how things would turn out. We can't wait to see what the next four years might hold. Watch out Georgia Tech Yellow Jackets and Georgia Bulldogs. Here come the Boling Brothers. Get ready to be in awe of them, just like their Texas fans are.
Matthew's latest athletic award is being nominated for an ESPY (Excellence in Sports Performance Yearly) award in the category of "Best Record-Breaking Performance." The ESPYs were created in 1993 by ESPN and are considered the Emmys of the sports world. You can vote for Matthew here up until the start of the show July 10. Then tune in to see if Matthew wins, Weds., July 10, 7 p.m. CST on ABC KTRK-CHANNEL 13. 
Want more buzz like this? Sign up for our Morning Buzz emails.
To leave a comment, please log in or create an account with The Buzz Magazines, Disqus, Facebook, Twitter or Google+. Or you may post as a guest.