Chef's Corner: Christine Ha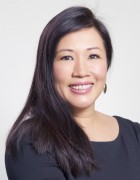 Click the Buzz Me button to receive email notifications when this writer publishes a new article or a new article in this column is published.
Find out about your favorite chefs in our Chef's Corner column. This month, restaurant writer Dai Huynh interviews chef Christine Ha.
What's the latest sizzle in downtown Houston? Food halls. Five years ago, there was none. But soon, the city will have five.  
Conservatory (1010 Prairie St.) switched on the burners in 2016. Finn Hall (712 Main St.) opened last winter. The Lyric Market (411 Smith St.) and Understory at Capital Tower (800 Capitol St.) are in the works. Meanwhile, downtown visitors can sample the sweets and savories at Bravery Chef Hall at Aris Market Square (409 Travis St.). Among them are the creations of Christine Ha, who may look familiar. 
The Houston resident is the first blind contestant on British chef Gordon Ramsay's hit TV show, MasterChef, and the winner of its third season. She beat out more than 30,000 home cooks across the country competing for the title in 2012 and garnered not only praise but a $250,000 cash prize and a cookbook deal. Her first title, Recipes from My Home Kitchen: Asian and American Comfort Food, was a New York Times bestseller. She's working on a second one. Ramsay described Ha as having "an extraordinary palate…. And honestly, I know chefs with Michelin stars that don't have palates like hers." Here, the Vietnamese American provides a glimpse of her new eatery, The Blind Goat, and her secret ingredient for chili. 
You have a creative writing degree and now, you're a chef-owner. How do you reconcile them?   
I feel creative writing and culinary arts have quite a bit in common. Both require a certain amount of creativity, and both can require a substantial emotional investment. At the same time, both are crafts, and they are both opportunities to express oneself and share oneself. 
I think that's why I'm drawn to both. I was in grad school when I competed on MasterChef, and because I won, my life changed quite a bit. A lot of my focus has been more on the food since then. 
You said that the idea of building a brick-and-mortar from the ground up is kind of scary. Is this less so? 
I feel like this is a great opportunity because I'm able to come into a brand-new food hall, and that's exciting. All the chefs around me are seasoned, and they can be my mentors. [Atlas Diner chef] Richard Knight will tell me that I have the best-case scenario because I'm getting my feet wet in the industry by starting with a station inside a food hall and not necessarily building out an entire restaurant. [Chef-partner] Jessica Timmons of Cherry Block Craft Butcher & Seasonal Kitchen, a steakhouse concept in Bravery, has guided me on where I can find restaurant equipment at a more reasonable price and what vendors she has been using and trusts.  
When a diner walks up to your station, the Blind Goat, what should they expect? 
I would describe the Blind Goat as a modern Vietnamese gastropub, so most of the dishes, if not all, are heavily influenced by Vietnamese cuisine and Southeast Asian cuisine. But I'm taking lesser known street food and making them palatable for people in Houston, like banh khot, the little fritters that use coconut, turmeric and shrimp. It's the same batter as banh xeo, but the texture is crispier. 
How do you come up with the name the Blind Goat? 
Well, the blind part is obvious, and I was born in 1979, the Year of the Goat. 
Any goat dishes?
Yes. The first one we're rolling out is a goat curry over rice. 
Who inspired you to cook? 
My mom. But it wasn't until after she died that I thought about cooking. Once I started teaching myself to cook, I thought a lot about her cooking techniques and the food she cooked while I was growing up. 
She passed when you were 14. So, was cooking a way of recapturing her memories? 
I think so. But only when I was older and in college. I had moved out of the dorm, and I figured I had to teach myself to cook. That's when I started to think back on dishes my mom cooked and remembering their flavors and smells. 
Where do you go for Vietnamese food? 
For pho, I like Pho Dien (11830 Bellaire Blvd, Suite C). For banh cuon (rice rolls), I like Thien Thanh Restaurant (11210 Bellaire Blvd.), the one across from Hong Kong Mall. Tonight, I'm going to the Crawfish Café (11209 Bellaire Blvd., Suite C-36) in Hong Kong Mall for crawfish. 
What is the one ingredient you can't do without, other than salt and pepper?
Garlic and fish sauce. 
Is there a dish that you use fish sauce that people may not normally use it for?  
Bolognese sauce and Texas-style chili. Fish sauce adds this little bit of umami that you really can't pinpoint if you use it judiciously. It adds dimension to things like stew, but you can't tell.
Editor's note: Buzz dining columnist Dai Huynh is a James Beard food-journalism award winner and longtime Houston-based restaurant writer.
Want more buzz like this? Sign up for our Morning Buzz emails.
To leave a comment, please log in or create an account with The Buzz Magazines, Disqus, Facebook, Twitter or Google+. Or you may post as a guest.