Rolling with the Stones
Click the Buzz Me button to receive email notifications when this writer publishes a new article or a new article in this column is published.
Whether you've been a Rolling Stones fan since the '60s or just started listening to them since six minutes ago, these Buzz concertgoers got lots of satisfaction rolling with the Stones for their 2019 No Filter Tour at NRG Stadium last Saturday night. 
Bob and Denise Jones have always had "going to a Rolling Stones concert" on their bucket list . . . for the last five decades! The times that the Stones have been in Houston over the years had never worked with their schedules. Last Monday, Bobby surprised Denise and came home with two tickets to the concert. The celebrated with glee but then Denise realized that Bobby had just had knee surgery two weeks prior. "How will we walk around NRG Park/Stadium?!" she worried. Bobby said, "I'll just be sure to get better by then!"
Rolling Stone groupie Denise said, "We wanted to make sure we had enough time to conquer stairs and such to get to our seats since we were sort of like the walking wounded. We arrived at NRG 4:30 p.m. but the doors didn't open until 5:30 p.m. We were one of the first people there!"
It was well worth the wait for them. Denise gushed, "[When] Mick and the rest of the band came on the stage you could just feel the electricity in the air. It takes you back. You remember things you were doing when you heard these songs when you first heard them."
Bob shared, "You know when you wait years for something, and you finally get to do it and then you are disappointed? Well trust me on this, Mick and The Rolling Stones did not disappoint. They were fantastic."
Jack Culwell, a student at Texas A&M, and his brother, Brock, a student at the University of Houston, were excited when their parents gave them four tickets to see the Rolling Stones. The other two lucky guests were Jack's Aggie girlfriend, Annalise Arras and Brock's friend, Scout Vacek, a student at The University of Texas. 
They are all fans and were thrilled they were able to see the legendary Stones live and that they did indeed live up to the hype. They also thought it was funny when the concertgoers sang Happy Birthday after Keith Richards announced that the day before had been Mick Jagger's 76th.
Jack and Brock's mom, Stasie Smith, was happy to host the concertgoers beforehand; they met up at their house and took an Uber over to the concert. Stasie gave herself a little pat on the back and shared, "You know you've done a good job parenting when your kids like the Rolling Stones."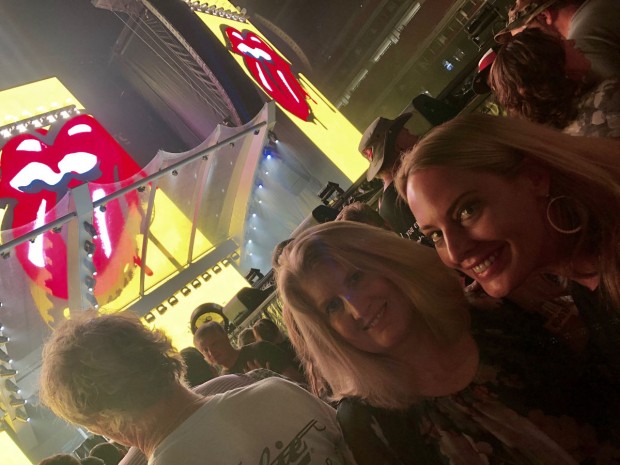 Debbie Coffey was also lucky enough to get Rolling Stones tickets for Christmas from her daughter, Kristy Coffey. The mother-daughter duo wasn't sure what to expect when their seats were in the pit. They were on the floor to the left of the stage, which was great but there were no chairs. However, they were fine standing and dancing in place for the entire show. The also had some extra entertainment from people watching and seeing more enthusiastic dancers and '60s and '70s style dressers with them in the pit. 
Sissy Boyer was happy to share her and husband Walt's photo for this article and help build their street creds. They had a fantastic time at the concert. Sissy said, 'Walt is a HUGE Keith Richards fan and read his long (like 900 pages) [auto]biography from cover to cover. It's the longest book I've ever seen him read!"  
Sissy shared that the couple had been lucky enough to see the Rolling Stones in concert before and are happy to report that they still never disappoint. She added, "So happy they made Houston one of the 14 US cities on their No Filter US Tour and living so close to NRG is a plus for us as well!" 
West University neighbors Dawne and John Jordan flew in to Houston from their summer home in northern Michigan on Friday to go to the concert and then flew back to Michigan on Sunday. Dawne shared, "I wore my Stones T-shirt from their 1989 Steel Wheels Tour that was at the Astrodome. Our oldest daughter Nicole was a year old in 1989. John stood in line for hours to get tickets for us. We got a teenage neighbor girl to watch Nicole but we had to leave that concert at 10 p.m. because it was a school night! So this was our first full length Stones concert and we weren't going to miss it!"
Susan Sauer Welch and Christy Rodriguez, friends since kindergarten at St. Michael's in the '70s, had fun gathering a group of girls together for a pre-concert get-together at Susan's house. Other fun friends and family that joined them were Tammy Stegent Rodriguez and Sarah Ribbeck Baker. 
Christy shared, "Our good friend, Tim Tamborello, passed away in our junior year of high school. He loved the Rolling Stones and we have great memories of listening to the songs with him. It felt like his presence was with us at the concert all night. We [were] celebrating in Tim's honor and know he was looking down singing along to Mick with the rest of us!"
As Mick Jagger, Keith Richards, Ronnie Wood, Brian Jones and Charlie Watts may perform, "You Can't Always Get What You Want" but a Rolling Stones concert-of-a-lifetime gave the thousands of fans in attendance at NRG Stadium exactly what they wanted. 
People in this article:
Bob Jones
,
Denise Jones
,
Jack Culwell
,
Brock Culwell
,
Annalise Arras
,
Scout Vacek
,
Keith Richards
,
Stasie Smith
,
Debbie Coffey
,
Kristy Coffey
,
Sissy Boyer
,
Walt Boyer
,
Susan Sauer Welch
,
Christy Rodriguez
,
Tammy Stegent Rodriguez
,
Sarah Ribbeck Baker
,
Tim Tamborello
,
Mick Jagger
,
Ronnie Wood
,
Brian Jones
,
Charlie Watts
,
Dawne Jordan
,
John Jordan
,
Nicole Jordan
Want more buzz like this? Sign up for our Morning Buzz emails.
To leave a comment, please log in or create an account with The Buzz Magazines, Disqus, Facebook, Twitter or Google+. Or you may post as a guest.