Solo traveler's lens captures human spirit
Click the Buzz Me button to receive email notifications when this writer publishes a new article or a new article in this column is published.
Carol Kirshon didn't set out to be a world-class international photographer. But year by year, country by country, it sort of happened.
Captivated by images in her brother's darkroom as a child growing up in South Africa, she took up photography as a hobby. Her family moved to the U.S., and she got her bachelor's in psychology at The University of Texas and master's in education at the University of Houston. She married Brian, a fellow South African and now a physician at the Texas Medical Center, at 26. When their children were still young, they began traveling together, and Carol began capturing images on their family trips. She began dreaming of travels further afield.
And now, with 157 countries, a catalog of stunning images and two grown children, she paused to reflect: "I've always said my greatest journey of all is the journey I've had raising my family these past 30 years. My husband and children are my greatest supporters and the wind beneath my wings."
Once the kids got older, she began venturing further and traveling solo. With Skype and FaceTime, she took them on a virtual journey with her. Now that Layne, 28, is finishing a doctorate at the Massachusetts Institute of Technology, and Samantha, 25, is working on a graduate degree in clinical social work at Columbia University, Carol can venture further afield.
A glance through Kirshon's website makes it clear she knows her way around a camera – and the world, from Armenia and Azerbaijan to Zaire and Zimbabwe. Sunrises over the Sahara, Northern Lights over Lapland, the tea trails of Sri Lanka – the beauty has been overwhelming. And her most beautiful subjects tend to be everyday people. 
"I began to really crave and hunger to go across the world and see what's out there and photograph it," she said. "And through that I was able to see the world I believe the way it's supposed to be. We are so consumed today with all the horror that's going on the world continuously – on television, in the newspapers – and yes, it's a reality. 
"But through my travels I see it sort of like passing through a dark tunnel and coming out on the other side and going – wow, this world is magnificent. And I meet people who have nothing, and they live in these little remote villages, and yet they are so rich in spirit and rich in community."
That richness has manifested itself time and time again. She'll never forget a ride in Timbuktu, Mali, aboard a precarious horse-drawn carriage that looked as though it had been made of firewood. People were jammed in, and she held on for dear life as it rattled down the road, passed through a creek and came out the other side on its way to the weekly market.
"I remember standing in that carriage surrounded by all these villagers and I stuck out like a sore thumb – and they all stared at me because many had probably never seen a white woman before. I remember standing next to a man in a traditional robe and he was holding a white goat and getting ready to go to the market to sell his goat. And I was standing there and the wood was very uneven, and clearly you could see that I've never been on something like this. 
"He was so concerned about me he stopped and showed me how to hold on. And there I was, this white American privileged woman standing there next to a man who was going to the village to sell a goat – who didn't have much – and yet he cared enough about me as a human being to make sure I was safe on that carriage. And that to me was unforgettable. 
"That experience restored my faith in mankind – because I live in a society where I hop on an airplane and I'm struggling to lift my overnight bag to put it into the compartment on top, and people just look at me."
Then there was the time she traveled with daughter Samantha to Morocco. The pair got up to see the sunrise over the Sahara Desert. Walking back, they were struggling through sand dunes, their feet sinking. In the distance, Carol saw a Bedouin man dressed in a beautiful royal blue robe on a camel.
"He came over and helped us up on the camel, and he's walking back with us – and in his broken language he said to us, 'You know, at home you stay in five-star accommodations. But me – every night I sleep under a thousand stars. That's better than any five-star accommodation.' And it was so amazing when he said that because there he was, this man who had never left the Sahara Desert – and he was so right."
Carol's had some close calls – for example, when angry people in Rwanda started shouting "Mzungu" (white person) at her, or when her headscarf slipped off in Iran and she was fingerprinted for breaking the law. "Do I have anxiety? of course I do – you're going to a strange place that you've never been to and you need to be very cognizant of your surroundings. You're going on a journey – you're not going on a vacation."
She always wanted to give something back, but she never knew how – until 2010, when she came across an unmapped hilltop community in Uganda. "It had nothing but a blackboard nailed to a tree – and a man was teaching children who were abandoned or who had lost their parents to HIV. They were in dire need of schools and land and housing. Slowly but surely I started to work with them and found other international people who were interested."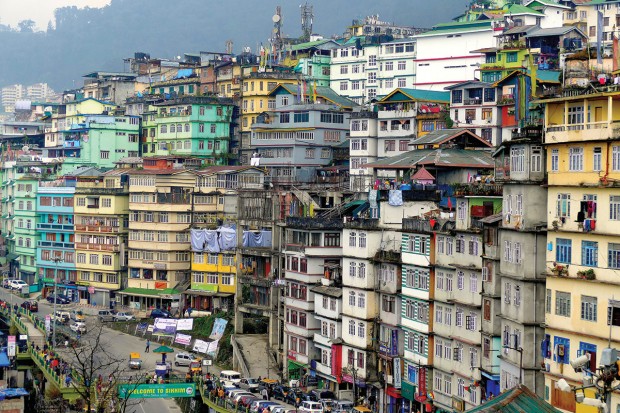 Carol founded a nonprofit called the Light Up a Life Project, and began working with the people to teach them crafts, and bringing back the crafts to sell to raise money for the community. She works closely with Girl Scouts at the school her children attended. She began selling her photography in art shows to raise money. "And nine years later, they have water storage units, housing, dormitories, a brickmaking project – and a project that teaches them to make bricks without water, because water is so valuable – and they build houses with those bricks.
"My whole philosophy is like the saying, 'You give a man a fish and you feed him for a day – you teach a man to fish, you feed him for a lifetime.' I don't want to just give handouts, or these kids will resort to begging. Instead, they create crafts and they learn to self-sustain."
Carol often gets questions about how she travels while prioritizing her family. It gives her a chance to inspire other women to what travel can teach them. She shares lessons like the need to experience solitude and grow from it – and the realization that the people who are poorest on the outside may be the richest on the inside. She feels that her journeys make her a better mother and wife, and she suspects they have made her children better people, as well.
If she could send a message out there to other women who are holding back: "I would tell them, 'Know you can face your fears and still do those things you dream of doing, and it will only change you for the better.'"
Want more buzz like this? Sign up for our Morning Buzz emails.
To leave a comment, please log in or create an account with The Buzz Magazines, Disqus, Facebook, Twitter or Google+. Or you may post as a guest.