Sunday Mornings with Rania: Singles Stepping up to the Stalker Next Door
Click the Buzz Me button to receive email notifications when this writer publishes a new article or a new article in this column is published.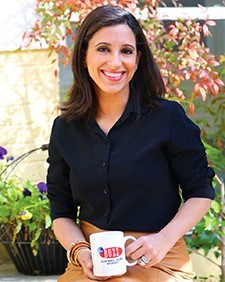 I was at work when I read the text messages from a mother concerned for her adult daughter's safety. Her daughter was a young, thriving professional in her early 20s, living alone, about an hour from Houston. She was facing a difficult and complex issue. Her accomplished daughter was being borderline-stalked by a man who lived in the same apartment building. Could I talk to the daughter, she asked? Of course — and even though I heard strength in this young woman's voice, I also felt her fear. I was quickly reminded of what young women often deal with as they prepare for life on their own. It reminded me that as a new wave of young women set off, we need to go over real scenarios and options for proactively staying safe.
The Scenario:
The young woman lived alone in an upstanding apartment complex - a thriving building filled with young professionals. That said, she had been repeatedly approached by a man living in the building (he seemed to be in his late 20s or early 30s, she said) who repeatedly spoke of her beauty. He soon began talking about her body, and words turned inappropriately sexual. He started visibly pointing her out to his friends and eventually extended his hand to touch her inappropriately. Shocked, she spoke clearly and with a firmness any parent would be proud of. She made it clear that this man had no right to touch her and was forbidden from speaking to her again. He apologized jokingly.
Here's the problem - these two lived in the same building and parked their cars in the same parking lot. They could easily find themselves in the same mail bank or elevator, or doing laundry at the same time. The man could easily monitor her comings and goings. She realized this and asked me to discuss options to proactively stay safe. Here's what we discussed:
Do's and Don'ts
Do file a police report. If you are inappropriately touched, absolutely file a police report. If you are verbally harassed, also file a police report. Keep copies of all documents at all times.
Do report the offender to building management. Make sure you do it in writing, and again, keep copies of all records. See what management's plan is once you make the report. Shockingly, in this woman's case, they were unable to do much based on her initial report. Other women in the building had reported the man as well, but it wasn't enough to forcibly remove him, management said.
Don't stop reporting. Go to the company that owns the facility and file your report there. They may not be in Texas, but still file your report. Put the facility on notice that you have a police report and that you feel unsafe in the current situation.
Ask specific questions to the local management and get clear answers.
How will management deal with the offender?
What happens if his actions escalate?
What needs to happen to get him removed?
What are the security measures being taken now that you feel threatened?
Can you get the name(s) and direct numbers to security personnel who "man" the building? Is there a number you can dial directly that will go to a cell phone and not an unmanned desk?
Are there video/security cameras in and around the building? Where are they? Do those cameras work - meaning are they actually recording and/or are they airing somewhere live? Are they being archived? Is anyone watching the tapes?
Think of all logistics: Where do you park your car? Without revealing too much information, can they move your car or the offender's car so they are not near each other? Same with the mailbox. 
What do you do if you get in the elevator and the offender gets in as well? Are there cameras in the elevator? Can you call the security contact from inside the elevator? What does management recommend?
What about the leasing agreement: Is there a moral code of conduct that the offender has violated and thereby could be cause for their removal? Or, are there terms that have been breached that allow you to break your contract in the case that the management company will not evict the offender?
Be extra vigilant. Be your own protector. Have your keys ready to enter your apartment when getting home. Be observant in parking garages, when walking a pet or in running in and out of your house. Don't ever leave your doors unlocked. Reconsider doing laundry or going to the gym late at night if it brings you to an isolated area.
Have a personal alarm or gadget. While I don't always recommend items like mace, I do recommend personal alarms. There are loud piercing alarm devices that can be activated when you feel threatened. These gadgets can help deter an attack by catching the perpetrator off guard.
When All Else Fails
See if your case rises to the level of filing a protective order. There's a reason I didn't start with this, though. We recommended to first see what parameters the building will take to protect you, what options are in place to create distance to quietly deal with the problem. Filing a protective order blatantly puts the offender on notice and could incite a more aggressive attack. Consider that you and the offender live under the same roof. Think about how quickly you could get law enforcement to you if the offender were to breach the order. Ask yourself, do you know who to call the instant you feel threatened? What is the agency's response time should you need help? There have been some cases where law enforcement, due to sheer demand, cannot respond to these orders as quickly as they'd like. While not how we'd wish it to be, filing a protective order could place a young woman in a heightened precarious situation, a situation where the offender now is already in the wrong by being near the woman and may feel like, I'm already in trouble so there's no reason to stop now...
While I despise her situation, I am so proud of how she quickly and proactively took her safety into her own hands. Her strength came through in our first call, in talking to the building, in meeting with law enforcement and every step in the aftermath. While she should never let her guard down, she is making it clear that she will not be an easy victim. I am so proud of her and all her choices and am encouraged by this generation of strong, smart and incredibly talented young women who are ready, willing and eager to face anything that comes their way head on!
Join The Buzz Magazines and Crime Stoppers of Houston for a hands-on self-defense class in partnership with Krav Haganah and Evelyn's Park, Tues., July 30, 7-9 p.m. See more details here.
Read past Sundays with Rania posts here. Find more information on Crime Stoppers of Houston on their website or follow them on Facebook. Have topics in mind that you'd like Rania to write about? Comment below or email her at [email protected]. Rania is co-host of a weekly podcast which features interesting local and national guests who used their platforms for the good of the community. Connect with Rania on Instagram and Twitter. 
Editor's Note: Views expressed here are those of the author and do not necessarily represent the views of The Buzz Magazines.
Want more buzz like this? Sign up for our Morning Buzz emails.
To leave a comment, please log in or create an account with The Buzz Magazines, Disqus, Facebook, Twitter or Google+. Or you may post as a guest.