Chef's Corner: Emily Trusler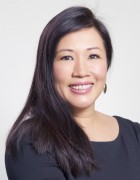 Click the Buzz Me button to receive email notifications when this writer publishes a new article or a new article in this column is published.
Find out about your favorite chefs in our Chef's Corner column. This month, restaurant writer Dai Huynh interviews executive chef Emily Trusler.
Restauranteur Benjamin Berg, the "B.B." of B.B. Lemon, opened a second outlet last month at 4319 Montrose (formerly Pax Americana). Emily Trusler oversees the Washington Avenue and Montrose locations. Here, the 32-year-old Houston-raised executive chef talks about the new B.B. Lemon, grilling steaks and buying fresh fish. 
Tell us about the new restaurant? 
The B.B. Lemon on Montrose is a little bit more seafood heavy. I love working with seafood, so we have snapper crudo and Mediterranean snapper entrée. That's going to be only at the Montrose location. Also, we have scallop with corn puree and chorizo, and mussels with fennel and lemon. I think the clientele in the Montrose area would be more open to seafood options. There aren't a whole lot of places in that area that serve fresh seafood. 
Sum up the concept of B.B. Lemon. 
Our owner (Berg) is from New York. The restaurant is based on places he used to go to in New York, so it's nostalgic. You have P.J. Clarke's and J.G. Melon, which we're based on. So, some typical dishes are falafel with tahini sauce and the all-day omelet. Everyone in Houston thinks it's so weird, but in New York, they have these taverns and diners that serve omelets all day. That and the corned beef. 
How did you start cooking professionally? 
I've always been in the restaurant industry, but mostly at the front, waiting on tables and bartending. So, there I was in this arcade bar, waiting on customers, when the kitchen manager walked out in the middle of the shift. I thought, 'I can do this.' I got back there and started cooking. I never went to school for cooking, so everything has been self-taught.
You worked your way up to executive sous chef at Fleming's Steakhouse. Give us a steak tip.
I know that cooking filet can be kind of intimidating because it's an expensive cut of meat. But it's about trusting your instinct. You can look at it, touch it, and feel it. So, I tell people about this fun little trick: Press the tip of your pinky finger and your thumb together. Next, take the index finger of your other hand and push on the fleshy, fatty area between the thumb and the base of the palm, and this is what well-done meat feels like. As you go down your fingers, the rarer the steak. So, the ring finger would be medium-well. Your middle finger would be medium, and your first finger would be medium rare.  
In 2015, you were appointed sous chef at the now-defunct SaltAir. How can you tell if a fillet of fish at the grocery is fresh without the eyes and gills to guide you? 
Usually, you can tell mostly by the eyes. But if you only have the flesh to go by, you can tell by the color. If something is gray, dull or matte, it's probably not fresh. But the main way to tell is from the gills and the eyes. If the eyes are cloudy, then it's probably not fresh.  
Sometimes, the eyes may be clear but bloodied. Is that ok? 
Yeah, it's ok. So, if you can't tell by the eyes, check the gills. The gills need to be a bright pink or reddish color. If it's gray, then it's probably not good. 
After SaltAir, you worked as executive chef at 51fifteen in The Galleria, then chef de cuisine at Emmaline, and now, B.B. Lemon. You've been in the industry for 18 years. Has it become less male-centrict? Will we start seeing more female talents at the helm? 
There are a lot of female chefs out there now. But yes, it is still male dominant, and there is still that stigma that female chefs should be pastry chefs. But it is getting better. There are many more female chefs making themselves known. There is a cool documentary on Netflix about female chefs [The Heat]. 
What restaurants do you frequent? 
My favorite is Nobie's (2048 Colquitt St.). Their chef, who worked in Chicago, does really creative things. He would put things together that you would never think go together. It's inspiring. Their Texas tartare with smoked jalapeño and deviled egg is phenomenal…. Then, there is Fiesta En Guadalajara (3522 Irvington Blvd.) for fajitas and enchiladas. Their micheladas and margaritas are good, too. 
Editor's note: Buzz dining columnist Dai Huynh is a James Beard food-journalism award winner and longtime Houston-based restaurant writer.
Want more buzz like this? Sign up for our Morning Buzz emails.
To leave a comment, please log in or create an account with The Buzz Magazines, Disqus, Facebook, Twitter or Google+. Or you may post as a guest.