Introducing the Next Generation to Molly Ivins
Click the Buzz Me button to receive email notifications when this writer publishes a new article or a new article in this column is published.
"I'm a Texan. I drive a pickup truck, I hunt, I'm a liberal. So what?"
These are the words of Molly Ivins, the six-foot-tall, no-nonsense political journalist whose sharp-witted columns appeared everywhere from The New York Times to The Texas Observer over the course of her illustrious writing career. A 1965 graduate of St. John's School who grew up in the River Oaks neighborhood, Molly's life is the subject of a new documentary that opens in local theaters this week. 
Titled Raise Hell: The Life and Times of Molly Ivins, the film is directed by Janice Engel and co-produced by James Egan and Carlisle Vandervoort, also a St. John's School graduate. Although the film premieres next week, some Houstonians got a sneak peek when the SJS film studies club hosted a private screening for students back in April. 
"It started when my mom and dad were at January's Sundance Film Festival, and they saw the film there," said James Redding, an SJS senior and vice president of the school's film club. "They loved the movie and came back and said, 'hey you should contact the producer and show this at school.'" 
Producer Carlisle, who said she wants young people to see the film and become inspired to go vote, was happy to offer a screening and even attended it herself. "It was an interesting opportunity to complete the circle, having graduated from SJS in 1975 myself." 
Although Carlisle did not know Molly personally, her tie to Houston was critical to the success of the project. "I think being able to say that I'm the native Texan on the project, that added some credentials to the film," Carlisle said. 
The project started seven years ago, when Carlisle got a call from James Egan, a film producer and a good friend of hers living in L.A., who had recently watched the play Red Hot Patriots: The Kick Ass Wit of Molly Ivins. James was inspired by the play, along with director and friend Janice Engel, and they felt certain Molly's career would be the subject of their next big documentary project. They only needed to secure the help and support of their Texan friend. 
"They pitched me the idea and said I had 48 hours to say yes," Carlisle recalls. "I called them back and said yes, let's do this." 
What came next was a years-long effort involving intense research, long interviews with Molly's friends and family plus plenty of phone calls to potential investors for the film. At the time, it had been five years since Molly died from cancer at age 62. "We all got really schooled in Molly and are totally inspired by her," Carlisle said. "James and I did our undergraduate studies in Molly, and Janice did her PhD in Molly." 
Carlisle said she was particularly inspired by Molly's dogged determination to fight for freedom, no matter what. 
"The thing I really love is something Molly used to say often which is 'keep fighting for freedom, we don't always win but it might be the best fun you ever had.'" Carisle said. "That really rings true. As the state of politics all over the world gets more and more challenging for me, I keep thinking about those words of Molly."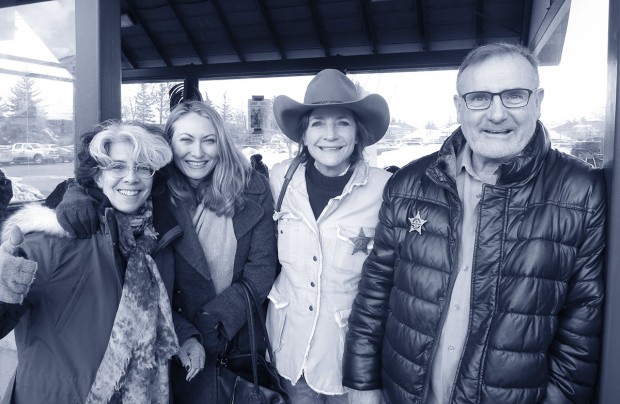 Molly's ideals and opinions were not typical for her time. She grew up during the Civil Rights era, when SJS still prohibited black people from attending, and parks, water fountains and housing was segregated. Molly grew up with privilege – she lived on Chevy Chase Dr. and was the daughter of a man made rich by the oil and gas boom. But she was driven to correct injustices and fight against corruption among those in power. 
"She was very egalitarian and quick to come to the defense of people who were being discriminated against in some way or another," said Muffie Moroney. Muffie grew up down the street from Molly and also graduated from SJS, one year before Molly. 
Molly was deeply inspired by Bob Moore, chair of the English department at SJS and later, the founder of Chinquapin Prep, Muffie recalled. "[Bob] started [Chinquapin] because he was convinced there were kids in the Houston area who were very gifted but did not have the advantages - financially and otherwise - that St. John's students did. He wanted to found a school for them," Muffie said. "That's the kind of thing that would influence Molly's thinking." 
After she graduated from Smith College, Molly went on to Columbia's Journalism School. She then served as the first female police reporter for the Minneapolis Tribune and then returned to the Lone Star State to work as the co-editor of The Texas Observer. There, she covered Texas politics and earned a national reputation for her laugh-out-loud, snarky commentary. 
"I've tried to find out if there's anybody in America today whose writing about politics even comes close to hers, and I've not found anybody who can say yes, this is as good and as insightful and as hilarious as Molly's," Muffie said. 
Molly ultimately went on to publish multiple books and receive two Pulitzer Prize nominations. Through the film, Carlisle says she hopes to inspire the next generation who may not know about Molly.
"If someone is grey-haired and a contemporary of Molly, I want them to take their nieces and nephews and grandchildren to watch the film. If they are younger I want them to take their kids," Carlisle said. "The takeaway is, please go out and vote, go register and go get involved."
After the film opens in Houston and other Texas cities on Aug. 30, it opens in New York on Sept. 8 and Los Angeles, on Sept. 12. Tickets are available for purchase here. A portion of ticket sales will go to the ACLU, an organization that Molly was passionate about. 
Want more buzz like this? Sign up for our Morning Buzz emails.
To leave a comment, please log in or create an account with The Buzz Magazines, Disqus, Facebook, Twitter or Google+. Or you may post as a guest.