Reflections on D-Day and Dad
Click the Buzz Me button to receive email notifications when this writer publishes a new article or a new article in this column is published.
This summer as hundreds of thousands of people made their way to Normandy, France, to celebrate the 75th anniversary of the largest military liberation in world history, Houston descendants of two World War II heroes reflected on the significance of the event. 
For Virginia Mampre, daughter of the 97-year-old Albert Mampre, it was a bittersweet time, as the two had been planning to join the festivities, just as they had for the 70th anniversary in 2014, when Albert had sat on the stage with battle comrades and two presidents. The last living medic and the head of medics for the famed 101st Airborne Division's Easy Company, featured on HBO's Band of Brothers, fell ill shortly before his 97th birthday. 
On May 31, just two days before they were scheduled to head for France, he passed away. Virginia took comfort in the outpouring of love showered on her family as nearly a thousand people came from all over the world to pay their respects.
For Gene Dewhurst, the final farewell of his war-hero father had occurred many years earlier – when Gene was only 1 and his brother David was just 3. Their father, David H. Dewhurst, Jr., was killed by a drunk driver after returning to Texas from WWII after flying 85 combat missions over France and Germany. 
Over the years, Virginia and Gene both spent time retracing their fathers' steps during that war, and those journeys marked their lives with an even deeper respect for their fathers and what their sacrifice had meant for the world.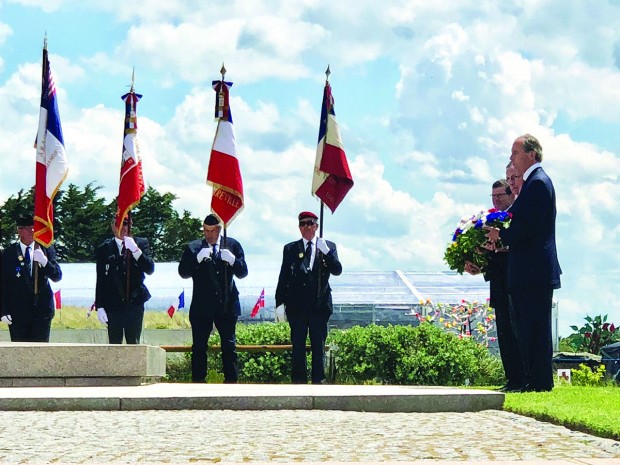 Uncovering a father's legacy
Gene and David Dewhurst knew their father was a B-26 bomber pilot in WWII who participated in D-Day. They didn't know much else. "We had our father's uniforms that we played with when we were growing up," said Gene. "I never thought much about his war experience or what he did, and I never met anyone who really knew him."
It wasn't until the brothers went to Normandy in 2007 for the annual D-Day Commemoration that they began to uncover their father's legacy. A friend, a commissioner on the American Battle Monuments Commission, had invited them. They hired retired U.S. Army Col. Peter Herrly as their guide for their first tour of Normandy. "We went to the D-Day celebration and sat up on the stage – freezing cold and rainy and overcast and windy and shivering – and I thought, 'Oh, well. This is probably what it was like in 1944.'"
The next day the group was scheduled to see the British sectors. But the night before, the brothers had told Col. Herrly about their father, and there was a change of plans. "Instead, he surprised us and took us to Utah Beach," said Gene. "Out on the beach, during low tide, Col. Herrly pulled out of his pocket our father's D-Day battle orders, and he read them. It was very emotional for all of us, including the friends of ours who were there."
The group went inside a tiny museum on the site to warm up and get out of the rain. Within minutes, a friend called out: "Hey, Dewhurst!" There they saw a small exhibit showing the flight of their father leaving England, flying over the English Channel and Utah Beach, and then returning. 
"They had a picture of him and they had the names of his crew with tacks and string," Gene recalled. The group was stunned. 
They met with museum staff and learned that a local resident, a young boy during the war, saw the American planes flying overhead and recorded the tail numbers. After the war, he became active in the B-26 Marauder Historical Society. Several years before the Dewhursts' 2007 visit, Gene said, the man, now in his late 80s, put up the exhibit in the Utah Beach Museum out of gratitude, attributing the much lower death count in the area, compared with that of Omaha Beach, to those pilots. 
They befriended the man as well as the museum director, the son of the museum founder, and the mayor of the town, St. Marie du Mont. They also met and befriended the bombardier, the left wingman and the tail gunner who had flown with their father.  "We started this journey learning more about our father — and our mother, too," said Gene.  
The brothers went on to support the museum, tripling its size and getting a B-26 plane to display. They received the Knight of the Legion along with Helen Patton, Gen. Patton's granddaughter. "We feel that we have been given an opportunity to know our father," wrote Gene, "and to develop a brotherhood with the French that we never thought was possible."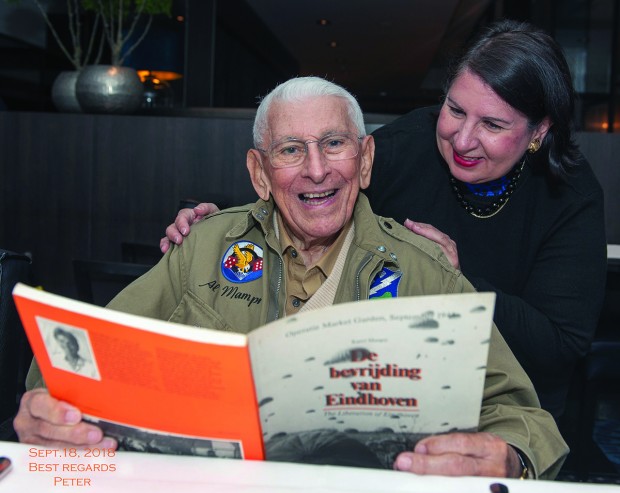 Father-daughter journey
Albert Mampre was a humble man who never liked the word "hero," and he never saw himself as one. But as his daughter discovered in her travels with him, his legions of admirers around the world disagreed. 
Al, as his friends called him, was a son of Armenian immigrants who enlisted in 1942 and trained as a paratrooper, then as a medic. "I liked the idea of pluggin' holes instead of makin' holes," he told one interviewer in his typically self-deprecating way. Mampre went on to become a psychologist, marrying his childhood sweetheart and having three daughters. 
Virginia, his eldest daughter, became a manager of broadcasting stations and a VIP travel consultant, exploring the world before retracing together with her father the steps of his legendary platoon, from D-Day to Operation Market Garden to the Battle of the Bulge to the capture of the Eagle's Nest in Berchtesgaden.
She will never forget the pomp and circumstance of that 70th D-Day celebration at the American Cemetery at Colleville-sur-Mer in Normandy in front of 10,000 people, seated in the front row, looking up at her father who accompanied two presidents onstage.
Years before, the pair had accompanied a documentary filmmaker to that cemetery. She had followed as her father traversed a line of white crosses and Stars of David, then stopped before the name Ernest Oats — one of his medics. He couldn't go on. 
"Those were the true heroes," Mampre reflected in one interview, speaking of the fallen.
The 70th anniversary was a happier affair, with some 6 million people visiting from around the world to pay respects – people dressed in '40s-era clothing, restored cars and jeeps from the era. That night their group headed to the Pointe du Hoc, the highest point, where they watched a display of fireworks that went off all up and down the beaches. At the end, a silence fell in the darkness, and then a sole trumpeter began to play "Taps" off in the distance. "Nobody could breathe," said Virginia. 
Mampre, who trained along with the rest of his unit for D-Day and did the exhibition jump with Churchill and Eisenhower, was devastated when a severe infection sidelined him to the hospital – an illness that likely saved his life, his daughter says. His first parachute drop was "Operation Market Garden," memorialized in A Bridge Too Far. 
Mampre was among the 35,000 paratroopers and glider troops who landed in the Netherlands in September 1944. A 250-pound paratrooper landed atop him with all his gear, and Mampre extracted himself despite his own injuries and treated his comrade. The troops went on to liberate several Dutch towns, which had been under occupation for four years.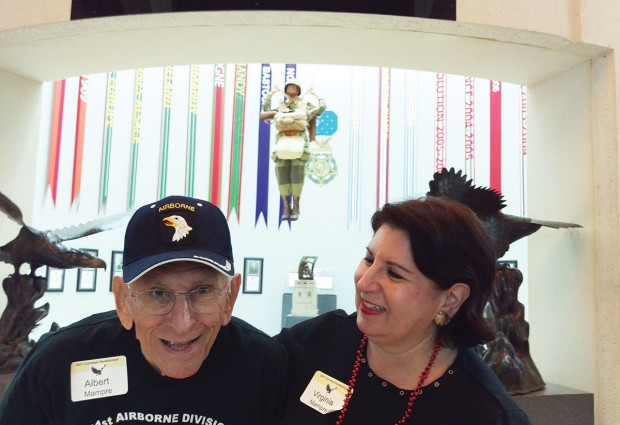 At one point, a German sniper started firing on them, and he ducked into a doorway. As he stood there watching the bullets fly by, a woman's arm came out the window, holding a spoonful of cherries. "A machine gun's firing down the street, and she's feeding me cherries," Mampre told the West Point Center for Oral History. "Can you imagine? That's all she had."
Mampre almost lost his life many times, and has two Purple Hearts and a Bronze Star to show for it. In an episode depicted in HBO's Band of Brothers, he ran into the open to save Lt. Bob Brewer, who had been wounded by sniper fire. Mampre, too, was shot in the leg and the groin, but both men made it to safety. 
The last father-daughter Europe trip was last September, for Operation Market Garden's 74th anniversary and an over-the-top Liberation Tour. They went to the place where he had been shot, saving Lt. Brewer.
"It was like you were walking back into the 1940s," said Virginia. "They had immaculately restored American and British vehicles that were used during the war. They had a huge Big Band orchestra with music from the '40s, and there were posters everywhere from the war." Re-enactments including a medic station in a church, and a procession of 600 uniformed scouts with torches left them deeply moved.
Virginia, who has been to nearly every country, experienced an entirely different sort of travel at her father's side. She had become his social secretary in the last two decades of his life, when to his great surprise, he began receiving a constant flow of invitations from all directions, and he tried to answer every one.
"He was just magnetic," she said. "But it was really not for himself. He really did it for those who never returned."
Personal Essay: My Father's WWII Service
75th anniversary of D-Day
by Gene Dewhurst
I was 1½  years old and my brother David was 3 when a drunk driver killed our father here in Texas. Our father, David H. Dewhurst, Jr., had returned from WWII after flying 85 combat missions over France and Germany. When we grew older and our mother remarried, she told us that our father was a B-26 bomber pilot in WWII, who participated in D-Day.  Not much else was discussed.
My grandfather, Eugene L. Harris, received his undergrad degree from The University of Texas and his LLB from UT in 1911. My mother (1941 grad) and father (1940 grad) met at UT. My parents married while my father was in flight training; he left for England in 1943. My father flew B-2s and was based out of two English bases. The Eighth Army Air Corps, which flew B-17s and B-24s, was assigned to bomb Omaha Beach. At the last hour, due to the cloudy weather and the fact that they fly at such high altitudes (20,000 feet), they were told to delay by several seconds when dropping their bombs. Not one German military installation was touched by that bombing raid, which was the last offensive effort before the troops hit the beaches.
For Utah Beach, Gen. Eisenhower personally picked B-26 Bomb Groups from the Ninth Army Air Corps for their accuracy; his staff picked the 386th Bomb Group, our father's, which was the most accurate, to be the last of seven groups to bomb the Utah Beach as the troops were landing. Unlike the Eighth Army Air Corps, the Ninth was told it had to fly parallel to the beach and "under" the clouds, in order to hit its targets, even if it meant flying at 500 feet. All of the crews knew what that meant. The prior two times that B-26s had flown that low, every single one of the planes were shot down! Thankfully, there were enough openings in the clouds that the planes flew 3,500 to 6,000 feet; very few of the planes were shot down. My father led the very last group of planes, which were the ones that actually bombed the installation where the Utah Beach Museum is located. They finished their bombing run only a couple of minutes before the wave of American soldiers hit Utah Beach.
My father's 386th Bombing Group flew back to England, refueled, reloaded with more bombs and flew a second mission on D-Day; that run was now behind the lines to help cut off German reinforcements. As a major on D-Day, my father rotated back to the States in December 1944, as a lieutenant colonel, before the unit relocated its base to France.
In 2007 a group of 24 friends all went to France for D-Day, since one of the members of our group was a commissioner on the American Battle Monument Commission (presidential appointment). We hired Col. Peter Herrly to help us tour Normandy. The day after D-Day (on D-Day it was bone cold as we were seated on the stage with all of the dignitaries), we were scheduled to go to the British sectors. Instead, because of what we told Col. Herrly the night before, he surprised us and took us to Utah Beach. Out on the beach, during low tide, Peter Herrly pulled out of his pocket and read our father's D-Day battle orders. Very emotional!
Then we went into the small and rather unique Utah Beach Museum, just to quickly look around before continuing with our tours. Never did we expect that our lives would change so much. Some of our friends almost immediately starting calling all of us over to a very small display with our father's name on it. When we got there, we recognized that his picture was also there, along with a map of his flight, for the early morning of D-Day, which also included the names of his crew!
Shortly afterwards we had a chance to meet the director of the Utah Beach Museum, the mayor of the town, St. Marie du Mont, the son of the founder of the Museum, Charles De Vallavieille and his family. The private citizen who had placed my father's exhibit into the museum joined our group from the States for lunch that very day. There have been several museum directors; each one has gotten better. The mayor, who has not lost an election, is a huge supporter of the museum, and a great friend. And we have gotten to know Charles, who is on the Town Council and is responsible for the museum. My two sons, Christopher (UT-MBA 2005) and Andrew (UT-MS Geology 2008), have gotten to know Charles's sons and daughter and have enjoyed their common bond. The man who made the display was a young boy during the war. Every day he watched American bombers come over, dropping their bombs or being shot down, so he started making notes of Allies' tail numbers. He had been a longtime member of the "B-26 Association" and even attended annual meetings in both England and the U.S.
After coming back to the Utah Beach Museum (yearly or twice a year at times), we offered to help the museum. The museum wanted to grow, so David provided funds and I provided leadership and financial controls.  The museum is now three times larger than before, and it has a B-26 painted like our father's plane in a hanger, which is part of the museum. You will see our father's dedication right outside of the hanger. Also, please don't miss the very short movie, which is available soon after you start touring the museum, as it is a very good overview to D-Day and the Normandy invasion.  
David, Linda, my sons and I have all met or seen the videos of the bombardier who flew most of his missions with our father, the tail gunner on our father's plane, and the left wingman (pilot that flew the B-26 to the left of our father). Since we did not know our father, we learned a great deal talking and filming each of the above three men, who all had stories to tell. The bombardier, who had such respect for our father, named his son David after our father. We also have all of the letters written between our mother and father during their time of separation during the war. It will be a great legacy for our grandchildren, since WWII is not adequately studied in school today.
Lastly, two items we care deeply for are the Normans whom we have gotten to know. They are fine people who truly care about the time, years ago, when young men from free countries came over and gave their lives to free France and Europe from German occupation. We feel that we have been given an opportunity to know our father and to develop a brotherhood with the French that we never thought was possible. Secondly, both David and I were blessed to be awarded the Chevalier de la Legion d'Honneur (Knight of the Legion of Honor) by the French government in 2014. If you were a soldier in WWII in France, you could be honored. But the Legion of Honour, which was started by Napoleon Bonaparte in 1802, is only given to a maximum of 2-3 non-military citizens each year. For our year, David, Helen Patton (General Patton's granddaughter, who has led various charities) and I were knighted. As with the French and their love of ceremony, my ceremony lasted almost two hours! I am very proud of my award.
Want more buzz like this? Sign up for our Morning Buzz emails.
To leave a comment, please log in or create an account with The Buzz Magazines, Disqus, Facebook, Twitter or Google+. Or you may post as a guest.