Sunday Mornings with Rania: 'Sharenting' - The Latest Must-Know Parental Phenomenon
Click the Buzz Me button to receive email notifications when this writer publishes a new article or a new article in this column is published.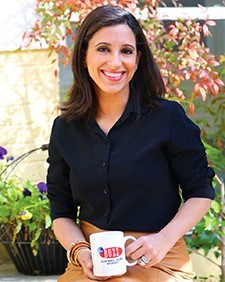 We all guide our kids when it comes to online posting but as parents, we bend the rules. We post when we travel, purchase items, are in our homes, cars, shopping, traveling and places of work. We share news about our good days and bad days, anniversaries and birthdays, and...everything about our children. We'll see this most profoundly over the next few weeks as parents excitedly take and share back-to-school photos on social media that reveal their children's image, name, grade, school, hobbies and expectations during the coming school year. For the viewer, these are sweet, but the reality is they share a great deal of information about their children. This reality - coined "sharenting" - has become a recent phenomenon researchers are studying. I thought that by diving into what it is, we can learn about what we're doing and the effects it has on the kids we love so much.  
Sharenting is the overuse of social media by parents who overshare content (via posts, blogs, live videos, tweets, etc.) on their children - from sonograms to first days at school to milestones to marriages and beyond. The concept calls into question the safety of a child, of course, but also a parent's right to share with their child's right to privacy. 
What and Why do Parents Post? 
Parents who like to post tend to share a lot and that includes posts about their children. But why? First of all, the accomplishments: There is nothing quite like seeing your child walk through the stages of life. We post out of pride, to laugh, to ask for prayers, to share the cuteness, to bask in the milestones, to boast, to seek guidance, to disciple and/or out of a daily desire to share and gain a response from the online world. 
Beyond the need to share, there are also some parents who see their children's image as a money maker. This is becoming more commonplace. Not too long ago, Forbes indicated the 2018 top YouTube earner was a then 7-year-old boy. He brought in $22 million after his parents continued (and continued) to share videos of him opening and playing with toys. From posting to trying to turn a child's image into a commodity, one has to ask, what does this all mean for the child in the long run?
We're Branding our Children Before they Can Even Tell Their Stories
It's less clear what our children have to gain from their lives being broadcast. Certainly, some develop a huge following, which creates value in the online world. Some thrive on the attention. Through it all, could the information be potentially damaging? What about posts that share information around a child who is struggling (think behavioral problems, learning disabilities, discipline or an illness) or a child struggling with an awkward moment (first date, first prom or braces)? While parents simply seek to share, those posts live forever on the internet, to eventually be seen by friends, acquaintances, romantic prospects, future college admissions officers or employers. We are essentially writing a child's life story, creating the narrative and branding them before they've had the chance to write it or tell it themselves. Is that really fair?
Dangers
COPPA is the U.S. law meant to protect kids online and it "places parents in control over what information is collected from their young children online." But even the most innocent posts could carry unintended consequences. Any information on your child — names, dates of birth, geographic location, height, weight, eye and hair color, interests and more — could be acquired by data brokers and sold. In fact, studies estimate that by 2030, "sharenting" will have played a role in two-thirds of identity fraud cases facing our young generation. Others are concerned that repeated images of a child could be used for hacking, stealing images, stalking, facial recognition tracking, advertisements not known by you or your child, to set up fake accounts, by pedophiles and much, much, more. 
And What about Privacy? 
According to a recent survey, nearly two-thirds of parents agree that online photos could end up in the wrong hands, still, a staggering 40 percent believe it's their right to post images without the consent of their child.
Stacey Steinberg, a University of Florida Levin College of Law scholar has studied a parent's rights to free speech and self-expression verses children's rights to privacy, especially when children are young and vulnerable. Additionally, she discusses the child who will resent the disclosures years after they've been made. Will legal recourse eventually be a tool in a child's legal belt? 
No one knows where all this is going but we can all agree that safety and a child's right to privacy must trump our desire to post. As we get ready for back to school and another year of milestones, let's all agree to consider the events of "sharenting" before posting and maybe help each other practice what we preach when it comes to online safety. We can do it together and for the sake of all our children.
Read past Sunday Mornings with Rania posts here. Find more information on Crime Stoppers of Houston on their website or follow them on Facebook. Have topics in mind that you'd like Rania to write about? Comment below or email her at [email protected]. Rania is co-host of a weekly podcast which features interesting local and national guests who used their platforms for the good of the community. Connect with Rania on Instagram and Twitter. 
Want more buzz like this? Sign up for our Morning Buzz emails.
To leave a comment, please log in or create an account with The Buzz Magazines, Disqus, Facebook, Twitter or Google+. Or you may post as a guest.