Challah for a Sweet Year
Click the Buzz Me button to receive email notifications when this writer publishes a new article or a new article in this column is published.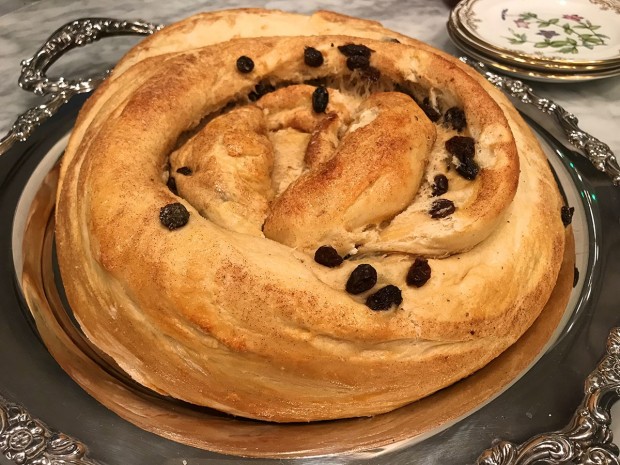 September: It's the start of a new school year, the beginning of the beginning of the holidays, and the first few days of the Jewish New Year. Rosh Hashanah, which is this coming Sunday and Monday, marks the official beginning of a new year on the Jewish calendar. We celebrate with sweet things for a sweet year – apples with honey, challah with honey – in the way that Southerners celebrate New Year's with black-eyed-peas. Superstitious? Maybe. But every little bit helps, right?
So, I thought this would be the perfect time to share my "famous" challah recipe. (Famous only within my family and a very small circle, but we've got to take what we can get.) But first: Challah is a soft, sweet, eggy bread – you've seen it braided and golden at the grocery. It's traditionally eaten on Friday nights, at the start of the Sabbath. But it's pretty delicious any time and makes the best French toast and bread pudding ever, because it's soft and super absorbent and can soak up a sugary, custardy mix and still hold its shape and get toasty on the edges. 
I started making challah when my oldest daughter was 2. I thought it would be a fun way for us to play with some dough together, and I had heard that it was a mitzvah – a good deed – to make it. She's 18 now, so you can imagine this recipe has made some twists and turns. It's gotten sweeter, thanks to inspiration from a friend who served a challah that we loved that was almost like dessert. And it's gotten really simple – I just dump everything into the stand mixer and let it do the work. No more kneading with little helper hands. 
I know it looks like a project, and in a sense it is. But I promise it's not hard, just a little time consuming. Give challah a try this weekend. Eat it warm from the oven. You can tear hunks off, which is much more fun than slicing it neatly. And the jagged edges are perfect for trapping a little honey or jam. Because who doesn't want a little sweetness – new year or not?
Challah
Ingredients
2 packages dry yeast
8 cups all-purpose flour, approximately
¾ cup honey
2 teaspoons kosher salt
1/3 cup butter, room temperature
1 ¾ cup hot water (I zap mine in the microwave for 1 minute)
3 eggs
1 egg white (save the yolk)
¾ cup raisins, soaked in hot water for about 20 minutes
1 egg yolk beaten well with 1 tablespoon water
2 tablespoons sugar
1 teaspoon cinnamon
Recipe directions
In a large stand mixer fitted with the paddle attachment, combine the yeast, 2 cups flour, honey, salt and butter. Slowly add the hot water, mixing in between additions, and scraping the bowl a couple of times. Beat on medium speed for 2 minutes. The mixture will be runny. Add the eggs one at a time, and then the egg white. Scrape the bowl again, and beat the still-runny mixture on medium-high for 2 minutes. 
Change to the dough hook attachment, and add the remaining flour, a cup at a time, until the dough comes together and is no longer sticky. You may need a little less or a little more flour to achieve a smooth ball of dough. Knead for 10 minutes, either with the dough hook or by hand on a lightly floured surface. Shape the dough into a ball and place it back in the mixing bowl. Cover it with a tea towel and let it rise for 1 hour. The dough should double in size.
Turn the dough out onto a lightly floured surface, and punch it down (kids love this part). Divide the dough in half. Drain the raisins, and add a handful to each half, kneading to incorporate the fruit throughout the dough. Divide each half into 3 equal parts. With your hands, roll 3 of the pieces into 12" lengths, and lay them side by side, parallel. Start the braid in the middle, and braid as you would a ponytail. Work your way to the end, then start in the middle again, working toward the other end. Pinch the ends together and tuck them under the loaf. Repeat with the other three pieces of dough. 
Option: For the Jewish New Year, we make a round challah. The reason for that is debated: Some say it symbolizes the circular nature of the year, others say it resembles a crown as we recognize God as king of the world. Either way, if you'd like to make a round challah, just divide the dough in half, then roll one piece into a long log, and repeat with the other half. Take one end of the length and begin spiraling it in toward the other end, to make a snail-like shape.
Place the braided (or round) loaves onto baking sheets lined with foil (for easy cleanup), and brush each with the egg yolk and water mixture. In a small bowl, mix the cinnamon and sugar together, then sprinkle the tops of the loaves liberally with cinnamon sugar. Let the loaves rise a second time, uncovered, for 1 hour. They should double in size. If you'd like, you can repeat the egg wash-cinnamon sugar step again just before baking the challahs.
Preheat the oven to 350 degrees. After the loaves have risen a second time, place them on separate racks in the oven and bake about 25 minutes, switching racks halfway through the baking time, at about 13 minutes. The challah is done when the top is shiny and golden and a toothpick inserted into the center comes out clean (or, if you are like us and you like your challah a little bit gooey, the toothpick should come out just a tiny bit sticky). 
Let the challahs cool for about 30 minutes before ripping them up.
PS: Frozen and defrosted challah is great, so if you only need one loaf, make two anyway and freeze one!
Want more buzz like this? Sign up for our Morning Buzz emails.
To leave a comment, please log in or create an account with The Buzz Magazines, Disqus, Facebook, Twitter or Google+. Or you may post as a guest.