Community Talks Cyber Safety
Click the Buzz Me button to receive email notifications when this writer publishes a new article or a new article in this column is published.
Words of warning such as "don't talk to strangers" and "call for help if something seems off" are commonplace when it comes to teaching kids about personal safety. But many parents are discovering that the rise of online communication and social media calls for a new vocabulary focused on cyber-safety.
"This makes me want to throw phones away!" said parent Gail Jackson after learning all about criminal activity that happens online. Gail was one of about 20 parents who attended a cyber safety seminar at Evelyn's Park on Sept. 10 along with roughly 15 students. "It was a fantastic event, I'm glad we came," Gail said. "I try to stay on top of all of this, but the statistics were shocking."
The event was run by Crime Stoppers of Houston, a non-profit organization dedicated to solving and preventing serious crimes in Houston, in partnership with Evelyn's Park and The Buzz. The statistics Gail alluded to include that only .5 percent of child abductions are perpetrated by strangers – the others being perpetrated by individuals the child knows – and that in 2018 alone, Crime Stoppers had over 18 million cases of child pornography reported to the cyber tip line.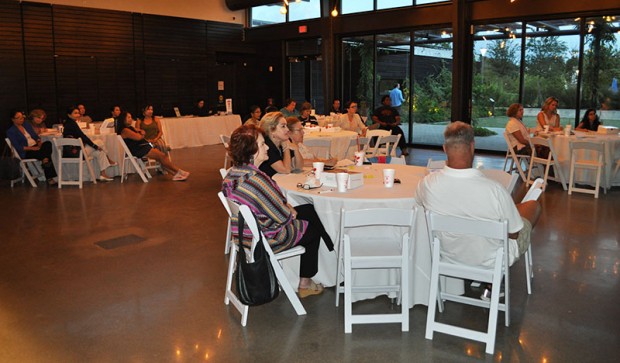 "We are focusing on the wrong thing," said Michelle Sacks, Director of Crime Stoppers' Safe Schools Institute. "The guy who is hiding in the bushes who abducts your kid in the white van, although that happens, it only happens .5 percent [of the time]."
What happens more often, Michelle explained, is sexual predators going through various stages of "grooming" to reach a child online, first gaining the child's trust and fulfilling a child's needs before trying to sexualize the relationship. Children may meet these predators through chatrooms on popular video games like Fortnite or through direct messenger on social media apps such as Instagram and Snapchat. Many teens are also on dating apps like Tinder, where predators may lie about their age in order to reach children.
There are even apps specifically designed for people to meet strangers, including MeetMe, Skout and Omegle. Michelle said these types of apps are often used when kids are in a big group, say at a slumber party. "[Parents] get freaked out. [kids] think it's funny," she said. 
While Michelle talked to parents about the potential dangers of meeting people online, Sydney Zuiker, community education specialist at Crime Stoppers, spoke to a group of students in an adjacent room. She advised student-gamers to only talk to their opponents about the game, blocking any users who probe too deeply about their personal information.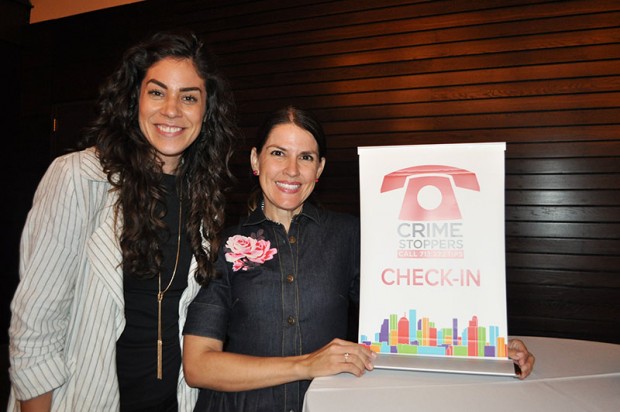 Sydney explained that some online users go so far as to use voice changer technology to make them sound younger, so you can never trust someone you meet online. "Anybody can sound like anybody else," Sydney said.
Another key topic of discussion in both rooms was inappropriate online content. With about 300 hours of content uploaded to YouTube each minute, it's virtually impossible for the video-sharing company to sift through and weed out any inappropriate content. So, a student may seek a perfectly appropriate video but instead find pornography. It is up to users to block or, better yet, report inappropriate content, Sydney and Michelle explained.
To prevent cyber-crimes, Michelle advised parents to monitor their child's online usage, particularly direct messages, and to keep talking to their kids about everything.
"Be that annoying parent, because I'll tell you if someone is wanting to victimize your kid and you're doing that, they are not going to touch your kid. They don't want to have to deal with you."
Cyber Safety Toolkit
Here are some additional resources and tips for ensuring your own and your child's safety online.
Resources:
Commonsense Media: This website provides independent media recommendations and advice for families. This is helpful if there is a game, app, movie or book your child is interested in, and you want to know if it is appropriate for them.
"Screentime" application on iPhones and "Digital Wellbeing" on Android: Turn this app on under "settings" in your child's phone, and password protect it so they cannot change the settings. Using Screentime (or Digital Wellbeing), you can see what apps your child has been using and how long they have been using it. You can set limits on how long they use certain apps.
Bark App: This is a paid application you can download to proactively monitor text messages, YouTube, and 24 different social networks for potential safety concerns. Bark uses artificial intelligence to monitor media. Also visit Bark-o-matic for a free, personalized guide for parental controls
Tips for cyber-safety:
Gaming: Talk to your kids about how to deal with emotions and what to do when an opponent gets upset or violent on a video game. If you want to learn more about the games your kids are playing, check out Twitch, where you can watch live streams of video gaming.
Limiting inappropriate content: Turn AirDrop off so you prevent your kids from receiving inappropriate content on their devices and talk to your kids about what they are seeing online.
Location Services: Turn off Location Services on your phone for all social media apps, games and your camera.
Preventing victimization: 
Watch for any signs of grooming
Tell kids not to post anything personal online
Advise them not to ask for help online
Teach your kids to trust their gut instincts (and parents, trust yours, too) 
Have them charge their phones overnight in a common area instead of in their rooms 
Have an emergency procedure in place with your kid – for example, an SOS emoji they can send you in an emergency as a secret way to ask for help. Have an agreement that if they send this, you will come pick them up, no questions asked. 
Model healthy relationships 
Editor's Note: Read these related articles by Crime Stoppers Director Rania Mankarious to learn about when - or if - to buy your teen a phone, cyberbullying plus a list of Most Dangerous Apps 101. See Sunday Mornings with Rania for perspectives from Rania. The Buzz is also partnering with Crime Stoppers for a free, informative training session on responding to an active-shooter event, Oct. 10.
Want more buzz like this? Sign up for our Morning Buzz emails.
To leave a comment, please log in or create an account with The Buzz Magazines, Disqus, Facebook, Twitter or Google+. Or you may post as a guest.