Parenting while pregnant
Click the Buzz Me button to receive email notifications when this writer publishes a new article or a new article in this column is published.
Buzz Baby is a column about life with little ones. Writer Annie McQueen has three children age 5 and under.
I remember my first pregnancy back in 2014. If I felt tired after work, I would put my feet up. If I wanted to take a long nap, I would take a nap. If I didn't feel like doing the laundry, I waited. It was still challenging, like most pregnancies tend to be, but being my first, it was easier to focus on my needs throughout those months. 
Fast forward to 2019.
At the beginning of this summer, I was facing an experience I wasn't sure I was up for: surviving my third pregnancy with a houseful of small children (our twins, who turned 5 in July, and our daughter, 2), not to mention our three (yes, three) spoiled rescue dogs.
Welcoming a child – through pregnancy or adoption – is one of life's greatest gifts, and clearly, we humans were made to do it. Yet, it can still be one of the hardest physical and emotional experiences that life will hand you. 
Thoughts raced through my mind pre-summer (back in the easier season of school and cooler days): What happens if I have morning sickness and can't lie down? How will I take care of myself when I am constantly tending to little ones' needs? What about the heat? How will I manage the weekly grocery store trips? Oh, and the neighborhood pool. Do I really have to take my kids while feeling like a whale? 
Of course, I had these thoughts while pregnant the second time, but I felt them even more this time. This time around though, I did summer-while-pregnant differently.
I just didn't.
I didn't stay on top of the laundry, the meals, the grocery-store trips, the be-a-perfect-mom life. I just hunkered down and put myself into a survival mode.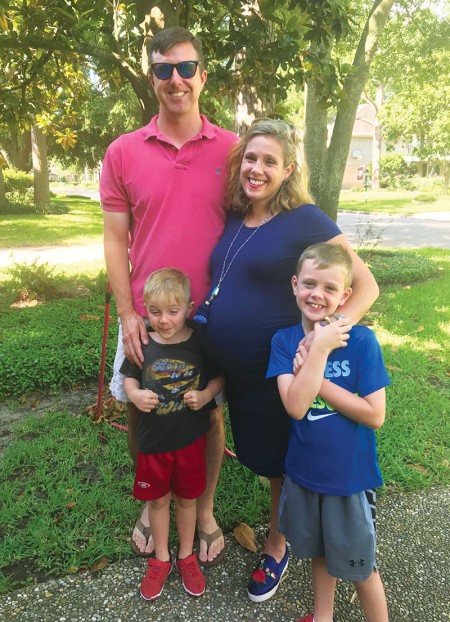 And, as life tends to do, it just worked out. We managed to eat and find clean clothes. We ate out more frequently. I started assigning chores to the twins: bringing dirty cups from upstairs and putting their laundry away. 
I utilized Amazon. I got rid of things (I "Marie Kondo'd" our house) to keep my sanity. I downloaded a fabulous grocery-delivery app (Shipt). I stretched each morning. I invested in comfortable maternity clothes. Our dogs made it too (with fewer walks, but they're still happy). It did help that we escaped Houston in July and headed to Colorado. The travel there and back was daunting – but totally worth it. 
I talked with other veteran pregnant moms too. Carrie George and her husband Jamie just welcomed her third child, Stiles. Stiles is the youngest of three boys, with older brothers Kelley, 5, and Jay, 7. Carrie says this pregnancy was different for her than the others because she was tending to the boys throughout the pregnancy. She urges other expectant parents who have little ones at home to "take the help when it's offered." 
As life got busier for the George family, so did their needs. "I would look up, and it would be 5:30 and I would have put no thought into dinner," said Carrie. She said friends and family who helped or brought dinner were a godsend. 
She also accepted more help for Jay and Kelley. "When people offered to help with the bigs, like drive them to and from Vacation Bible School or take them to Typhoon Texas Waterpark, I would say yes. You must embrace that village. Your friends and family are there for a reason."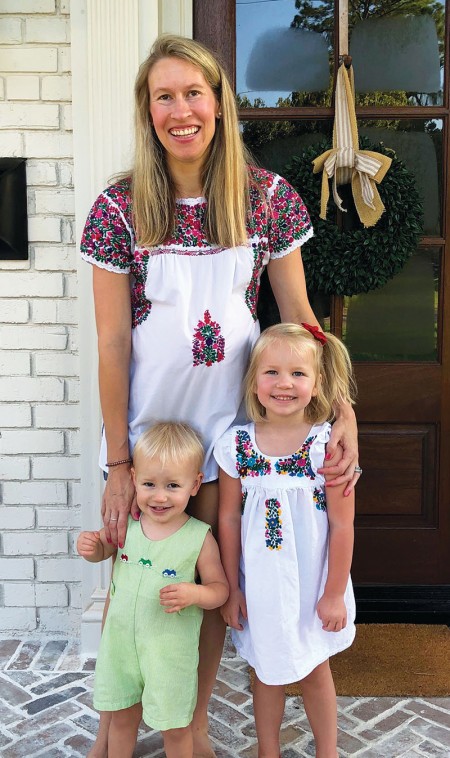 She got the boys involved in the pregnancy where she could. She and Jamie took them to three of her prenatal appointments, including the gender reveal. "They went to one of the last ultrasounds and got to see the baby moving around and wave," she said. 
Finally, the boys got to pick out their favorite books and stuffed animals for the nursery. Her favorite moments are to watch Jay read to Stiles or see Kelley give one of his sacred "lovie" blankets to his baby brother. 
Former first-grade teacher Sarah Dillingham and her husband Todd spent the summer months awaiting the arrival of their third child (due in early September). Sarah says the hardest part of this pregnancy was the physical exhaustion paired with keeping up with her two small children, Lucy, 3, and Hayes, almost 2.
"Toddlers have endless amounts of energy that I just cannot seem to match," she laughed. She says she spent many summer days at indoor playgrounds.
To all the moms and dads out there, the struggle is most certainly real. In the end, the days when they are young are fleeting, so (I've been told) it's worth it.
Want more buzz like this? Sign up for our Morning Buzz emails.
To leave a comment, please log in or create an account with The Buzz Magazines, Disqus, Facebook, Twitter or Google+. Or you may post as a guest.