A regatta to remember
Click the Buzz Me button to receive email notifications when this writer publishes a new article or a new article in this column is published.
Sailing has been a central theme for Liz Wilder since her childhood in a seaside village in New Jersey. "We were on the water all summer," she says. "It was a nice way to grow up, to entertain yourself on a small tidal river, just like kids do in Galveston or Kemah today."
She grew up to become a banker in New York, but her weekends revolved around sailboat racing on Long Island Sound. So when she met the man who was to become her husband, Warren Wilder, through mutual friends, her first question was: "Do you sail?"
Indeed he did. Warren Wilder grew up on the opposite coast, in Seattle, and learned to sail as a boy. Shortly after marrying, they bought a 19-foot Lightning. They raced this boat for many years, moving it from home to home as they moved for job opportunities. 
Warren is in the petrochemicals business, so it was inevitable that the couple would end up in Houston. After moving to West University in 1998, they joined the Seabrook Sailing Club. Their three children all raced small boats on the "Texas Circuit," a group of southern sailing clubs that organize monthly youth regattas.  
"Sailing is a great way to meet people everywhere, and it will take you all over the world," she said. The Wilders should know; they have tested that theory in numerous countries over the course of their 35-year marriage, including Malaysia, Singapore, Switzerland, Croatia, Italy, South Africa, India, Oman and Norway. 
The couple spent four years in Saudi Arabia, from 2013 to 2017. "I loved sailing in Saudi Arabia – it was the only place I wasn't walled in," she recalls. "I'd round up a few women, get a driver to take us to the beach, and teach them to sail on my little Sunfish. The wind is light on the Arabian Gulf in the mornings, so I'd swim after them, coaching!"
Before Saudi, the couple lived in Mumbai where they were able to find a temporary membership at the Colaba Sailing Club, right at the famous Gateway to India. "They had these ancient British club boats there, wooden, very slow," Liz said. "But it's still fabulous to be out on the water, racing around the buoys in the harbor."
Since retiring, Warren spends a third of the year in his native Seattle, which has a longstanding Sister City relationship with Kobe, Japan. Over 30 years ago, the Seattle Yacht Club and the Kobe Suma Yacht Club decided to become sister yacht clubs. Every three years, the clubs organize a friendship regatta that alternates between the United States and Japan. This summer, the Wilders made the trip to Kobe. 
"I had never really thought about Japan as an island nation having a lot of great sailors," said Liz. "It's wonderful to see a country from the water."
The dramatic landscape of the Kobe area formed a picturesque backdrop for their adventure. "The land is very different from Texas in that there are steep hills rising up out of the water around Osaka Bay. It was very pretty, and that really struck me."
The pair came away deeply impressed with the country, the people and, especially, the sailing community. 
"The hosts had done a magnificent job of preparing for us," she said. "They were so generous and helpful. At most regattas, you show up and there's a printed list of instructions. Here they made sure everything was completely understood."
The race itself quickly became a lesson in humility – but it didn't diminish the thrill of the experience.
"Honestly they were way better than us – they kicked our butts," she said with a laugh. "We did our best, and I was really proud of my crew, but their team was far better than ours." 
The four days of racing were intense, with six-hour days on the water. The first three days were a series of short-distance races around a triangular setup of buoys, in identical J-24 sailboats. Kobe acquired a better group of finishes than the Seattle team, and won the Takarabune Trophy.
The fourth day was a regional regatta among Japanese yachts – a long-distance race – and one of their competitors, former Commodore Ota, invited the couple to join his team. 
"I thought he was joking when he said, 'Liz, you be skipper!' I said yes, thinking he was teasing me." The couple boarded Mr. Ota's 35-foot sailing yacht the next morning and quickly realized he wasn't kidding. "I think he wanted to see how a pair of Americans ran a race differently from how he runs a race," she said.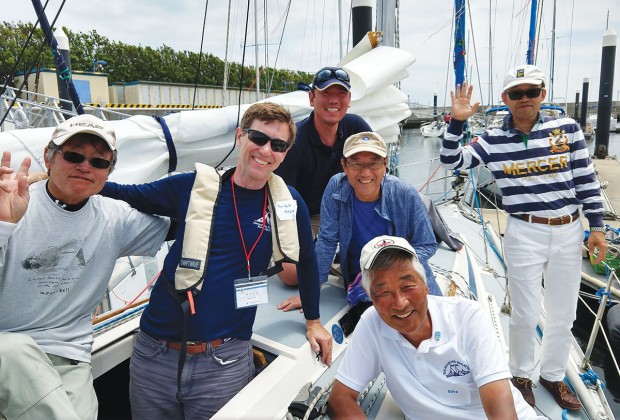 With Liz at the helm and Warren managing tactics, they had a blast with their new Japanese friends. At first, she wasn't sure how she would run a crew with seven out of 10 not speaking English. "It made for a very interesting event because I'd tell Mr. Ota what I thought we needed to do, and he'd tell the rest of the crew so there'd be a little lag while he explained."
The Japanese were excellent sailors who sailed together often, so things went smoothly. But it was thanks to Warren's navigating that they crossed the line fifth out of 55 boats, Liz said. "We had not done so well on the first leg because I misjudged tidal currents, so we were at about 40th at the first mark – but heading down to the next mark, Warren looked at the compass points and did some math, and then he said, 'They're all sailing in the wrong direction! This is your compass heading, Liz. You sail this course.' 
"I could hear the Japanese muttering what I guess was: 'Everyone else is over there, and we're over here.' But we passed 35 boats that leg."
The currents change quickly in Osaka Bay, so Liz speculated that the first boat – which won the race – did a great job executing a plan to go wide and then turn left and catch the current. "But if you don't do your own math the way Warren did, understanding your own boat speed, you can get stranded. No one could see the mark, but I steered the course Warren selected. By the time it came into view, the other boats had to change course and sail toward us — but by that point we had kind of done the short side of the triangle."
To the Wilders, this thrill of the unexpected – and the testing of skills with others who share their love of sailing – are a big part of what makes this way of travel so appealing. "It's the silence on the water, it's the wind, it's having to figure out how to go as fast as you can in the circumstances you're in that makes sailing special," she said. "There's a saying in sailing: If two boats are on the water, going in the same direction, then they are racing."
And of course, there is nothing like connecting with the people. The Wilders stayed with a Japanese host family in a large home that would easily blend into West U. The hosts, Kuni and Naoko, plus his parents and their three teen children, made sure to show the Wilders all aspects of Japanese life. They walked their host family's neighborhood together, they went to the neighborhood Shinto temple and met the family's priest. One of the grandmothers, who was nervous at first, warmed up to them and ended up organizing a traditional Japanese tea ceremony for them.
"They had us burn special papers, and they told us about what they believe," said Liz. "They looked up our birthdate and said Warren has the best kind of luck, which is very rare.  We told them about our own Christian religion." 
The Wilders were truly impressed with the generosity of the Japanese, and were showered with gifts during their stay. Each U.S. sailor was gifted with a special summer kimono (see photo). "I must say, it's really hard to out-gift a Japanese host family. I came with a whole suitcase of gifts, and I left with more gifts than I came with."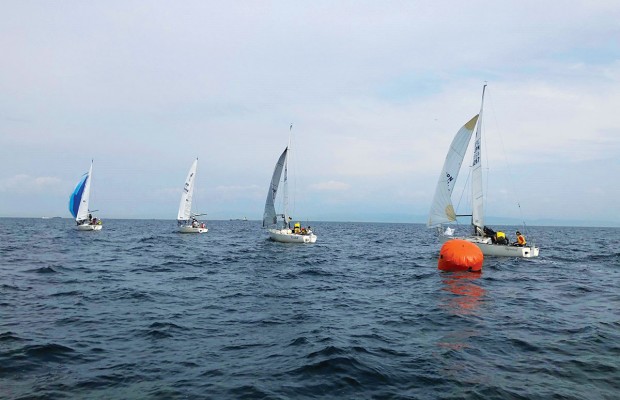 Liz also noted that she and Kuni are both Rotarians, and both are Cub Scout leaders. "We have so much in common." 
To those who might be intrigued by the idea of seeing the world by sailboat but don't know where to start, Liz has some practical suggestions. 
"You don't need to be a racer to enjoy a vacation on the water," she said. In many places, like Croatia or Greece, you can rent a boat with a captain for a week for about $3,000 a week — $1,000 for a week of sailing with a professional skipper, and $2,000 for the boat rental. Dividing that cost between two couples would be $1,500 per couple for a week that includes accommodations, sightseeing, tour guide and transport all in one, tied up in places like Capri or Dubrovnik or the British Virgin Islands. 
"Try it yourself, for a unique look at a land," she encouraged. 
Most important is the love of the sport of sailing that transcends language. "Sailors are the friendliest people in the world."
Want more buzz like this? Sign up for our Morning Buzz emails.
To leave a comment, please log in or create an account with The Buzz Magazines, Disqus, Facebook, Twitter or Google+. Or you may post as a guest.