Taking Thanksgiving traditions on the road
Click the Buzz Me button to receive email notifications when this writer publishes a new article or a new article in this column is published.
Sometimes "Over the River and Through the Woods" is over a border and along the beach. Sometimes Grandmother's house happens to be in the desert. And sometimes the turkey is chicken fajitas. But just because their Thanksgivings don't look like those in the picture books doesn't make the tradition any less meaningful. 
Mark and Tricia Rauch are turning the page on a Thanksgiving tradition in Rancho Mirage, Calif., with their extended family that saw them through half a century. And the Elizondo-Frazier-Rainey family is now celebrating a third generation of Thanksgivings in Puerto Vallarta, on the Pacific coast of Mexico. 
Together in California
Mark and Tricia met when they were 13, and began dating when they were 18. Sometime in those years was when Mark's family started going to the Palm Springs area. His mother was originally from Los Angeles, and some of the family still lived in that area; others lived in Houston.
"I think the children wanted to stay connected to the matriarchs and patriarchs of the family," said Tricia. "If it makes them feel complete, that is what the family traditions are for. The only way you can maintain those ties is if you come together for those special occasions – and what brings people together more than eating, and wine?"
It started at the home of his grandmother, a tiny woman known as "Biggee," who lived in Palm Springs. Mark's parents, Lila and Gerald Rauch, soon bought a home in nearby Rancho Mirage to be close to her. A couple of other family matriarchs and patriarchs acquired homes in Rancho Mirage as well, and so that became the family gathering place. 
"It was inspiring for my children, because they got to know their California family by staying with them over Thanksgiving," she said. The families would usually stay a week, arriving on the Tuesday before Thanksgiving and staying until the Tuesday afterwards. They'd help Grandmother Lila get the house ready and begin the preparatory cooking. 
"Everyone in the family would contribute their specialty," said Tricia. "I would do the table decor and floral arrangements. My husband would do the turkeys. My uncle would make the chopped liver. My mother-in-law and sister-in-law were the majordomos of the kitchen, overseeing the entire menu and meal – and when Costco came into vogue, we always bought the pumpkin and pecan pie there."
Some favorite memories are from Lila and Gerald's first Rancho Mirage house, where the kids would climb the grapefruit trees, feed the ducks on the nearby lake and play softball in the backyard. Later they moved, the kids grew up, and the number of grandkids grew, and the traditions shifted to golf and tennis and jockeying for the TV remote – it was always a contest to see whether UCLA, The University of Texas or some other team would be playing. 
"But the real tradition was for everyone to get together and play Jenga," Tricia recalls fondly.  "Really it was mainly the kids who were participating, and the seniors would stand back and watch."
Another highlight was the rides on the Palm Springs Aerial Tramway—the world's largest rotating tram car, which whisked the visitors over 2½ miles along the cliffs of Chino Canyon to the rugged wilderness of the Mount San Jacinto State Park. 
"You'd ride the tram to the top of the mountain and you'd need your coat because it's snowing up there. Then at the bottom it would be 90 degrees," recalled Tricia. 
They also loved catching the Christmas light display at the Living Desert Zoo and Garden. There was a mountain stream where they'd go for trout fishing. They would have a small family gathering at the Tamarisk Country Club for lunch, usually on the day before Thanksgiving. And her personal favorite was going to the Cabazon Outlet Mall for Black Friday.
It was a little bit like a fairy tale, said Tricia – but all good things must eventually come to an end. "'We don't know if we're lucky but we're definitely blessed, and maybe we have a little bit of both.' Mark's aunt used to say that every year."
One by one, the elders began to pass away; Mark's father died about 10 years ago. Lila turned 93 last year and was ready to come back to Houston to be closer to her family here, and the Rancho Mirage house was sold.
"It kind of pulled at all our heart strings," said Tricia. Still, the memories are strong as they rally around their first family Thanksgiving in Houston, where they are now building a new tradition. 
"It's creation of the memories together that, whether you're in California or New York, Boston or D.C. or Houston, you have that tie, and you will carry that for a lifetime," she said.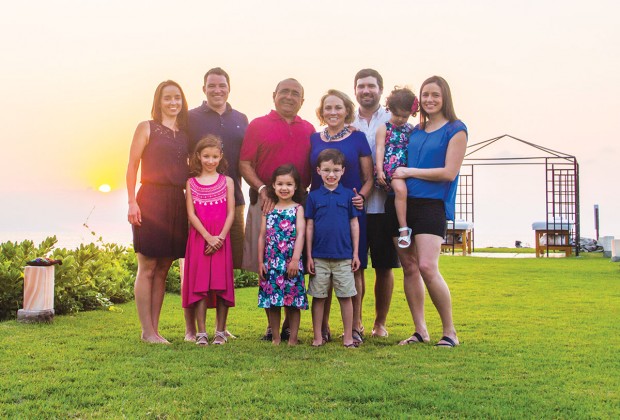 A tropical Thanksgiving
For River Oaks attorney Mary Frazier, Thanksgiving is a chance to take a break from the hectic lifestyle and kick back with family, who are now spread out from Portland, Oregon, to Cuernavaca, Mexico. Instead of shopping for a turkey and all the trimmings, she and husband Matthew, 6-year-old Ellie and 4-year-old Henley pack up their best beach gear and head south to Puerto Vallarta, where they've been spending Thanksgiving since Mary was about the age of her daughters. There they meet up with Mary's parents, Terry and Candelario Elizondo, and her sister Christina Rainey, her husband Paul, and Lauren and Carter, 11 and 8. 
These family trips formed the backdrop of the girls' growing-up years, and now with Christina's family in Portland and their parents' move to Mexico, keeping these traditions are more important than ever.  
"We stayed at the Camino Real, and I remember getting washed up on the beach various times," Mary remembers with a laugh. "I'm glad I didn't drown swimming at the pool."
The Camino Real since became the all-inclusive Dreams resort, and the family decided to get a timeshare near the city's historic Zona Romantica, far from the hotel zone where most tourists hang out. 
There they spend time relaxing on the beach, watching the kids, playing in the waves and catching up with each other's lives. Like the Rauches, they usually spend a week – in their case, from Saturday to Saturday – but unlike them, they don't spend days preparing a family feast. 
"We usually have fajitas," said Mary. For years the family staple was Fajita Republic, also in the Zona Romantica; these days, their Thanksgiving favorite is La Palapa, right on Los Muertos Beach. Another of Mary's favorites is El Barracuda, a seafood restaurant specializing in mercado-style cuisine right on Camarones Beach near downtown Puerto Vallarta, where they can take in spectacular sunsets over Banderas Bay. 
Every year, everybody brings their favorite restaurant suggestions for all seven nights, and the family has vigorous discussions and voting to decide where they will eat dinner. Recently they have been doing the PV Taco Tour, which visits six to eight interesting small spots.
Memories together in Puerto Vallarta are rich and varied; Mary and Matthew were engaged there one year over Christmas. And one of the favorite memories that they still laugh about dates back to Mary and sister Christina Rainey's first solo trip to Vallarta as teenagers. 
"My sister and I got lost in the mountains – we got on the wrong bus, and all of a sudden we were in the mountains and didn't know what to do," she recalls. They didn't speak a lot of Spanish, but fortunately the bus driver understood the situation and flagged down a bus driver headed in the opposite direction to take them back to town. 
They have already seen all the sights, so these days they don't do a lot of tourism. The cousins play together, reacquainting themselves and deepening their connection to each other, to the Spanish language and to what has become, in more than 35 years, a sort of second country — especially now that their grandparents, Terry and Candelario, have moved to Cuernavaca. 
Kids and parents alike play the traditional Mexican Lotería game with hotel pool staff and other visitors. The kids also paint ceramics with the women who bring them to the pool area. 
To Mary, it's important to be close to the city center as opposed to the hotel zone, so they can feel like they're really in Mexico. Their timeshare is walking distance from downtown and the Malecon, the lively seafront boardwalk where people stroll and take in the waves, the public art, the performers and happenings of all sorts. 
In their 35 years of travels to Puerto Vallarta, they've seen many changes, Mary says. The town has mushroomed in size, with the hotel zone growing exponentially. The city's core, however, has managed to maintain its traditional Mexican essence. It's one reason her family loves to go there, she says, as Puerto Vallarta is a real city of its own with a sizable Mexican population and its own coastal culture, as opposed to being principally a tourism hub like Cancun. 
Her advice to others who might want to organize a holiday getaway in Puerto Vallarta: The hotels that are closer in to downtown may not be luxury five-star, but they're nice and they'll give you a sense of the real life of the city.
"Leave your hotel and really experience the Mexican part of Puerto Vallarta," she said. 
Editor's note: Buzz travel columnist Tracy L. Barnett is a Lowell Thomas travel journalism award winner and longtime travel and environmental writer. 
Want more buzz like this? Sign up for our Morning Buzz emails.
To leave a comment, please log in or create an account with The Buzz Magazines, Disqus, Facebook, Twitter or Google+. Or you may post as a guest.