Cheers!: Picture-Perfect Christmas Cards
Click the Buzz Me button to receive email notifications when this writer publishes a new article or a new article in this column is published.
Sending first-class Buzzworthy Christmas cards your way. No stamps, envelopes or letter openers needed! 
Photobombing for the Holidays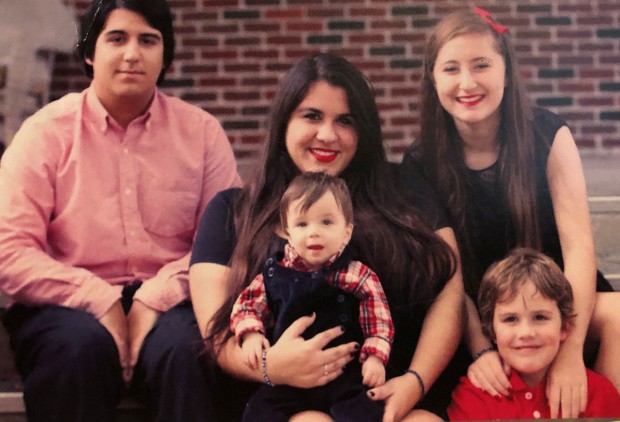 Hazel Sharpe and Alyssa Palermo met at Lanier Middle School and their friendship continued to grow during their high school years at Lamar. Hazel became a permanent fixture at Alyssa's house. 
During Thanksgiving break, Alyssa's mom, Christine Gamble - all of Alyssa's friends just called her "Mom" - wrangled Alyssa and her brothers, Anthony Palermo, Ayden Colwell and James Gamble to get dressed up to go take the family photo for their 2013 Christmas card. 
The girls' friend and classmate, Marisa Valente, was enrolled in a photography class and had offered to take the picture. The crew headed over to West University Elementary in search of a nice setting and Hazel tagged along. 
Hazel remembered, "I kept asking Alyssa's mom if I could be in the family photo since I was at their house so much it was like I was part of the family anyway. At first, I was only joking. Then Alyssa and Marisa joined in and Christine finally said, 'Why not? What's one other person?'"
Hazel said, "I was really excited because I'm Jewish and I had never been in a Christmas card before!"
Christine laughs, remembering some of the confused texts and emails she received after people received their card. "With teenagers in the house, our life was always a little crazy. I thought it was funny. Hazel really is family and has been celebrating Christmas with us the past seven years." 
Hazel will be back with Christine and all her elves for the Christmas festivities again this year. Hazel will be driving from Austin, her new hometown, while Alyssa and Marisa, the photographer friend, will fly in from San Francisco where they are roommates. The three friends have remained close and just to be fair, Hazel now also spends part of her Christmas celebration with Marisa's family. Who knows? Maybe next year they'll let Hazel be in their holiday card, too?! 
Humor for the Holidays
Kim and James McAuliffe started sending funny homemade holiday cards when their daughter Megan was born two decades ago. James has been the sentiment/poem mastermind since the beginning. 
In addition to Megan, now at Texas A&M, the holiday greetings also star Skylar, a student at Carnegie Mellon and Lauren, a senior at Bellaire High School and the four-legged McAuliffe, Roxy. 
Inspiration comes from the Internet as well as what's going on in the McAuliffes' lives. Some of their themes and props have included an I Spy Wreath, Cooking with "Season's Greetins," and trying to capture a "not too smoky" photo of the each number of the new year in the sky with sparklers...
Kim rememberd another year when they drew a Christmas tree in chalk on their driveway and had their daughters lying on the ground as if they were trying to put a star on the top. " I had to climb up a huge ladder (James held it) to take the photo from above. Roxy, our dog, didn't really 'get' what she was supposed to do so we decided where ever she ended up laying down would be just perfect." 
She said, "Inspiration comes from what's going on in our lives and the Internet. As the girls have gotten older, they have a definite voice in the card." 
All Strung Up 
What happens when you mix a creative mom who loves Christmas, two rambunctious blonde boys and an appointment with a fabulous photographer? Well, a really cute Christmas card with barefoot boys wrapped up in Christmas lights!
Mom Elizabeth Groff recalled, "I came up with the idea for the card and photographer Danny Clark made it happen! He was such a good sport and created a fabulously fun card. Christian was 10 and John Augustine 8. Danny was a bit stressed thinking that the mix of an all concrete studio, glass Christmas bulbs and wiggly barefoot boys was an accident to happen." Luckily, all went well. Thank goodness for Christmas miracles!
"Destin-ed" to be the Perfect Christmas Card Worthy Photo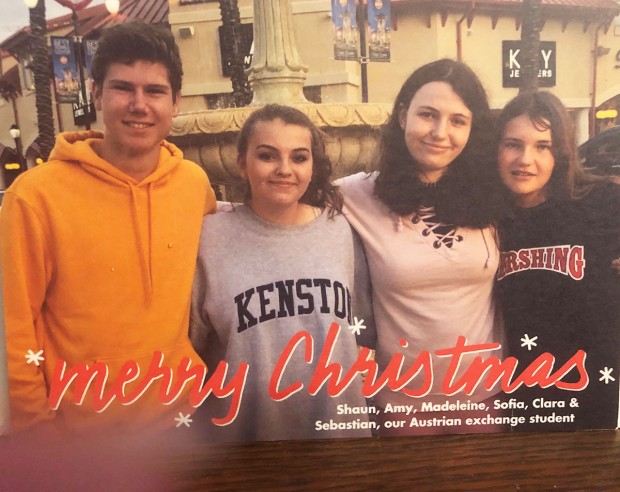 Back in November, Amy Wildt was sorting through pictures in search of a photo for their 2019 Christmas card starring her husband Shaun and their Bellaire High School daughters, Madeleine, Sofia and, Clara, a Veritas Academy student.
With three teenagers' schedules, it's challenging to get everyone together at one time so her choices were limited. 
The best photo Amy found included Sebastian Hois, their 16-year-old Austrian exchange student who lived with them from January to June while he attended Bellaire High School. Sebastian had roadtripped with the Wildt family on their summer vacation, including a stop in Destin, FL, which ended up being the backdrop for the Wildt's magical best photo of the year.
Amy said, "I sent Sebastian a message asking if he would mind if we used the photo with him in it and he replied immediately that it would be an honor."
The Wildts wish Sebastian and his family a Frohe Weihnachten and Gutes Neues Jahr or as folks say back here in Texas, Merry Christmas and Happy New Year, Y'all! 
Hair-Raising Holidays
Theresa and Kirby Bosley were having such a nice time at their family photo shoot in their photographer's studio. Their adorable daughter, Isabella, one and a half at the time, had been all smiles . The photographer suggested getting on the floor to take some candids. Mom and Dad laid on their stomachs and let Isabella sit on their backs. Just as the photographer was capturing their perfect smiles, Isabella grabbed her mom's hair and pulled it hard. 
Theresa said, "It really, really hurt! When we saw the final proofs, I thought it was a really funny picture and Kirby said it was okay with him to use it for our Christmas card that year. We had a lot of friends who were surprised that we had used it for our card!" 
A framed copy of the card sits on their dining room shelf. It still brings smiles and, luckily, Isabella has never pulled her mom's hair again.
Merry Christmas from a Hot Red Convertible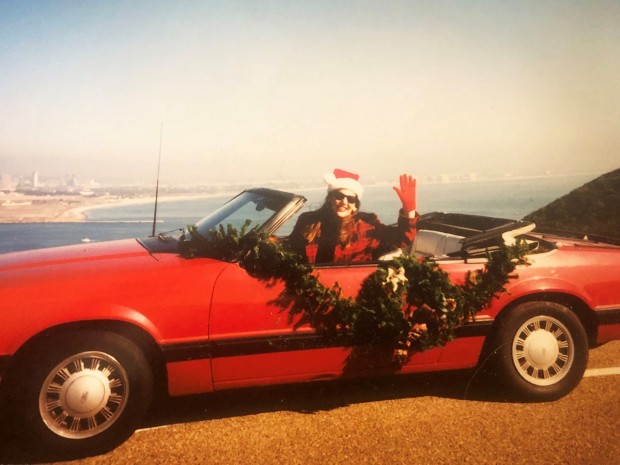 In December of 1993 I was single, living in San Diego and driving a bright red 1988 mustang convertible. That year, my Christmas card had a photo of me sitting in my car, top down and parked up on a hill overlooking the San Diego Bay. The side of the car was decorated with spruce garland complete with red bows and a wreath. My friend, Janelle Buckley, was nice enough to drive with me to be the photographer. I loved the photos she took and I happily mailed my "Here's me in my sunny California life" cards. For my extra fun friends, I added the greeting, "Still driving around topless in San Diego!" What only Janelle and I knew was that the photo shoot had ended early because I left the car running and overheated (with smoke and everything). We had to wait 30 minutes for it to cool down enough to drive home! 
May your mailboxes (both house and email) be full of social media worthy Christmas photos and good cheer this holiday season!
People in this article:
Hazel Sharpe
,
Alyssa Palermo
,
Christine Gamble
,
Anthony Palermo
,
Ayden Colwell
,
James Gamble
,
Marisa Valente
,
Kim McAuliffe
,
James McAuliffe
,
Megan McAuliffe
,
Skylar McAuliffe
,
Lauren McAuliffe
,
Elizabeth Groff
,
Danny Clark
,
Christian Groff
,
John Augustine Groff
,
Amy Wildt
,
Shaun Wildt
,
Madeleine Wildt
,
Sofia Wildt
,
Clara Wildt
,
Sebastian Hois
,
Theresa Bosley
,
Kirby Bosley
,
Isabella Bosley
,
Janelle Buckley
Want more buzz like this? Sign up for our Morning Buzz emails.
To leave a comment, please log in or create an account with The Buzz Magazines, Disqus, Facebook, Twitter or Google+. Or you may post as a guest.